Welcome to the New Year!! This is the very first issue of the GingerScraps Fresh Baked Newsletter of 2010!! To kick it off.. we are starting something WONDERFUL over at GingerScraps!!
A Gingerbread ladies first! This is our premier Mystery Grab Bag Mega! This month's offering is brought to you by Graham Like the Cracker, Misty O'Brien Designs, Statements by Jodi, Teri's Thing-O-My-Jigs, Mandy Made, Simply Shan Marie Designs, and Daybreaks Scraps.
"What's in the kit?" you might be wondering. Well that is part of the fun. You can see a little sneak peek in the preview, but for now it's underwraps. You can either buy this Mega for $3 before it is revealed or if you make a $4 purchase anywhere in the store before the big reveal, we will send you a coupon to buy this gorgeous kit for $1!!!
Once we reveal what's inside this huge collab (45 papers, 58 elements, 2 sets of styles and 2 alphas), it will be $9.00 so hurry and go buy something you've already had your eye on! Then you can get this gorgeous and mysterious kit for $1!
Here is a small sneak peek…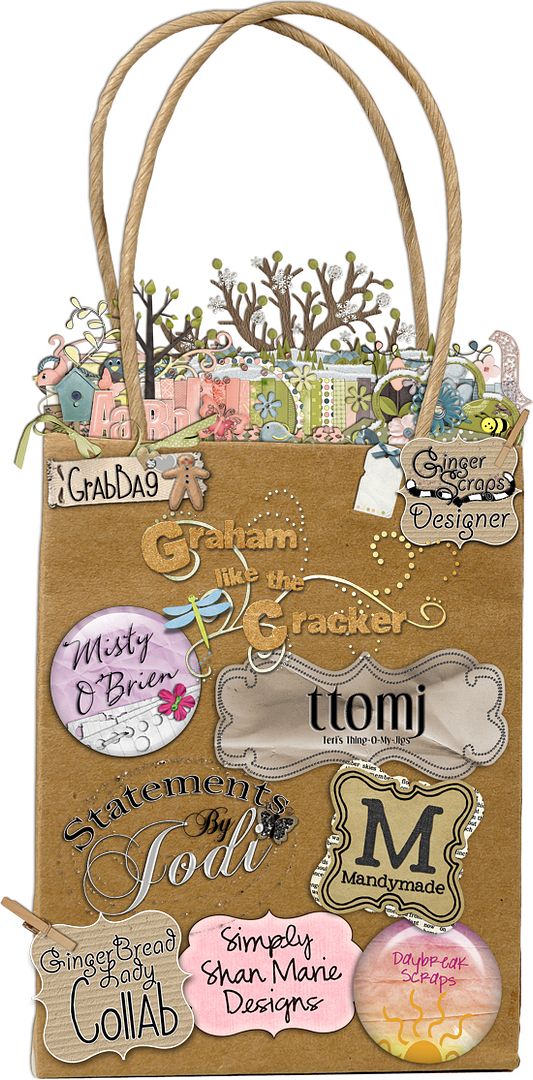 Teri has a wonderful special on all her "I'm Losing It!" goodies!! Keep that New Years Resolution to Lose it this year! Take 25% off until 1-15-10!!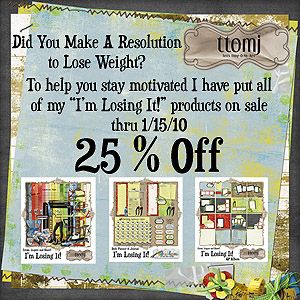 She has this great kit-
I'm Losing It! I really am. I started a fitness challenge ( otherwise known as a diet ) and am really excited about making some healthy changes and thought others might be too. So, now we have a way to track our weight-loss using this darling kit. Packed full of everything that reminds you of a health club, including the sweat drops! So if you have been lacking motivation, my hope that you will get motivated and before you know it, you will be "Losing It!" too. Be sure to look for the matching Blog Wear by Teri Mayo and if you need a way to track your progress, Hybrid-licious has made a coordinating set of journal papers. So what are you waiting on? Now you have the motivation so, get moving. Create, Inspire and Share! I'm Losing It!
This Wonderful Hybrid set!!
Looking for a way to track your weight-loss or fitness plan? "I'm Losing It Add-On" will do the trick! This little hybrid journal is perfect to help keep you, or get you, on track as you work to "Lose It!" "I'm Losing It! Add-On" is made with Teri's Thing-O-My-Jigs kit, "I'm Losing It!".
And this great Quick Page set
Are you Losing It too? If you are, then this QP Album made from Teri's "I'm Losing It!" kit is the perfect thing to help inspire and encourage you on your journey. Created with double page layouts so you can use them to create an album with matching pages, or mix them up! The choice is yours. Be sure to grab the kit so that you can further embellish to make each page uniquely yours! By adding some journaling pages in between you can easily create an album in no time at all! I'm Losing It QP Album contains 14 pages. Create, Inspire and Share!
And our very own Glitter Diva…. Misty O'Brien has an Amazing glitter set for you today!!
Grab this set of 24 glitter styles for use in Photoshop and Photoshop Elements. Also included are 24 glitter sheets sizable to 12×12 (3600×3600) with excellent clarity, usable in any program. Glitter sheets are for personal or commercial use, credit not required but always appreciated. Installation instructions are included for PS and PSE
ETA: Until 1/8/09, if you purchase the New Mega Glitter Pack 2, you get the Mega Glitter Pack 1 for FREE. No coupon code necessary, discount will appear in cart when both products are added.
And just in case you missed the special edition newsletter I sent out- Miss Erin is leaving the design world. But she is goin out with a bang!!
Check out what she has for you…
Visit my Miss Erin's at https://store.gingerscraps.net/Miss-Erins-Scraps/
Full size previews of P365: In a Moment's Time can be viewed HERE.