Are you ready for some Fresh Baked Goodies?! They are hot out of the oven and ready for you.
And remember with any purchase over $10 you will get GingerScraps Backyard BBQ for only $1.00!
First up from Wyld Web Designs- Dressup Darlings. So cute! Oh and check out the layout my sister Julie did below.. my nephew Christopher is so darn cute! 🙂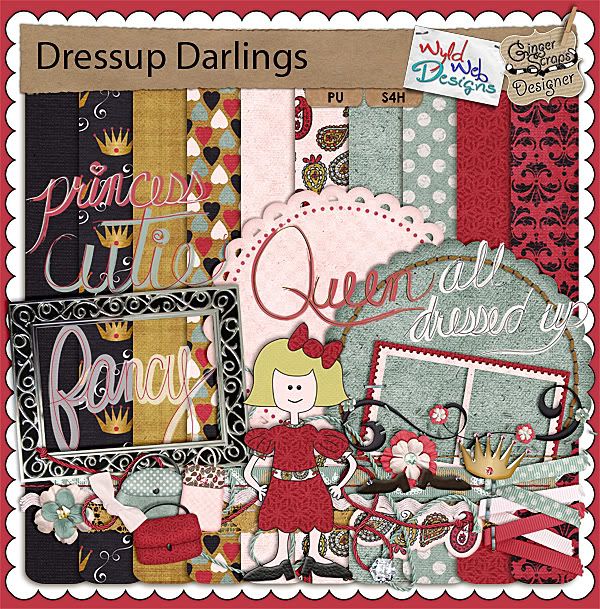 Remember when Mommy's high heels were the height of sophistication? And certain princesses were the basis for all of your fashion ideals? This kit celebrates every little girl's favorite past time, playing dress up! With 10 papers and over 40 elements this kit will keep you busy scrapping photos of your favorite little princess.
Here is some inspiration from my fabulous CT:


_______________________________________________________________________
And Pretty in Green has some more  Puppies to Love, each puppy comes with his favorite toys and a few other items. take good care of your puppy he loves you. New this week is a Basset Hound, Poodle, and a Blue Heeler.


Basset Hound
layout by Jen (vcjordi) uses blue heeler love, & summer fun by Pretty in Green, and GingerScraps' doodle borders

another layout by Jen (vcjordi) useing Poodle Love and I'm a good helper by Pretty in Green

a layout by Pretty in Green using basset hound love & beagle love by Pretty in Green with imaginarium by MandyMade

_______________________________________________________________________
Next up from ScrappyCocoa – this is perfect for the beginner scrapper and the seasoned scrapper. Includes everything you will need for a large variety of layouts.
Introducing a new bundle from ScrappyCocoa! This bundle is called The Littles. It includes 2 full size kits, Little Miss and Little Sir! The full bundle has 32 Papers, 85 Elements, 2 Alphas, and 8 QP's! Buy them Separate or buy the bundle and SAVE! The bundle is $7, each kit is $4 and the QP Album is $2.50. This collection is perfect for any Little Miss or Little Sir, a little bit classy, a little bit shabby, perfect for all sorts of pictures!


Little Sir
_______________________________________________________________________
MandyMade is releasing imaginarium this week! Did you know MandyMade is now an exclusive GingerScraps designer!! She is so talented- I am beyond thrilled to have her exclusive to GingerScraps!
When I saw this new kit I said out loud- "Oh my goodness!! That is so cute!" It is huge and on sale for only $3.00 this week!!  I am totally in love with it!! OK that is a lot of exclamation marks. LOL!!!
Here it is- Imaginarium

This is a fun whimsical kit loosely based on the book Alice in Wonderland. Included in this kit are one full alpha, 68 elements and 23 papers. Only sale now for $3.00.
Mandy also has two template packs to make your clustering and paper stacking a breeze!
They are both layered .psd files but as a bonus the Swimming In It set have the wave .pngs included!! Both are on sale for $2.