It smells good in here! The GingerBread Ladies have some super yummy goodies for you today!
First up from our newest GingerBread Lady- Marshmella- Right Now such a cute kit!
I was in need of something fresh and new when I created this kit. It has fun and cheerful colors and just look at that cute duck. This kit would be perfect just about any layout.It includes 8 papers and 35 elements and it will be 25% off for a week too. Making this adorable kit only $2.36!!


Just check out these layout from my creative team.


________________________________________________
If its true that we are to "bloom where we are planted" then Happiness Blooms is sure to be a winner. Created by two delightful designers, Scrapberry Designs and Kathy Winters Designs this kit is so cute it just makes you smile looking at it. You will find that Happiness Blooms is the perfect year round kit with a wide variety of 26 papers, 60 elements, and 1 alpha to spark your creativity.
Regular price $6.25 on sale through 07/25/2010 for $4.69.
Kathy Winters Designs also has this cute set of ten (10) coordinating wordart pieces available in her store to add an extra special touch to your layouts.
Happiness Blooms Word Art Set– Regular price $3.00 on sale through 07/25/2010 for $2.25.

And for a little inspiration, the girls have some layouts from their creative teams to share.


________________________________________________
Two New kits from Pretty in Green first up is Black & White and Blue All Over, and since she has a lil boy and a lil girl she made Black & White and Purple All Over too. These whimsical kits are full of beautiful elements and rich texture, with a color scheme perfect for black and white photos, nothing makes black and white pop more than a lil pop of color. This kit contains 1 full alpha 20 papers and 48 elements. Not all the elements are shown in the preview, your going to love this kit! Save 20% on both of theses kits for the first week!

Kimmyscraps

Sarah_ICS, sarah also used MandyMade's new Template Swimming in it

missdamsel


________________________________________________
This new kit from Statements by Jodi is perfect to scrap your contents of your purse pictures, teen girl pictures, day at the spa pictures, and dress up pictures. Anything girly, this kit will be perfect for. Normally $5. This week only it's 20% off! In My Purse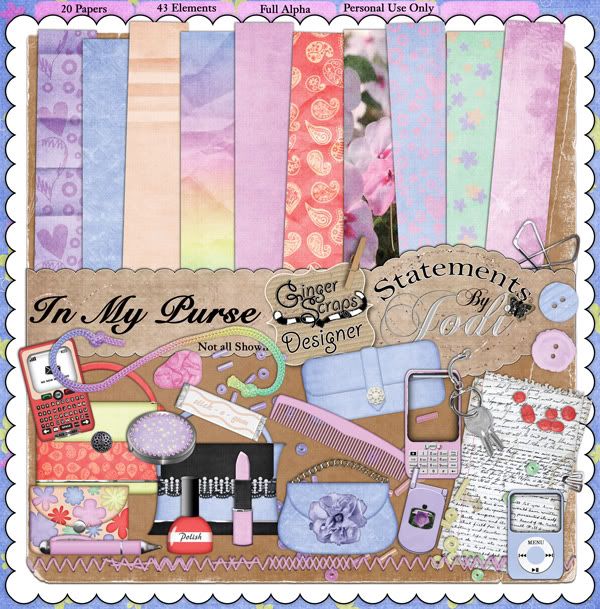 It comes with a fabulous chrome alpha. Love the Alpha but don't want the kit? You can get the alpha for only $2! This week only it's 25% off! In My Purse Alpha

By Trina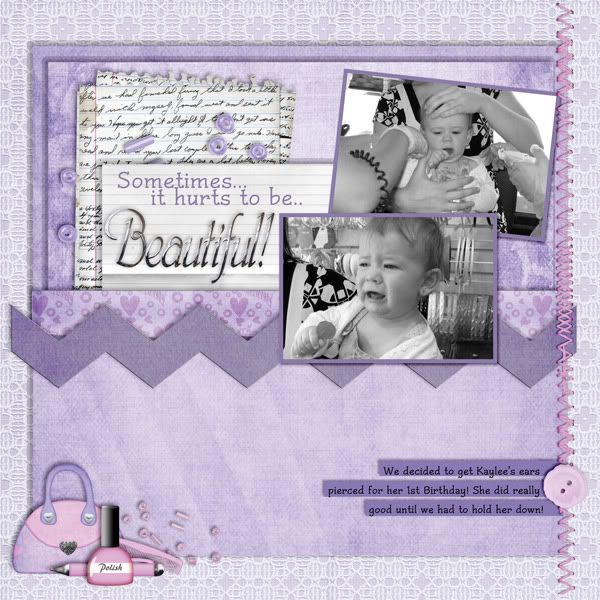 By Kiana

By Kiana