Hello my lovely GingerScraps Friends and Family,
It has been a while since my last "The Dish" post. But it was worth the wait, I have the wonderful Charmaine of WyldWeb Designs in the hot seat today. So without further ado…. here she is…..
First of all I want to thank you for being our March feature! Your Grab Bag is amazing!!!


https://store.gingerscraps.net/March-FREE-Grab-Bag-by-Wyld-Web-Designs.html
This set of FOUR brand new products can be yours for FREE this month! With any $10 purchase in the Gingerscraps store, this grab bag is yours for FREE! Simply make any $10 purchase in a single transaction in the month of March 2011 and you will receive this grab bag absolutely FREE! These four products will cost you $11 next month in the Wyld Web Designs store, get this deal while you can!
**This product will be automatically added to your cart with any purchase of $10.00 or more! **
Take a look at a few Layouts made using the delicious goodies in this Grab Bag!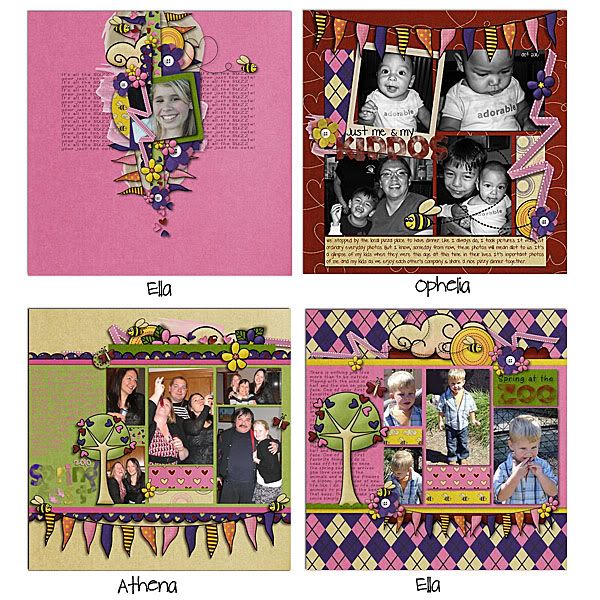 Ginger: Part of being the Monthly Feature means I get to poke and prod and ask you embarrassing questions 🙂 mawhahahahaha 🙂
Are you ready??
Char: I guess I am….no wait, I need my tin foil hat first…ok, check, let's ride!
Ginger: ha.. you think tin foil can keep me out! you have not idea the greatness of my powers……lol
So for my first question I will go kinda easy on ya, Name two things you consider yourself very good at?
Char: Let's see, first I think I am very good at my real life job as a pharmacist. I have a way of talking to people that make them feel like they are visiting a friend instead of their pharmacist. Second….I learn very quickly. I pick up new skills easily and am able to teach them to others. Like Photoshop!

Ginger: The friendly neighborhood drug dealer huh?? hmm…. I bet you could Photoshop some of those prescription labels to have my name on them right 😉 give me some good stuff woman. lol. I am so kidding. I just couldn't resist.
Name two things you consider yourself very bad at?
Char: Uh, well, cleaning. Very, very bad at cleaning. I have a lady who comes to clean every couple weeks and I'm surprised she hasn't fired ME yet! Also very, very bad at anything requiring coordination. I'm a huge klutz! For example, anything requiring the pouring of liquids at work, the other girls take care of….they know I will just spill it if they make me do it!
Ginger: Too bad you can't Photoshop your house and "clean" it that way! We would have some sparkling clean houses!
Share with us your most memorable childhood injury?
Char: Ooooh, can I share two? I have two really nasty ones! And remember, you asked! The first one was when I was out in the back of our acreage with my dad and he was building me a tree fort. He kept saying, "be careful", "don't step there", etc. You know, typical dad stuff. Well I wasn't listening and I stepped on a board with a nail sticking out of it! Yep, went straight through my second toe, almost sliced it off! Looking back it is pretty funny, but I kind of fainted when I saw my toe flopping around! The second is when I was being a klutz (imagine that) and I tripped while bringing my dishes into the kitchen from dinner. I fell on top of my dishes and a piece of glass got lodged in my left knee. We didn't know it at the time though, the doctor said he didn't see anything. It wasn't until about 5 years later when I bent my leg to put my sock on one morning and the piece of glass POPPED out of the front of my knee! It was nasty, it was like ¾ of an inch long, it was still in there!!

Ginger: Oh my goodness! That is insane!! I bet your parents freaked out too!
When you were a kid what did you want to be when you grew up?
Char: A veterinarian. I loved animals a lot and we had chickens, dogs, cows, pigs, cats, bunnies, you name it!
Ginger: Cute, I grew up with a lot of animals too. It is a fun way to grow up! Ok now, I want to see a childhood photo of you! And tell us about the photo as well.
Char: This is probably my favorite photo of me as a kid. I thought I was super cute here! I was about 2 years old I think. I got all goofy looking and awkward around 5 and didn't improve much until around 16!!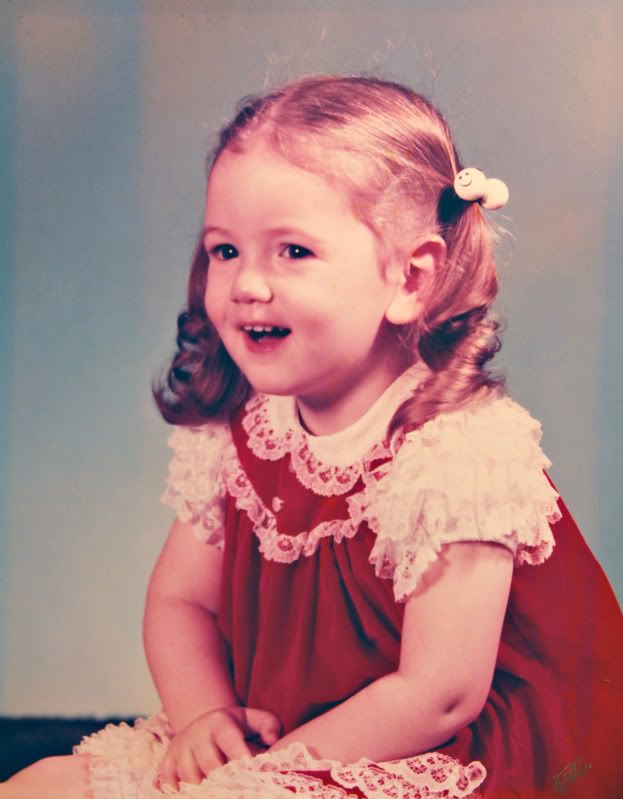 Ginger: Oh how adorable!! You are so cute!!
Tell us about your family now? (kids, ages, etc)
Char: I have been married to my sweetheart of a husband Stephen for almost 7 years now. We have three beautiful babies together. Lilah is my pretty little princess, she is 5½ and loving kindergarten. Casey is my middle child, he is my rough and tumble little buddy and a lover of all things cars and Legos. He is almost 4 and keeps me very busy. Quentin is my baby, he just turned 1 year old. He is the busiest of all three of them, he started crawling earlier than the other two did and gets into everything, but has the sweetest curls and dimples you ever saw on a child!
Ginger: I can not believe Quentin is already one year old! And can I just say on a side note….. readers, you must go look at Char's gallery! Her children are soooo stinkin cute!!
So tell us, How did you and your hubby meet?
Char: We actually met online! It's like the singles bar for the new millennium. We played an online game called Everquest and started "questing" together. We spent a lot of time chatting online, then on the phone…then started meeting in person. Well I guess it's kind of working out, after more than 8 years of being together and three children later!
Ginger: Oh my goodness- you have to go check out the show The Guild. It is on streaming Netflix too, It is pretty darn funny!
I want to see a wedding photo! Come on… lets see you cute little love birds!
Char: This is my favorite picture of our wedding photos. Sadly, this is a scanned in photo, we didn't have our pictures done on a digital camera because that wasn't quite the norm back then. So we are a little yellow in there. Jeez, someone should Photoshop that picture *snicker*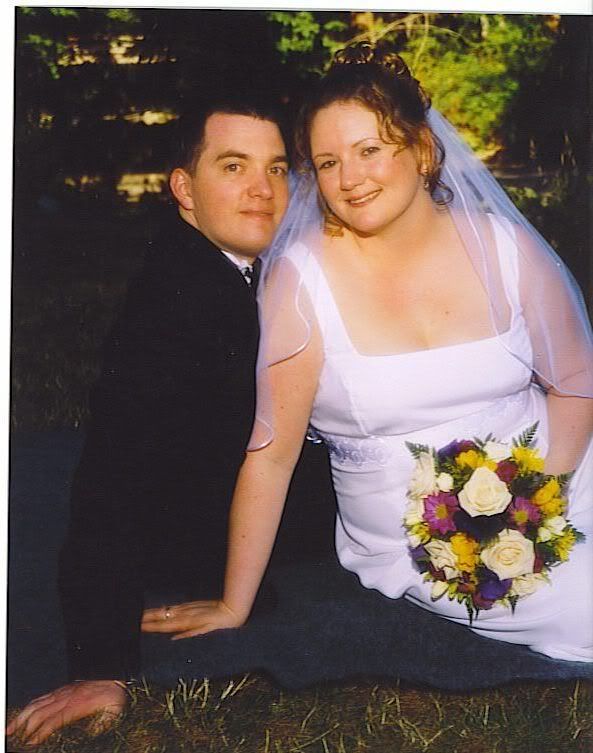 Ginger: Awe, so sweet 🙂 You are totally glowing. Just beautiful!
So I am guessing your amazing family is probably your inspiration for scrapping? Can you share with us 2 of your favorite Layouts and tell us a little about each?
Char: Yes, for sure they are my inspiration! I take pictures specifically to scrap with certain kits sometimes! Let's see if I can pick just two…
I think I have to pick this recent layout, because it was done of Quentin and his crazy curly hair! You can't look at that hair and not want to "sproing" those curls!


gallery link
And I guess this is another favorite of mine because I LOVE Halloween! It is so fun with little ones to anticipate the day and my kids love it just as much as I do!


gallery link
Ginger: And now Charmaine the Designer! Wyld Web Designs… Why did you choose that as your designer name?
Char: Well it's a thoroughly uncreative reason actually! My husband Stephen owns his own business as a web designer. His username for years online has been "awyldknght" so "Wyld Web Designs" is actually named for his online persona. At least this way I didn't have to get a separate business license or anything!
Ginger: Smart thinking 🙂 Can you share with us your 2 favorite products, I know it is like picking a favorite child.. but do your best 🙂
Char: My gosh, it IS like picking a favorite child! I guess I will have to say that So Much Cooler Online is one of my favorites because I spend so much time online! It kind of captures a bit about my everyday life in this kit!

https://store.gingerscraps.net/So-Much-Cooler-Online-by-Wyld-Web-Designs.html
ct images: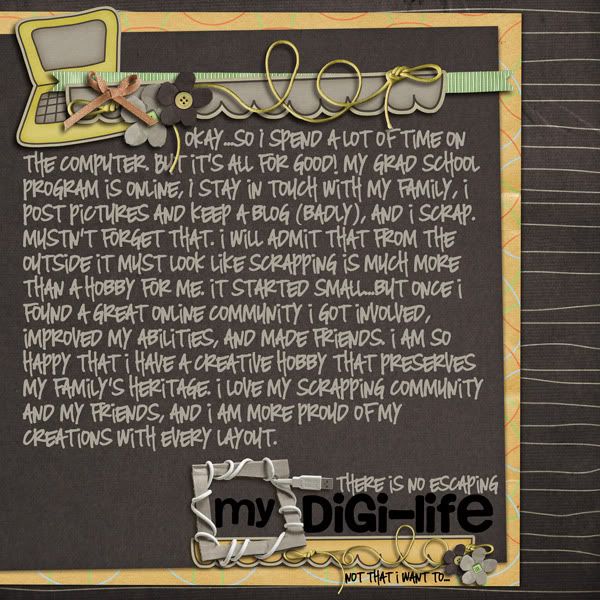 And I think I would have to pick Elephants Never Forget-Me-Not as my other favorite. It was the first kit where I really felt like my style "came together" and gelled!


https://store.gingerscraps.net/Elephants-Never-Forget-Me-Not.html
ct images: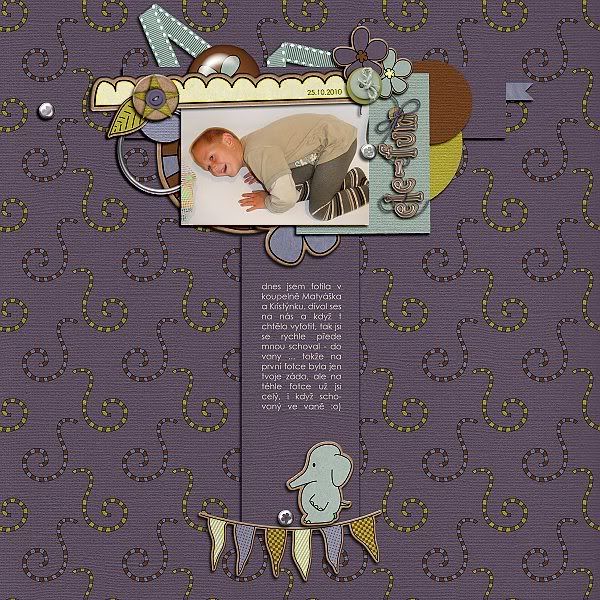 Ginger: I LOVE both of those!! Do you have any upcoming products you would like to give us a sneak peak of?
Char: Ha, you think I work that far ahead? I can give you a look at my latest release though!


https://store.gingerscraps.net/Feeling-Lucky-by-Wyld-Web-Designs.html
Ginger: Haha, I love the "Not So Lucky" Rabbit! That is so clever!!
Well.. it looks like you survived! Yahoo!! I want to thank you again for being our March Feature Designer! And I hope all you readers out there rush on over to the GingerScraps Shop, and fill your cart (with at least $10.00 worth of goodies) so you can get Charmaine's AWESOME Grab Bag!
Char: Thanks for having me, I like to talk about my favorite subjects: me, my family and scrapping!