Archives for July 2012


"You're a mean one, Mr. Grinch."
"Up on the rooftop, reindeer paw."
"Walking through a winter wonderland"."
Songs of cold are more than welcome. The heat of summer is strong on us in the States. I complain about snow, but right now, I'd accept some of the cold, wet stuff.
The reasons the songs are stuck in my head has nothing to do with a desire for cold! GingerScraps is proud to announce the re-release of the December 2011 buffet, revamped! It was taken down as a precaution, and now it's ready for release.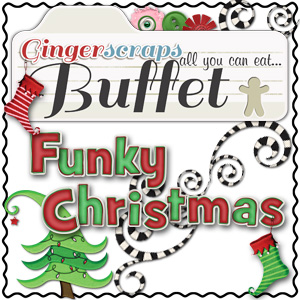 http://store.gingerscraps.net/Funky-Christmas
Our designers that weren't part of the store back in December even created some amazing buffet pieces!

The signs of the season really inspired the CT! They went a little crazy with the layouts!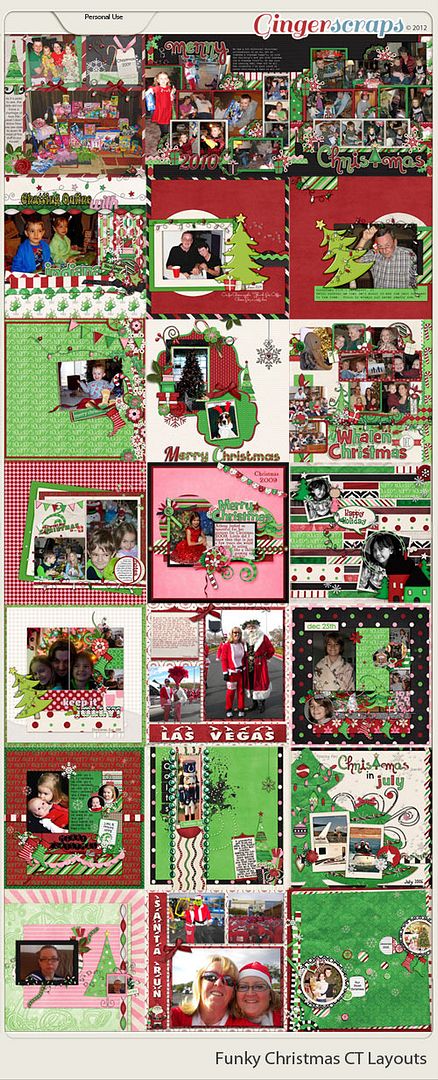 Ginger couldn't leave it at that. No way! Nope! She got together with the designers to bring on an incredibly fun adventure called Christmas in July!!
There are Christmas/winter-themed challenges! I don't know about you, but I'm always at least a year behind on scrapping those special Christmas memories. Now you'll have a chance to get caught up!!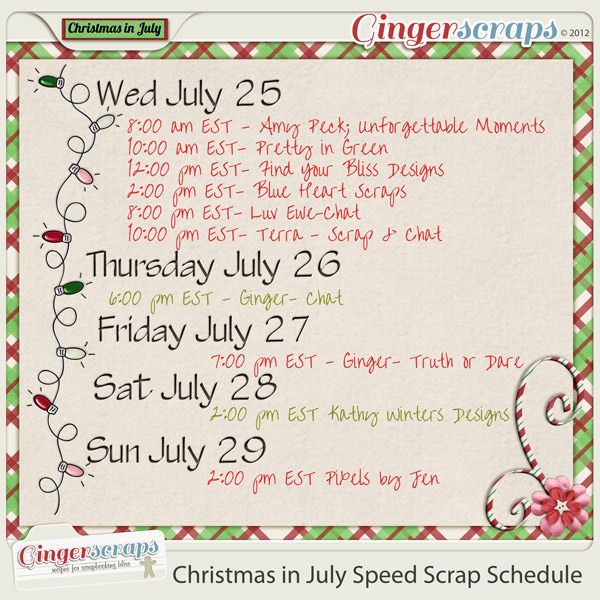 Look at all those SPEED SCRAPS! Seriously, I'm excited for all of this! Truth or Dare. Oh, that ends up being some hilariously funny stuff going on then. If you've seen some random Facebook status updates from designers and members of the forum, and they disappear at the end of the week, or something, that's usually a Truth or Dare dare. They're always fun, and humorous, guaranteed to leave you in stitches!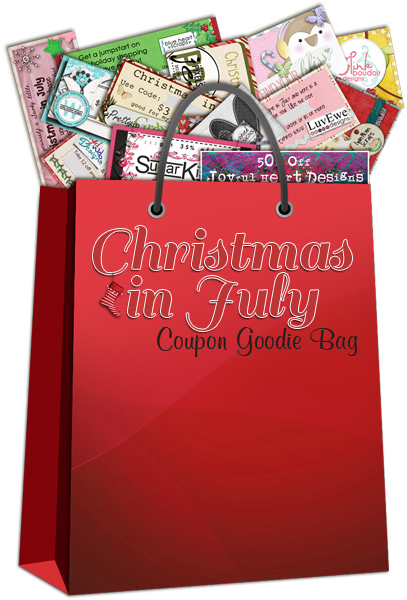 http://forums.gingerscraps.net/showthread.php?18157-Christmas-In-July-Special-Challenge-Rules-and-Points
There are special prizes to win for doing those challenges and speed scraps and chats! You can win a goodie bag full of coupons from the designers at Gingerscraps! Could you think of a better present to be found under the tree? You'll find more information at the forum!!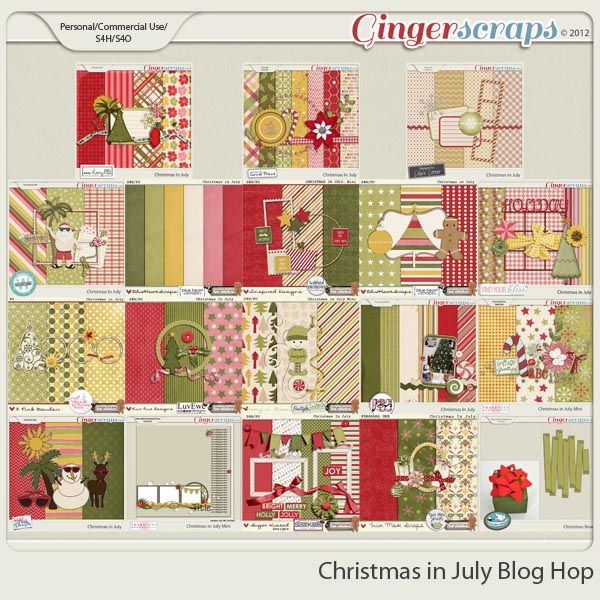 Oh! Did you think I was finished? No, there's a Facebook Hop!! The designers all worked together, even our Guest, WendyBird Designs!
GingerScraps – https://www.facebook.com/GingerScraps
Pretty In Green – https://www.facebook.com/pages/Pretty-in-Green/107777475938779
Sugar Kissed Designs – https://www.facebook.com/pages/Sugar-Kissed-Designs/216572258363167
Blue Heart Scraps – https://www.facebook.com/BlueHeartScraps
Z Pink Boudoir Designs – https://www.facebook.com/zpinkboudoirdesigns
Roseytoes Designs – https://www.facebook.com/roseytoesdesigns
Twin Mom Scraps – https://www.facebook.com/pages/Twin-Mom-Scraps-Digital-Scrapbooking-Supplies/177747463699
Luv Ewe Designs – https://www.facebook.com/luvewedesigns
Inspired Designs – http://www.facebook.com/pages/Inspired-Designs-By-Crystal/341608097698
Kathy Winters Designs – http://www.facebook.com/pages/Kathy-Winters-Designs/361854538133
Colie's Corner – http://www.facebook.com/pages/Designs-by-Colies-Corner/113572101991294
Wyld Web Designs – http://www.facebook.com/wyldwebdesigns
Designs By Connie Prince – http://www.facebook.com/pages/Designs-by-Connie-Prince/93596073651
Unforgettable Moments – https://www.facebook.com/pages/Unforgettable-Moments/410303312339194
Find Your Bliss – https://www.facebook.com/pages/FindYourBlissDesigns/199848033366752
WendyBird Designs – https://www.facebook.com/WendyBirdDesigns
Pixels By Jen – https://www.facebook.com/PixelsByJen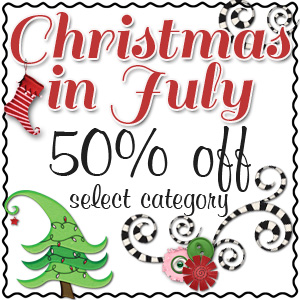 http://store.gingerscraps.net/Christmas-in-July
There's also a sale going on!
Remember that when you spend $10 in the store, you get an amazing grab bag. This month's was created by Ryan, of Roseytoes, and it's JAM-PACKED full of stuff.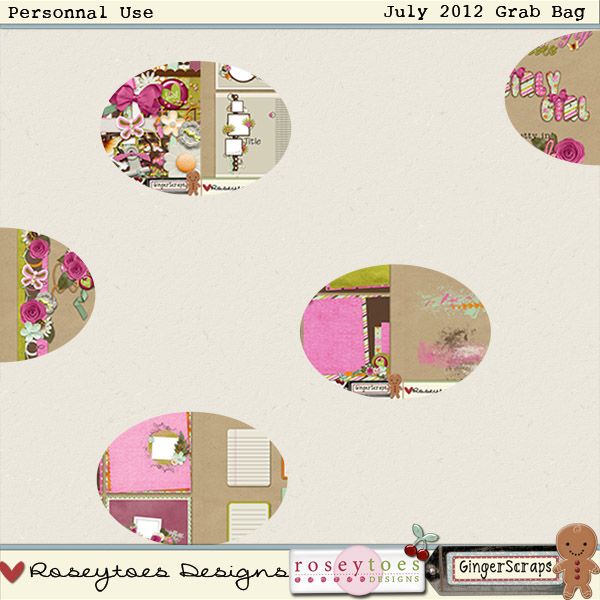 http://store.gingerscraps.net/July-2012-Grab-Bag-by-Roseytoes-Designs.html
Before I let you scamper off to see your presents that the designers have left, I wonder if you noticed a difference in some images. If so, it's a sneak peek to a new look coming soon for Gingerscraps! It's coming soon. For now, enjoy the crisp, fresh new preview images.
So, get your Christmas on, play in some fake snow, and HAVE SOME FUN! We're SO excited for this!
Happy Tuesday! I can't believe this is the last full week of July–WHAT?! Seriously, the year is already past half over…where does the time go?? Well, I know where all my time goes: SCRAPPING! This week we're making it even easier for you to scrap as I spotlight a challenge with a FREEBIE: the month's second Template Challenge hosted by Amy of Unforgettable Moments! I'm a big fan of Amy's templates, so let's see what she's got in store for us!
Cute stuff! I like the layered papers and funky frames on the picture spots. Thanks for the cute template, Amy! This is yours absolutely free just for playing along with us on this challenge! Now, I'm sure you want to see this baby in action, so let's peek at what the ladies of the forum have cooked up for us so far…
By mamaape
By sladd79054
By MamaCake
This is one awesomely versatile template; all the ladies really made it their own–awesome work, gals! Now let's see what you've got! All you have to do is stop by this challenge thread, pick up the free template, make something amazing with it and post for credit! *NOTE* There is also a little gift you for in addition to the template! See the thread for more info! And as always, if you want to see your layout highlighted here, play along with us! 🙂
Don't forget, there is a new rewards system starting this month! You can read about it in the forum before you visit the July Challenge Points Tracking thread  and start your tally of challenges completed! I've got mine done for the month, so hop on the good foot and get going! Remember, if you have any questions, you can send them to the Cookie Jar and a lovely GS lady will be sure to help you out!
That's it for this week; see y'all next week for the LAST spotlight of July! EEP! Have a fabulous week! 😀


Congratulations to NMarti for winning LOTW! Her layout is absolutely adorable. I love the check list, the unique paper shapes and the cluster around the photo.  Be sure to check out her LO in the gallery to read the wonderful jounaling and leave her some love. Click the image to leave her some love or click here to view her entire Gingerscraps Gallery.
Her outstanding LO was created using Happy to be Me! by Joyful Heart Designs.


You can pick outstanding gallery layouts which become the next LOTW nominee's by posting in the "Baker's Best" thread. Check out the rules here.
As always your vote counts so head over the the forum to vote for the next LOTW winner. You can be a LOTW winner too, all you have to do is scrap! Happy Scrapping.
Another week has gotten away from us!  I can hardly believe that July is more than half over- I know, each week it's mentioned just how fast this week, month, YEAR is flying by! It's hard not to take notice and reply as such.
It's been a bit quiet this past week. Again, with summer in full swing it's hard to drag ourselves away from all the fun adventures we're having! I do hope, however, despite all those exciting adventures you'll join us for a BIG celebration that's only a few days away!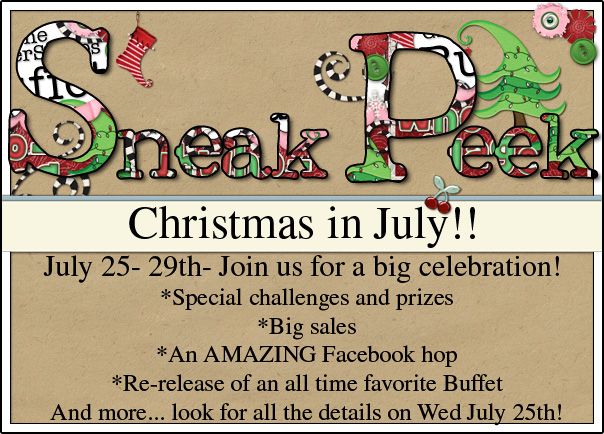 I know I'm excited! It's like… CHRISTMAS! … in July. HA! Okay, I admit, I haven't had coffee yet this morning. Not to worry, I hear it peculating as I type. 😉
Have you been reading along with us this month? The GingerScraps Book Club has been discussing this month's book in a new way. Check out the discussion thread and join in! Next month's book has been chosen in our pick-our-read poll: What Alice Forgot by Liane Moriarty. I've been wanting to get my hands on this read for a while, and am glad now I've got more reason to read it!
Less than 10 days before the end of the month, PsychoZoe's retirement sale ends on the 31st. Make sure you get check out her shop!
Don't forget to grab our HUGE grab-bag this month! Roseytoes created such a generous grab-bag, that you get FOR FREE when you spend $10 in the store!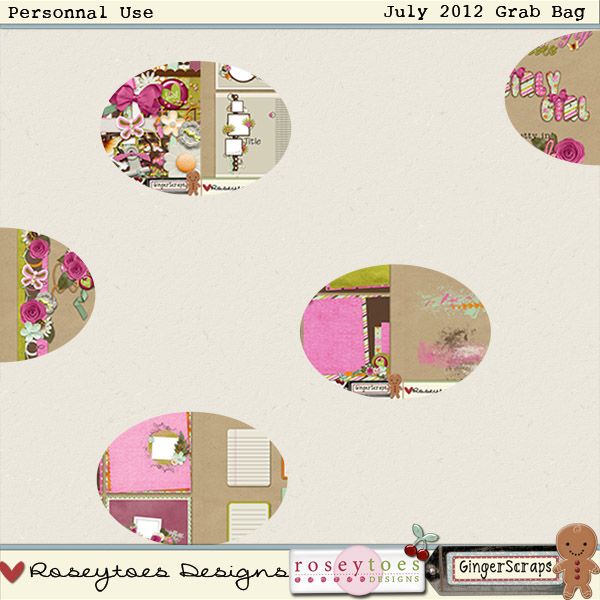 I wish I had more to share with you today, it's certainly a lazy day here for us. Hoping to hide away from the increasing heat by getting some much needed scrapping done! Especially my challenges! Make sure, if you haven't already, check out the new Rewards System, they've changed just a tiny bit. 
With that I'll leave you to your own scrapping!  I hope you've had a happy weekend and have a great Sunday!