It's a PUZZLE!

I'll be honest, I had an incredibly hectic week and had no time to get creative. I went to bed last night with NO idea what to write about today… and woke up thinking, "Hey, why not play with one of those Fun Edits the software creators included in PSE 15?" I took a look at the October Buffet and saw all these great colours and thought maybe I could tie this tut into a Buffet challenge layout, thus getting more bang for my figurative buck. So let's do it!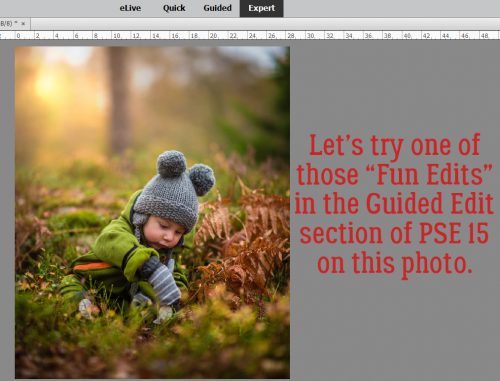 I think this photo will work nicely with the Buffet palette, and with that soft, blurry background, maybe it would lend itself to the Puzzle Effect Guided Edit.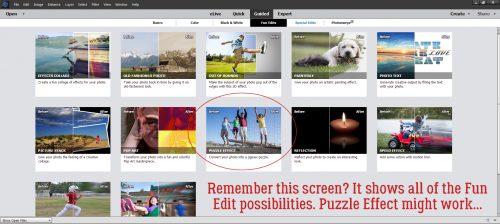 With my photo on the workspace, I clicked on that Puzzle Effect and this menu opened up. I chose the Large option to make it easier for you to follow along.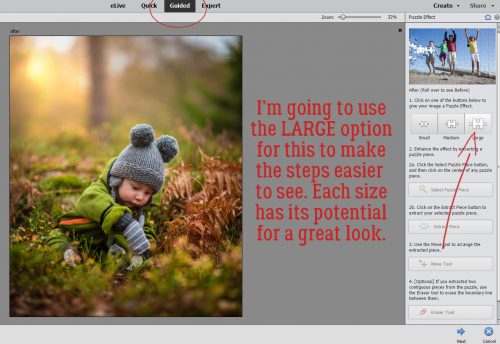 One click, and my photo looks just like a 63-piece puzzle. How cool is that?! But there's lots more fun to come. The second step on the list says, "Enhance the effect by selecting a puzzle piece."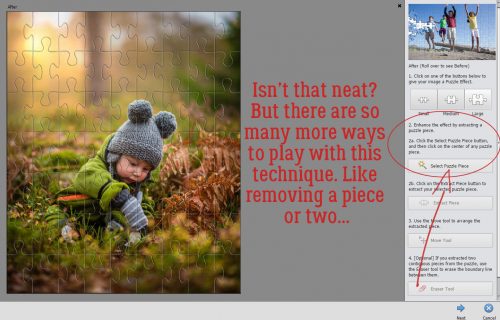 I clicked on the Select Puzzle Piece bar then clicked on a section of my photo in the centre of one puzzle piece in the lower right corner as directed. To select more than one piece, I held down the CTRL/CMD key and clicked on the four pieces outlined in the screenshot.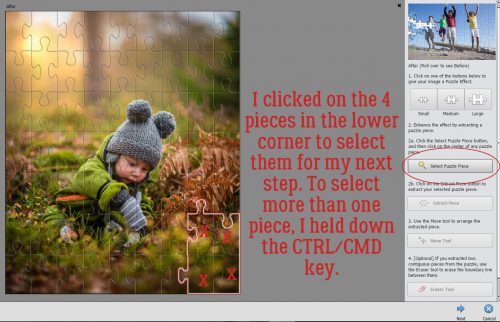 That set some marching ants going around the edges of those four pieces. No fiddling with the Magic Wand Tool, no Refining Edges needed. If I had wanted to select random pieces all over the photo, I could have done that rather than selecting contiguous ones.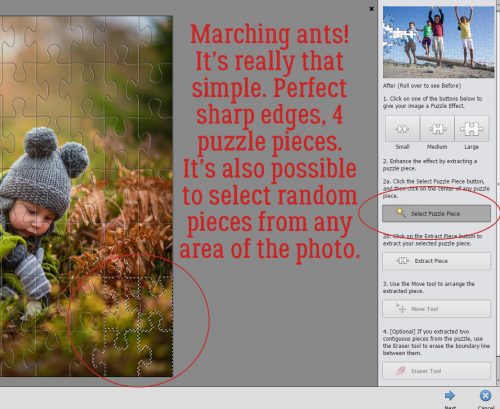 To remove those pieces, the next step was to click on the Extract Piece bar in the menu.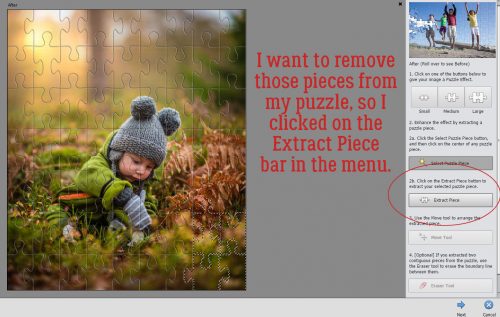 Then I could move those pieces all as one to another area of my canvas by clicking on the Move Tool bar right there on the menu.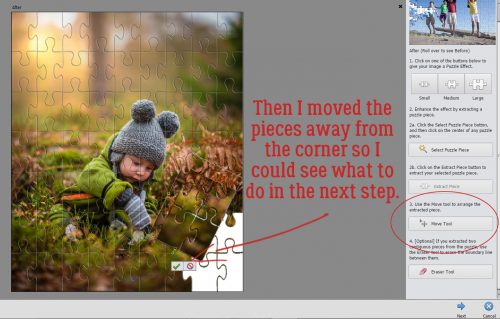 Once I'd moved those pieces up and out of the way, I could still see the puzzle grid where they had been. I could have stopped there, but I'm playing with the software so I know what it does, so I went on to the next step on the menu and clicked on the Erase Tool bar and used it to roll over the grid lines.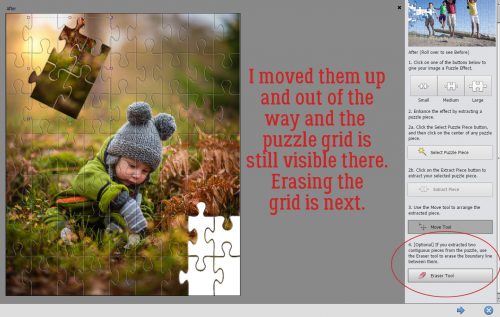 Boom! The grid is gone. But… there's a white background there. If I want to see my background paper in the spot where those pieces are missing, what do I do?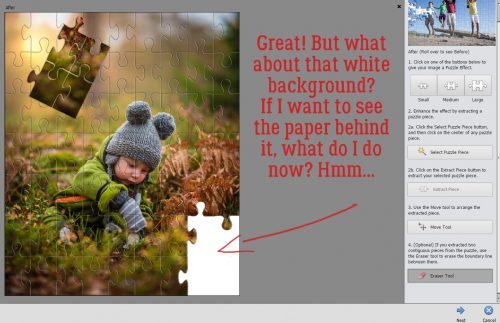 What does this Next button do?

I wanted to see what else was possible, and since working in Expert Edit mode is how we all use PSE for digital scrapbooking, that's what I clicked.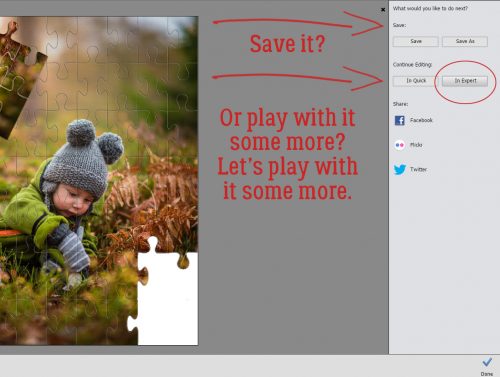 Whoa!! Look at that! There are a bunch of layers created by the Puzzle Effect edit mode and I can see them all. I moved some of them around, turned the visibility on and off and found these two layers have a transparent background. Now I knew how to make this work for a layout!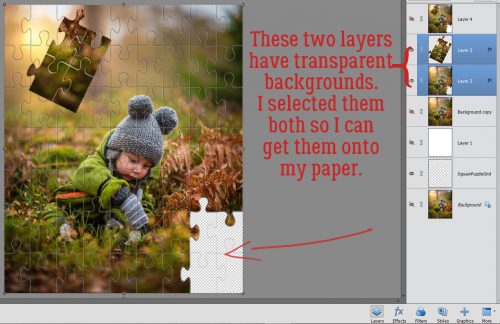 I right-clicked on the two selected layers then clicked on Duplicate Layers… in the same way I showed you when we were combining parts of two different templates.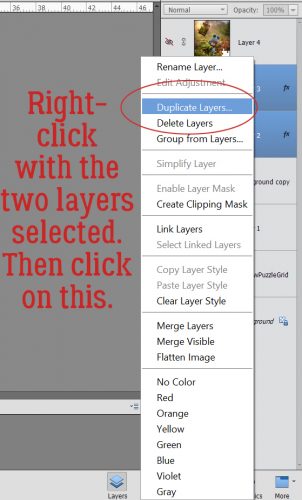 The drop-down menu shows me my options as to where I could send them. I found my paper, which came from Heartstrings Scrap Art's Love & Laughter Buffet kit and clicked on that. I could have moved them onto their own canvas by selecting New from the menu, and then carried on playing with them.

Now I have three separate layers: the paper, the large puzzle photo and the four-piece corner. If you look really closely, you can see the bounding box around the two selected layers.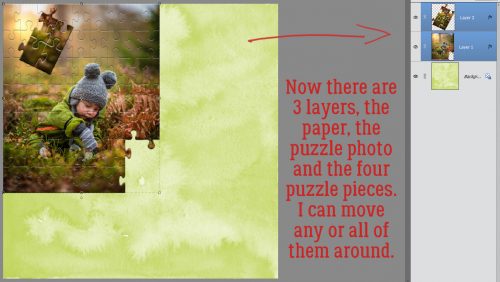 Now I can do whatever I want with this canvas. I'm not going to get my layout finished today, but it should be up in the Gallery soon.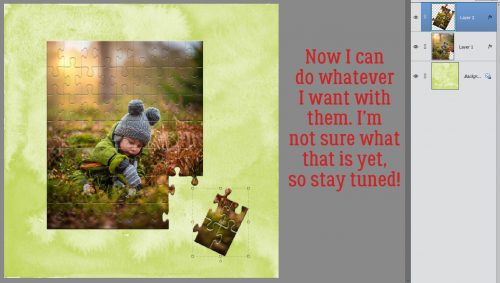 I've really only scratched the surface of what this software can do, and I'm looking forward to sharing some more fun stuff with you next week!