Pixelily Designs!
Greetings again, GingerScrappers! It's time to introduce you to our second Featured Designer for this month, Lily from Pixelily Designs. Her responses to my nosy questions are to follow.
1… How long have you been designing?

I started in 2007 after my second one was born but it's in 2010 when I decided to open my first store and I don't stop up to now.

2… What is your design process?
I have to balance my designing time with my real life time, so I am trying hard to do wise time management. Whenever I have time, I will try to finish some pieces of work at it always starts with the easiest one like papers into the most challenging one, elements.
3… What do you use to create your designs? (software, hardware, etc)
I am using Lenovo Idea Centre desktop with 15 inch screen that I can change into tablet mode. Love it ! My software is Adobe Photoshop CS 6 and I just installed Adobe Illustrations but barely have time to learn about it 
4… Describe your design workspace.
It's just a simple working table with many shelves. And a big mug of green tea or coffee is always there.
5… What motivates and inspires you as a designer?
The beautiful moments that can preserve in stunning layouts.
6… What kit currently available in your GingerScraps store is your favourite? Why?
Daily Stuff bundle. I love the colors and I can imagine countless possibilities of turning the packs into beautiful layouts.
7… Do you craft outside the digital world?
Not really, I am more into baking and cooking.
8… What is the last book you read?
Burnt Paper Sky by Gilly MacMillan. It blew my mind and took my breath away on its every page.
9… Tea or coffee? 
I can't have both? Oh well, then coffee wins 
10… Do you have a guilty pleasure?
Sure, any kind of chocolate desserts.
11… If time travel were possible, where would you go and why?
Paris, it's always my dream to go there.
12… What's your favourite thing about GingerScraps?
So many I like about GS but the main things are the friendly environment and designer fellows, and of course the very helpful team and owner.
13… If you could have any super power, what would it be?
Cleaning my house in no time ! 
It seems most of our designers have a real soft spot for Ginger. (So do I!) It's always interesting to take a peek into the creative minds who provide us with the tools we need for our craft, don't you think? But that's not all… Lily has a coupon code for us too!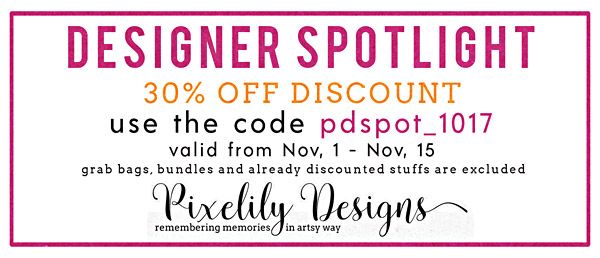 And there's still more than a week to take advantage of it! Kowabunga!

Post expires at 11:59pm on Thursday November 30th, 2017