Playing on Emotion

December. The "most wonderful time of the year", right? But not for everyone. Many people struggle with depression, anxiety and physical illness that make "the holidays" a very difficult time for them. Because of how I earn my living, I see the melancholy side of things all too often… when children in my care die in December I know their families will struggle with so many conflicting emotions for the rest of their lives, and I'll struggle right along with them. So this week my tutorial will take a lightly different approach than usual and focus on emotion. I've found that scrapping the emotions I feel helps me process them better and by processing them better, I live with them better. It's called catharsis.
Art journaling is a perfect method of scrapping emotion. But before you start thinking that only negative emotions qualify for an art journaling layout, let me assure you that ALL emotions are perfect topics for art journaling. Later I'll show you what I mean. And I don't want you to panic thinking art journaling is hard, or that it's so out of your comfort zone that you could never do it. Because I can promise you, it's there, it's in you. You might just need a little nudge to find your inner artist.
The basics of art journaling layouts are pretty straight-forward. They can include photos, but don't have to. They generally need some grunge, either from the kit you're using or via the use of brushes. Actually, brushes are perfect for this type of layout (just remember to put them on their own layer!!) and the possibilities with them are endless. Doodles or scribbles look great in the background, or even over your journaling or photo. Word art makes short work of the "journaling" part of it. Hardware such as staples, clips, wire, screws and other hard objects help make your statement. Masks are another great AJ tool. You can clip photos to them to reflect a mood, or clip papers to them to make your background more umm… artsy. Which brings me to an opportunity to belabour the obvious: Bryony van Wyk, the creative genius behind Heartstrings Scrap Art, makes it so easy to create a moody, emotionally-expressive layout with her templates. The layout I'm going to share with you in a bit was created using her December Buffet Thoughts in My Head collection, although I didn't use a template. It's filled with paint, grunge, doodles, stamps and other artsy items perfect for this technique. Oh, and glitter is also an amazing addition and can totally reflect a mood depending on its colour.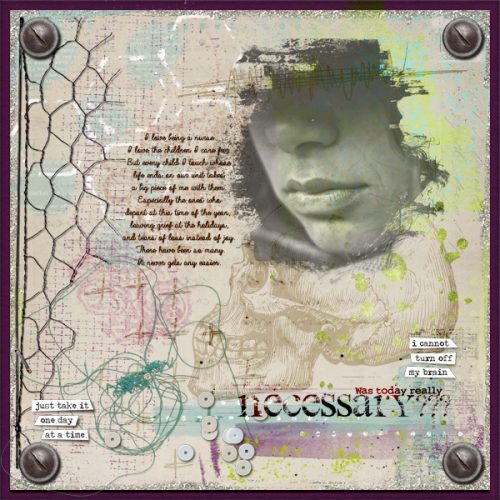 My layout is sad and somber, despite the colour palette. Contrast it to this one by catgoddess that has a very hopeful tone to it. Same kit, very different feel.
Then there's this one by cinderella that is so encouraging! She used Connie Prince's All About Fall Daily Download kit for this beautiful example.
There are some great options in the GingerScraps store for art journal layouts, reflecting all sorts of mood. Here are a few I found in just a few minutes.
Aimee has a LOT of artsy word art options.
Pretty as a Peacock Quotes can work for inspirational or self-affirming layouts.
Same for Celebration of You Quotes.
And the Celebration of You Word Bits are terrific additions to any layout. Have a look at her other word art packs… there's something for everything!
Lisa usually creates some paint-splattered, smeared, grungy papers for each of her collections, and has some torn papers too. Whatever colour palette you might choose, you'll probably find something in her shop to help you out.
Nature's Beauty is an example.
Free Spirit Torn Papers. Depending on your mood, these could be super!
She also has some fabulous scatters like these Winter Joy ones.
Many of Laurie's collections include fantastic grungy elements.
Space Wars Grunge could work for a lot of moods.
Ditto for Girl Power Grunge. Ooh, with Aimee's Peacock word art… YEAH!
I Am Strong Grunge is feminine but powerful. Laurie is your go-to for grunge!
Jennifer has some terrific goodies too!
Every Storm could be used for traditional scrapping, but also has a lot of art journal potential too. That alpha, right?? But then you can also include things like flowers and leaves, or flairs, or string, or any of the more traditional scrapbooking elements, as long as they reflect the emotion you're trying to convey.
Natasha too has some inspiring stuff in her shop.
Like Making Your Way word art.
Jennifer is the queen of saying what's one her mind. And grunge is something else she's got down pat.
The Journey of a Lifetime might be a travel kit, but this grunge is awesome for emotional expression.
Live Out Loud has some possibilities.
And Dare to Dream has a bit of introspection to it.
Now that you've got some idea of what to look for, you're more than halfway there. When you're creating your layout, play with those blend modes on your brushes and word art to see how they enhance or distract from your mood. When I was working on the layout above, I moved things around a lot before I settled on their final location. I moved layers up and down, tried out blend modes and colour overlays, tweaked shadows and just went with what pleased my eye. I changed my journaling more than once to say what I needed to let out. Now my goal is to find something joyous to build an art journal layout around to balance the sadness this one released. I know it's there, I just have to find it. What emotion do you need to express?