Hey y'all! How is everyone's week going? I am simply EXHAUSTED. This weekend just flew by with all the green festivities–so glad this week is my spring break because I am in dire need of letting my brain get some rest! I do plan on getting some scrapping done this week, too and what better place to start than with a challenge?!

This week I am spotlighting a fun little challenge that comes with a freebie: the word art challenge hosted by Bekah of Bekah E Designs! I really like the cute freebie WA Bekah has created for us to work with this month; take a look!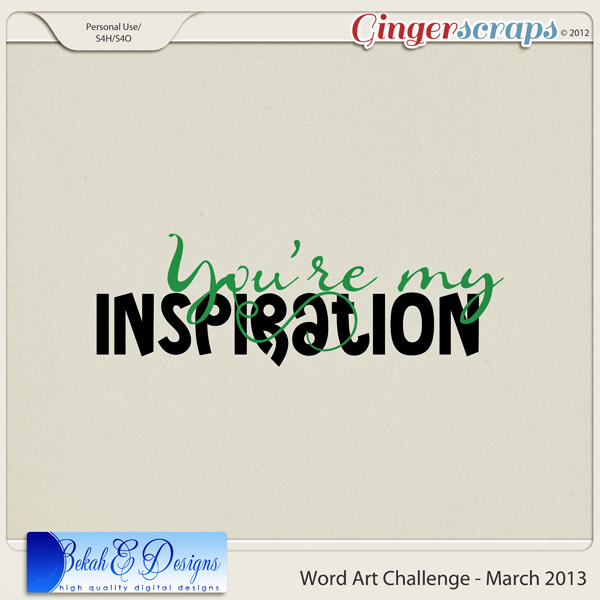 I love mixing script and block fonts when I do my own title work, the contrast is always so pretty and lends itself to all kinds of layouts, so you can safely assume I like this WA. 😉 I guess I'm not the only who likes it, because we've already got several pages posted in the forum using it! In need of some inspiration? Here you go…
By pamr
By ScrapinMama
By emscraps
I picked these three so you could see the different techniques that have been used with this one WA: layering in papers, flooding in colors and keeping it as-is! Of course, they're all beautiful and coordinate perfectly!  Do you love versatile word art as much as I do? 😉 These layouts are gorgeous, ladies! Make sure you take a second to leave them some love in the gallery.

The month is coming to a close soon–just under two weeks and we'll be in April…EEK! Don't forget to get your challenges tallied up in the March Challenge Points Tracking thread. You'll want to make sure you get credit for all your completed challenges so you can snag a nifty reward at the end of the month.

That's it for me–see y'all next week!