Happy end of October. It's hard to believe it's almost November which leads to the beginning of the Holidays. And the beginning of November brings DSD. GingerScraps will be celebrating DSD from Friday, October 31 through Thursday November 6 (because you know our celebration is always too big for one day). More information will be coming soon. Watch the blog, forum and Facebook page for information.
Now, onto our Featured Designers for October. Jennifer of Luv Ewe Designs and Lily from Pixelily Designs. Both designers have their stores at 30% off for the month.
I had a chance to catch up with Lily and ask her some questions.
What is your design process?
I am a sketchy person. I always 'sketch' my next products before I create them. That's why I never leave my old, folded notebook wherever I go.

When I start to create a product, I will make the easiest one. In my case I will start from all the paper packs and the element pack is always the latest.
What do you use to create your designs (program, additional tools, etc.)?
I used Adobe PS6 before I crashed it and now I am back to my old PS3 *sob*.
I have a wacom bamboo, but rarely use it and wish I could dump it for Intuos or something better.
Describe your design workplace.
It's inside the kids' playroom. I put a table with an HP Pavilion desktop at the corner.
The music is always on, a bottle of water is always there ( I am trying to be healthy and forget a cup of coffee but a cheating day might happen once or twice ).
The thing I hate is when I trip on the Lego blocks scattered around the room. It is painful !
What is your favorite thing about designing?
I love all the process, as long as I am not on a tight schedule. Yes, I am not a good organized person.
What is your favorite or "go-to" color palette?
I love soft colors with a touch of blue or green in it. I am a sucker for green.

My dinner plates are green, my bedsheet is green, my stuffs are mostly green and I don't feel sorry about it
What is your favorite treat to have close while designing?
I must nibble something to keep my brain work. I used to have sweet things like chocolate or brownies but I am trying to be healthy these days so I change into cut fruits or nuts. Man, it's hard to start something healthy.
Do you have job outside of designing? If so, what do you do (if you don't mind sharing)?
Nope, I am a full SAHM for my 2 boys.
Please share a photo of yourself, can be silly or serious but a photo that shows us who YOU are.
I am not a photo person. I like taking photos but I don't like being on the photo
What is your *favorite* kit you've designed (that is currently in store) and why is it your favorite?
It's the Happy Collection. I imagine it will be used to make layouts about happy feelings or happy moments.
I am happy to know it can have a happy effect !
What is your favorite thing about GingerScraps.net?
The very helpful staffs, the familiar environments, the great and kind people, oh the list can go on and on !
What is the current ringtone on your phone?
It's a default ringtone, a typical old and boring phone sound. Maybe I will change it into one of Ariana Grande's songs to look cool.
If you were deserted on an island (with all water/food provided), what three things would you want to have with you?
Books, a gadget with full internet connection and my softest pillow.
If you could spend the day with anyone (living or dead) who would it be and why?
Adam Levine of Maroon 5 and I hope he's not dead yet since I want to learn yoga from him.
What songs are included on the soundtrack to your life?
Any of 80's songs when you don't have to include any vulgar words to make the songs ear-catchy.
What would you sing at Karaoke night?
John Legend's All Of Me. I hear it like 10 times a day at my house these days.
Any special message to our members?
Be creative, it's a fun way to spend your day.
Remember to check out Pixelily's store, blog, and Facebook page.
Also, check out Luv Ewe Design's store and Facebook page.
As a special feature, we asked our members to give us their favorite kit and a layout they have made from that kit. This month we have a layout from lynnw with her favorite kit from Pixelily – Shop Till You Drop.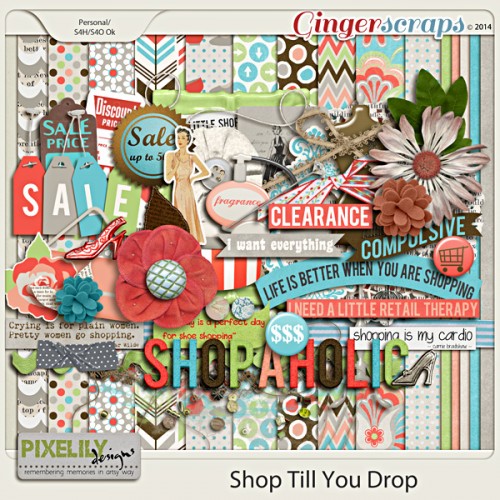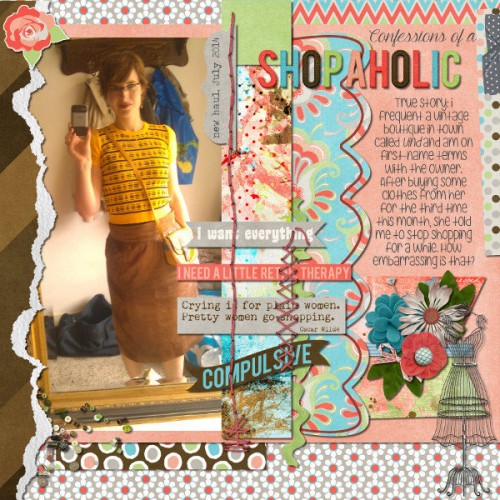 Hope you all have a great Halloween and get ready for a busy DSD weekend.