Happy 4th of July!  If you are celebrating with the US today- hope you have lots of fun but be safe!  We are working around the house today and later this evening we'll head out to the 'big city' for the fireworks.  🙂
Just a few reminders for you on this fabulous Monday:
Our July guest, Kat's Creations, decided to stay with the GingerScraps family.  She is celebrating with a HUGE 40% off SALE!!!
Also – Pretty in Green has been designing for a whole year now!  Help her celebrate by shopping the amazing 30% off SALE!!!  While you are visiting her store – don't forget to snag this super cute mini FREEBIE!!!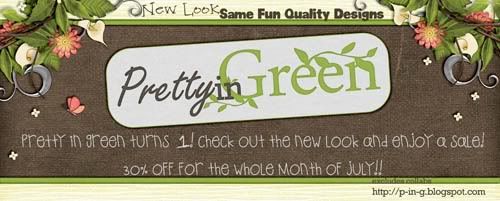 And here's a great deal from Connie Prince too:
Okay – now that you have some shopping to do… here's your gift for today.
**Link has Expired**
Hope you have a fabulous day!