Hi Scrappers!!! Wow! what a week we have had over at GingerScraps 🙂 I hope you have stopped by for all the wonderful freebies my new GingerBread Ladies have been sharing this week.
If you have been over at GingerScraps you might have noticed the error problem we were having. I do apologize for that. My IT team is hard at work to make everything run smoothly. I love to hear that there is so much traffic!! But I do know how annoying it is for all of you. And let me assure you, we are hard at work to keep things running smoothly 🙂
We have two wonderful collabs to show you- first the Sweet Celebrations Mega kit-
What's more fun than celebrating a birthday? How about celebrating with this enormous collab created by the Gingerbread ladies? It's jam-packed full of bright and cheerful elements that are perfect for scrapping your little ones birthday memories. Sweet Celebrations is created at 300 dpi for professional printing quality.
This kit includes: *5 Alphas! *129 Elements *59 Papers
*Matching Glitter- in photoshop style and png sheets for the non- photoshop user *6 brag book templates in .psd format
*Presents, balloons, streamers, cakes, cupcakes, candles, confetti, party hats, flag banners, flowers and much much more!*
** This kit is yours for FREE with any $10.00 purchase**Or $7.00 to purchase.
I will e-mail you a coupon to get this wonderful kit for free after your purchase is completed. Please allow 24 hours as I have to manually e-mail all coupons 🙂 thanks so much!!
~~~~~~~~~~~~~~~~~~~~~~~~~~~~~~~~~~~~~~~~~~~~~~~~~~~~~~~~~~~~~~~~~~~~~~~~~~~~~~~
A Gingerbread Ladies Mega Grab Bag! This is our February Mystery Grab Bag Mega! This month's offering is brought to you by Graham Like the Cracker, Misty O'Brien Designs, Statements by Jodi, Teri's Thing-O-My-Jigs, Mandy Made, Simply Shan Marie Designs, Daybreaks Scraps, HarmonyStar, GeekChic Scraps, and PhotoCowGirl.
"What's in the kit?" you might be wondering. Well that is part of the fun. You can see a little sneak peek in the preview, what's inside this huge collab…..
Your heart will sing when you see what the Gingerbread Ladies have cooked up this month… with 43 papers and 60 elements, Alphas, Styles, Glitter…… and more …….. this kit will keep you scrapping layouts you love.
For a short time only you can get this kit at an unbelievable price of only $4.00!! OR even more amazing….. you can get it for only $1.00 with any purchase over $4.00.
After your purchase is complete I will e-mail you a coupon to get this mega kit for only $1.00! Please allow 24 hours as I have to manually e-mail all coupons 🙂 thanks so much!!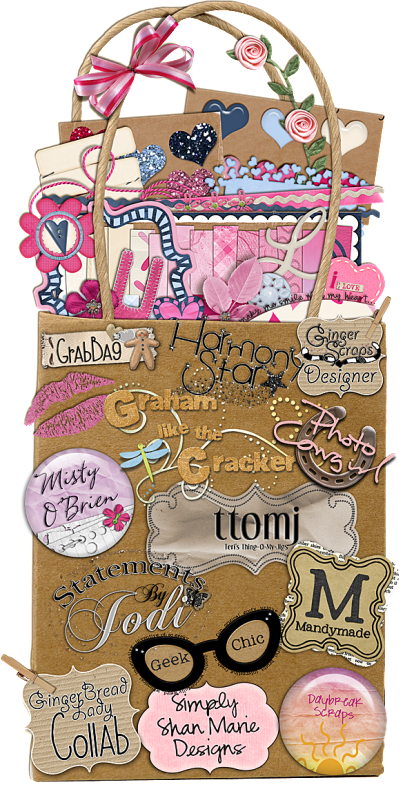 ~~~~~~~~~~~~~~~~~~~~~~~~~~~~~~~~~~~~~~~~~~~~~~~~~~~~~~~~~~~~~~~~~~~~~~~~~~~~~~~
Next from Dawn of DayBreak Scraps- It sure is a cutie!!! A Denim Cutie-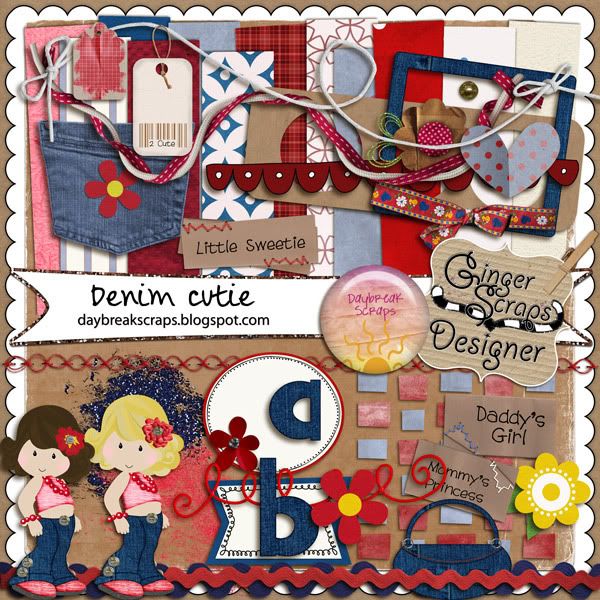 $5.00
This adorable kit contains twelve 12×12 papers created at 300dpi.
A lowercase denim alpha.
And a wonderful assortment of 30 embellishments including:
*2 cute little dolls *4 wordart tags *2 frames *1 purse *2 ricracs *2 journal mats *2 glitter smears *2 denim pockets *3 flowers *1 leaf *2 ribbons *1 snap *1 stitching *1 plastic swirly *1 worn tag *1 heart *1 doodle border *1 paper-pieced mat
Here are a few cute LO's
Char-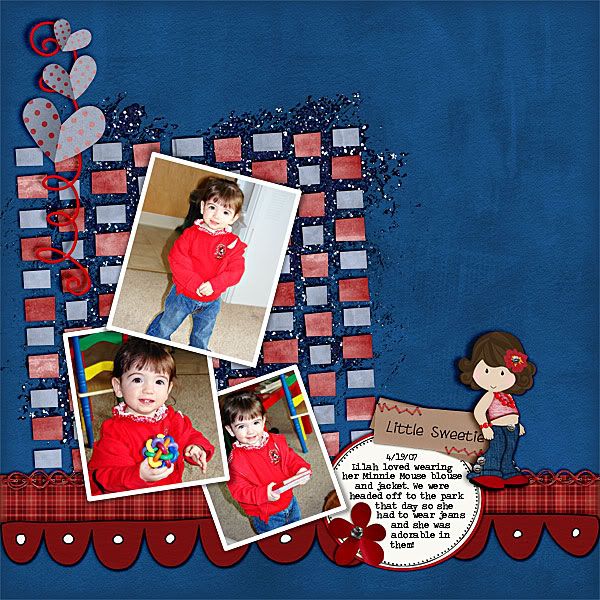 Jodi-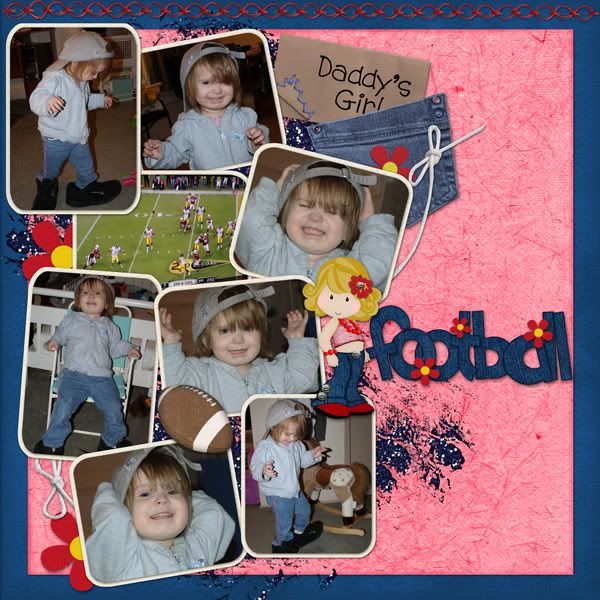 ~~~~~~~~~~~~~~~~~~~~~~~~~~~~~~~~~~~~~~~~~~~~~~~~~~~~~~~~~~~~~~~~~~~~~~~~~~~~~~~
Misty O' Brien has a SWEET deal for you this week….. You will not want to miss this!!!
Pick up this sweet little love mini and scrap all the Valentines in your life. This kit includes 9 papers and 21 elements:
*1 acrylic circle frame  *1 epoxy heart  *1 arrow *1 vellum arrow button  *1 arrow with scattered hearts  *1 faux shadowed foliage  *1 foil diamond strip  *1 glittered layered circle button  *1 glitter swirl  *1 felt leaf  *1 embroidered "Love" button  *1 love notes journaling tag  *1 word art  *1 paper clip  *1 layered paper heart  *2 ribbons  *1 rub on flower frame  *1 stamp frame  *1 steel multi frame
There's also a coordinating glitter set available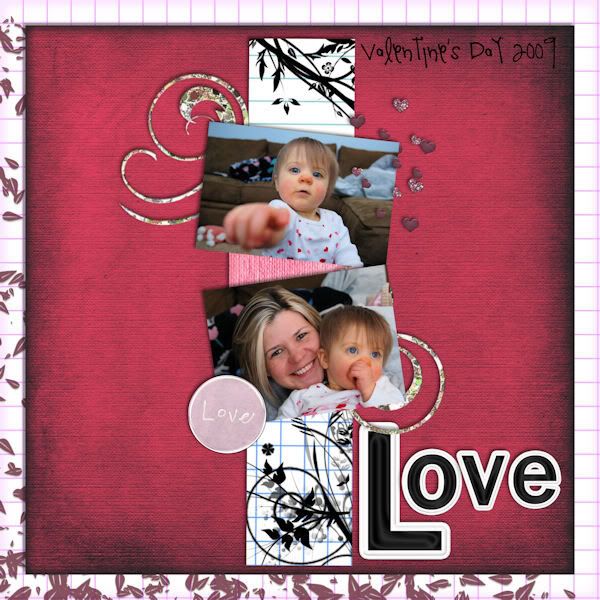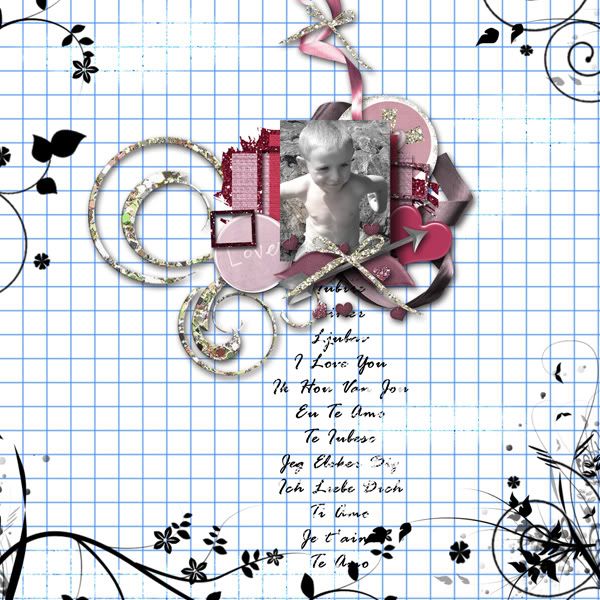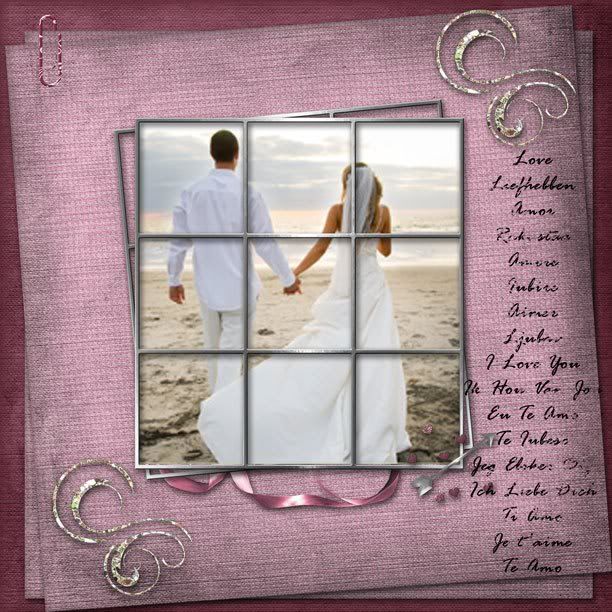 ~~~~~~~~~~~~~~~~~~~~~~~~~~~~~~~~~~~~~~~~~~~~~~~~~~~~~~~~~~~~~~~~~~~~~~~~~~~~~~~
If you missed this yesterday…. you will want to get this amazing HUGE kit! So cute .. form one of the new GingerBread Ladies- MandyMade- We Like To Play
This is a super fun kit just waiting for all those sports/Wii photos I know you have! This is a huge kit that will allow for a variety of different LO's and come with many extras! I made the bingo cards and my Party flyer using this kit… so it can be used for a variety of LO's!
*6 Glitter styles + sheets *9 plastic styles *3 shadow styles (just a bonus) *29 papers *47 ellies *3 upper/lower paper alphas *4 upper/number button alphas
Here are a few LO's
~~~~~~~~~~~~~~~~~~~~~~~~~~~~~~~~~~~~~~~~~~~~~~~~~~~~~~~~~~~~~~~~~~~~~~~~~~~~~~~
Another one of the new GingerBread Ladies- GeekChicScraps – has the fun and funky kit to last you all year long… A Geek For Every Season!-
A Geek for Every Season
This fun and whimsical 365 kit is perfect for documenting life's little everyday moments.
Includes: *12 Hand Doodled Month Frames *7 Hand Doodled Day Frames *5 Year Flair pieces (2009-2013) *1 Word Art  *1 Flower *1 Sparkle Leaf *1 Ribbon with doodled pattern *1 piece of RicRac *3 Wire heart dangles *1 heart button
A CU Friendly set of solid Acrylics to match A Geek for Every Season.
In .asl format, tested in Photoshop CS2 and up, as well as Photoshop Elements.
My Terms-
Credit not required but appreciated. Cannot be used to make other CU items. Cannot be resold or distributed
Enjoy!
~~~~~~~~~~~~~~~~~~~~~~~~~~~~~~~~~~~~~~~~~~~~~~~~~~~~~~~~~~~~~~~~~~~~~~~~~~~~~~~
And The wonderful Teri of Teri's Thing Oh-My-Jigs is just Giddy this week! 🙂 Giddy in love……
This is the first in the "Giddy" series I am doing with each kit mixing and matching for each season or theme. Hope you will be Giddy too!
Giddy (in love) is a fun filled kit that was created to make you smile. From the bright cheery colors to the whimsical papers and elements, complete with the days of the week, each month and date markers for all your Project 365/52 digi-scrappers! This kit has it all. Perfect for Valentines Day or any day of the week! The first in a year long "Giddy" series of kits that will all mix and match, so start your collection now! Create, Inspire and Share!
Includes: *16 papers *40 elements *365/52 Months *365/52 Days  *365/52 Dates *1 complete alpha *Uppercase *Lowercase *Numbers *Symbols
Here is a darling layout by my CT Heather
And one for all you gals who may or may not have time to start from scratch on your layout! This one is a real Kick!
Looking for that perfect combination of Shabby Chic with a touch of the Wild West? But you don't have time to create your own layouts? Buckaroo Blues QP Album will fill those boots perfectly! Buckaroo Blues QP Album is kickin' it! So watch'ca waiting for? Go on and git'er done! Buckaroo Blues QP Album includes 12 qp's rearin' to get scrapped! Create, Inspire and Share!
~~~~~~~~~~~~~~~~~~~~~~~~~~~~~~~~~~~~~~~~~~~~~~~~~~~~~~~~~~~~~~~~~~~~~~~~~~~~~~~
And last but definitely not least.. Jodi of Statements By Jodi- has this super cute GingerBread House kit! mmmm so yummy!!! 🙂
This Gingerbread kit was made for "The Real Gingerbread House – Wives" challenge.
This kit includes: *8 Papers  *49 Elements  *and A Full Alpha
*A blank gingerbread house and gingerbread man for you to decorate yourself
along with *28 elements to decorate them with.
Enjoy decorating your own gingerbread house and gingerbread man/woman
~~~~~~~~~~~~~~~~~~~~~~~~~~~~~~~~~~~~~~~~~~~~~~~~~~~~~~~~~~~~~~~~~~~~~~~~~~~~~~~