Did you have a great time using lyrics on your Layout? I know FJchickie did on her Little Wonders LO. Somehow she made it beautiful and masculine all at the same time I love it! And of course she is our winner from last weeks challenge spotlight. Here's what she won!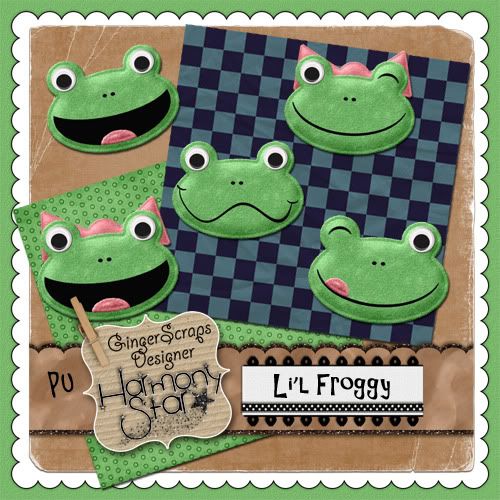 Okey dokey it is the LAST day of the month! Already!!! This makes it difficult to pick a challenge spotlight since the challenges will all be NEW starting tomorrow! Be sure to check them out! So have you been snatching up the download a day? I hope so cause instead of spotlighting a challenge I'd like to spotlight your amazing Layouts using January's daily download. In case you missed the previous post, here's the full preview!
If you haven't thanked Pretty in Green for this beautiful kit she gave for FREE yet I suggest you do so! Cause WOW!  Here's a couple Ginger Snap LOs with this beauty.
Aww sweet! I love these colors and that sweet flying elephant!!! So time to use your Jan. daily download and post the link to your LO in the gallery and post it in a comment here. Next week I'll randomly select one and that person will win a prize from ME! (Harmonystar).
CT & those who have already done a LO with this kit are elligable. Let me see those comments!
Oh and don't forget to pick up Febs. Daily download starting tomorrow!!