Hello again! I know you just got a massive Newsletter yesterday.. but we have Fresh Baked Goodies today!!! Hot out of the oven and soooo yummy!!!
I will do a quick recap just in case you missed yesterdays newsletter, If you want to read it in its entirety, HERE IS A LINK for you to go check it out.
It's GingerScraps birthday! We are turning 3 this week!!
To celebrate our Birthday we are having Sales, Speed Scraps, Chats and lots of fun Goodies!
The monthly $1.00 Bake Sale will be a WHOLE WEEK!

And throughout the shop you will see Sales, Sales, Sales! Have fun shopping, you will not want to miss these deals.

We have a new Free with purchase over $10.00 Grab Bag!! Brought to you this month by Unforgettable Moments.This grab bag is packed with some incredible products! All you have to do is put $10 or over worth of products in your cart, and this Grab Bag will be automatically added to your order for FREE!
https://store.gingerscraps.net/Free-With-10-Purchase-Grab-Bag.html
In order to Celebrate in style our Buffet this month is called "It's My Birthday!" I am totally in love with this color palette, and the GingerBread Ladies knocked themselves out with all their parts and pieces!
And now on to our Fresh Baked Goodies!!! mmmmm they sure are delicious!!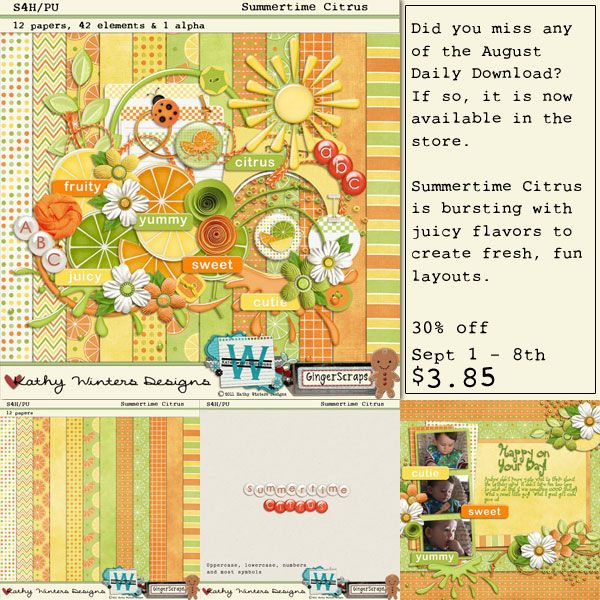 https://store.gingerscraps.net/Kathy-Winters-Designs/
https://store.gingerscraps.net/Kat-s-Creations/
https://store.gingerscraps.net/Animals-Designs-by-LauraMarie-Scraps.html
https://store.gingerscraps.net/CU-Grab-Bag-September.html
https://store.gingerscraps.net/Spook-CU-Layered-Overlays.html
https://store.gingerscraps.net/September-2011-GrabBag.html
https://store.gingerscraps.net/A-Bushel-and-A-Peck-WordArt-Pack.html
https://store.gingerscraps.net/A-Bushel-and-A-Peck-QuickPage-Album.html
https://store.gingerscraps.net/It-s-My-Birthday-WordArt-Pack-1.html
https://store.gingerscraps.net/It-s-My-Birthday-WordArt-Pack-2.html
https://store.gingerscraps.net/It-s-My-Birthday-QuickPage-Album.html

https://store.gingerscraps.net/Scrap-Like-Crystal-Vol.-1.html