Oh holy … wow. Is it really 2 days until April is over? :O
A week from now, we'll be nearing the end of NSD. Did you know that Gingerscraps has a whole lot of stuff planned?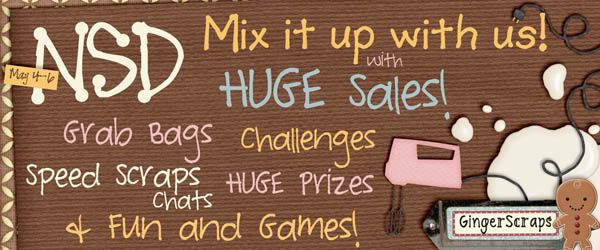 Oh wow. Right? I know! I'm excited. I'll be there Friday, and a chunk of Sunday, if I don't die. I'm going Girl Scouting with my daughter's troop 😀
Now, on to the haps here at Gingerscraps:
Barb asked "What's Stressing you?". The biggest common one is money, it seems. Everyone's worried about it. I hate seeing friends and ones I care about stressing. 🙁
Wendy claims her daughter is a brat, but in a good way. She commented that she wanted more pictures and journaling. The topic went off a little from the original idea with how to get kids to give good faces and the like for layouts. Pictures are included, hehe
Even though it's close to the end of the month, there's still a chance to do a challenge or two! Earn some points towards some kits and things!
Other news: Mystery Designer has ended. It was a lot of work behind the scenes, and Shannon was just so much better at having all of that under control!
This week, the forum was full of chatter. There were several new topics started, nearly every day. I loved it! I love seeing our forum getting active!!
I hope we see you for NSD starting on Friday!!