Again no comments from last weeks spotlight.  I've gotta assume you're all busy with scrapping survivor, surely you aren't all ignoring this blog completely right? I mean I'm offering free stuff here! Tell your friends!
So moving right along. . . today I'm spotlighting a challenge that is new to Gingerscraps this year. The 365/52 challenge. What on earth? You may be asking, well if you've been frequenting the digital scrapbooking forums you'll have heard of this, but if not, here's what it's all about.
The purpose is for scrapping your everyday life. You or your kids may wonder what life was like back when they were toddlers, or in first grade. You may just enjoy taking the time to appreciate every day.
Here's how the challenge at Gingerscraps works: (Written by Ginger)
*1. Finish 1 LO every week.
365 scrappers- your LO will be 7 pictures. A picture EVERY day of the week.
52 scrappers- your LO will be one pic or more a week in one LO.
*2. To get the freebie add-on your LO MUST be at least 30% GingerBread Ladies products. (all new GingerBread Ladies- and Miss Erin included)
*3. Post your LO in the GingerScraps 365/52 Gallery AND the thread for the month. Every 2 weeks there will be a thread with the dates of the weeks that are due.
*4. LO's DUE – 5pm pacific time on Sundays
*5. The Free goodies!!- Every other week I will have a new fun add-on for you! As long as you have done your 2 LO's you will get the add on for free! Julie  will PM you with a coupon code to get the add-on for free. If you didn't get yours done in time- the add-ons will be for sale for $2.00 each in the store
I will be having a few guests GingerBread Ladies bringing you some goodies as well!
So you will be having lots of fun- and getting lots of treats!!
At the end of the year you will have a HUGE mega kit! AND your precious memories all ready to be printed in a book! So come on ladies! Get busy and… Scrap Your Life!!
**Anyone can join at ANYTIME!!**
Even if you missed the first few weeks – or even months… just start anytime and post the LO for the weeks we are in and you will get that weeks add on. If you fall behind- dont worry- just pick up where you fell off the track.. and keep on goin!!
Did you catch the part about FREEBIES every other week? Oh yeah that's good stuff! In case you're wondering, these freebies are sometimes seasonal minis (like Valentine's or Easter) Or they will be things specific to 365 LOs (like dates & months) & generic helpful things (like paper & ribbons)  Usually you don't get to see the freebie until you earn it, but because I am the guest designer providing your freebies for April I will let you see the first one you can get: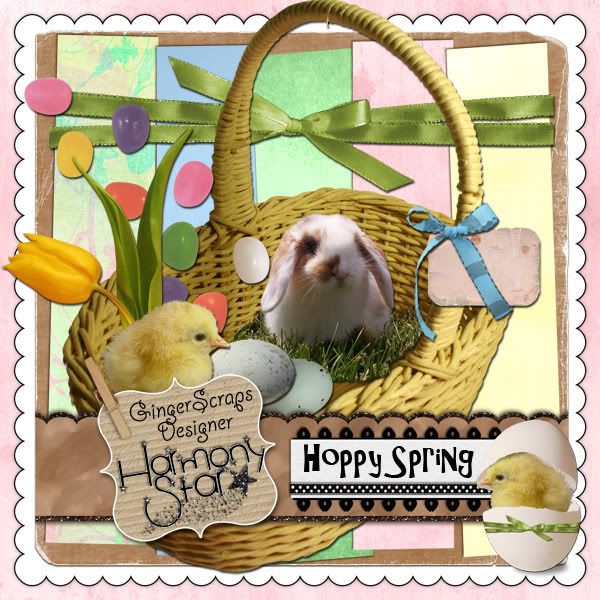 Oh you know you want that right?
In addition to these great freebies, Julie makes all our lives easier by providing us a template we may use each week.
I tell ya Julie is amazing and I'd never be able to do this challenge without her!
Here's a few example of some 365/52 Layouts just in case you were wondering what they could look like:
Don't they look fun! Go check out the 365/52 challenge right now!
Wait before you go, you may want to know how you can get yet another FREEBIE! If you post the link to your LO in the gallery and post it in a comment here. Next week I'll randomly select one and that person will win a prize from ME! (Harmonystar). CT & those who have already done the challenge are elligable. Let me see those comments!