Hello and Good Friday to you!  Have you recovered from Digital Scrapbooking Day?  We are still cleaning up around here.  There was tons of confetti left all over the chat room floor from the wild speed scraps.  We are getting everything back in order so we can do it again Black Friday Weekend.  Oh….wait a minute.  I don't think you are supposed to know that yet.  Ok, just pretend you didn't see that.  If anyone asks, just deny everything.  You don't know anything about our HUGE sale – oh man, see, I did it again.  I'm just going to tell you what is new here at Ginger Scraps before I get in trouble.
Ginger and I have some very exciting news we would like to share with you.  Ginger?  You're up!  Tell the fine folks what is going on.  Whatever you do though – don't read the first paragraph – just trust that I didn't say anything important.  Ok, here's Ginger!!
Hi my lovely Scrap-tastic friends! We have some very exciting news to announce! GingerScraps.net is joining forces with ScrapStreet.com Magazine to create a new digital and hybrid ezine! GingerScrapsStreet Magazine will showcase the latest and greatest in all things that BYTE brightly! We feel that this new magazine will be the cherry on top of our site and hope that you will join in to make it a fabulous publication.
We are now accepting applications for staff positions. Do you have a passion for all things digital or hybrid? Do you love sharing new ideas and hot trends with your fellow scrappers? Are you interested in increasing your online presence reaching thousands of subscribers each month?If you are selected for our new digital team with GingerScraps, you will write a monthly article which will include selecting and requesting the work of designers, combining the work into an interesting article, and meeting your deadline. You will receive products from GingerScraps and other industry designers as a thank you for sharing your talents. It is an excellent opportunity to increase your visibility in the scrapping community while having fun.
To Apply:
Send the following to digistaff@scrapstreet.com
1. contact information
2. a short statement of why you are interested in joining us.
3. a link to your blog.
4. a link to your gallery.
Would you love to see your art featured in GingerScrapsStreet Magazine? Check out our current calls!
While we are talking about new ventures, please allow me to introduce the Editor of GingerScrapsStreet Magazine and a new GingerBread Lady, Dora Phillips.
Hi all! I am Dora Phillips and I am so excited to have the opportunity to put together an amazing digital and hybrid magazine here at GingerScraps. ScrapStreet.com Magazine begins our sixth year with the December issue. A walk back through old issues would showcase a long history with GingerScraps from her days as a designer with us. I have been amazed and inspired by Ginger's talent and vision for years and am loving the chance to work with her full time.
I design under the name LemonLove Creations. I have long been a fan of the saying "turn lemons into lemonade" and believe that scrappbooking allows us all to do that. We can look at our darling daughter covered in our brand new super expensive lipstick, grab the camera, and giggle. Or we can dig deep into feelings we might otherwise leave hidden if we did not have an artistic way to express them. Scrapping gives me a way to look at the world through lemonade glasses. To see more of my life, come visit my blog anytime!
I am so excited to be joining the GingerScraps Family. You have all made me feel so welcome already and I am looking forward to a great future here!
How much is that doggie in the window? I could not help humming that old song while I was designing. We spent lots of time this spring looking at darling little pups before we found our darling dog Wolfie. For all of you out there loving your furbabies, this is the kit for you. $5.
http://www.scrapstreet.com/ginger/dll_doggonecute_totalpreview500.jpg
_____________________________________________________
Autumn Daydreams is a collaboration between Caged Bird Designs, Girlboheme Studios, and Dora's LemonLove Creations. Before autumn comes I always find myself daydreaming about the season! Colorful leaves, autumn flowers, fall elegance, and beautiful gold tinted dreams are all found in this kit! $6
https://store.gingerscraps.net/Autumn-Daydream.html
_____________________________________________________
Thanks Ginger!  I'll take over from there!
Now let me show you what our designers have been up to.  Remember our monthly deal!  If you spend $10 in our store, we will send you a coupon to get our monthly collab for only $1!  That's right – just $1!!
_____________________________________________________
Wyld Web Designs is unpacking her fabulous DSD grab bag, you can now grab each of these goodies for 25% off this weekend if you missed the grab bag!  (See I told you we were cleaning up!)
https://store.gingerscraps.net/Elephants-Never-Forget-Me-Not.html
https://store.gingerscraps.net/Unforgettable-Alpha-by-Wyld-Web-Designs.html
https://store.gingerscraps.net/Elephants-Never-Forget-Me-Not-Wordart-Pack.html
https://store.gingerscraps.net/Rockin-the-Layouts-Volume-2-by-Wyld-Web-Designs.html
https://store.gingerscraps.net/Journal-Boxes-A-Little-Off-by-Wyld-Web-Designs.html
https://store.gingerscraps.net/Photo-Masks-Edgy-by-Wyld-Web-Designs.html
https://store.gingerscraps.net/Angel-Mail-by-Wyld-Web-Designs.html
_____________________________________________________
Marshmella Designs is revealing her DSD Grab Bag "What's Buggin You?". You can now grab all the seperates for 25% off.
https://store.gingerscraps.net/What-s-buggin-you-grab-bag.html
https://store.gingerscraps.net/What-s-buggin-you-Kit.html
https://store.gingerscraps.net/What-s-buggin-you-Alphas.html
https://store.gingerscraps.net/What-s-buggin-you-Word-Art.html
https://store.gingerscraps.net/What-s-buggin-you-Clusters.html
_________________________________________________
Hornbuckle Designs has a new set of Lazy Days Templates out today! These template packs include four templates, two one-photo layouts, one three-photo layout, and a four-photo layout. It includes PSD, TIFF, and PNG files for each layout.
https://store.gingerscraps.net/LazyDays2-12×12.html
https://store.gingerscraps.net/LazyDays2-85×11.html
_________________________________________________________
Pixels By Jen is opening up her DSD weekend grab bag. If you missed it, now you can grab the pieces for 50% off this weekend!
A Boy's World kit is filled with bright colors and fun doodles. Perfect for the little ones in your life. Reg. $4, this weekend only $2!
https://store.gingerscraps.net/a-boys-world
A Boy's World Digi Stamps and Doodles: If you like hybrid or mixing and matching kits this doodle pack is for you. All images come in a white filled stamp version, a psd version, a doodle line version, and individual pngs in both line and fill for clipping and piecing. Reg $3, this weekend $1.50
https://store.gingerscraps.net/abw-digi-stamps-and-doodles
Pile on the Pictures Template 1
Do you like to scrapbook with a lot of pictures? This template is for you! Also included with the PSD template is a button and an eyelet. Reg $2, this weekend $1
https://store.gingerscraps.net/Pile-On-The-Pictures-Temp-1.html
Add some layers to you layouts with paper stripes! This template also includes painted masks and a gemstone. Reg $2, this weekend $1!
https://store.gingerscraps.net/Paper-Stripes-Template-1.html
_______________________________________________________
Creations by Julie has your whole year on one page!  2011 Calendar.
What a great way to see the whole year all at once. Add your favorite photos and some digi goodies. What a great thing to hang on the fridge or in the office. Makes a wonderful but simple to make gift.
Print it out and stick it in an acrylic frame and your done!
https://store.gingerscraps.net/All-on-1-Page-2011-Calendar-8.5×11.html
Plus she is also cleaning up!  She is also breaking up her Grab bag!
2011 – 1 page calendar template! Each month is on 1 8.5×11 page. Super easy to drop in your pictures and digi goodies. Print and you have a perfect gift!  Use the GingerScraps code at Persnickity Prints and get 10% off your printing order!
https://store.gingerscraps.net/2011-1-page-per-month-calendar-templates.html
These templates are all designed in the recomended printing sizes at Persnickity Prints. So quick and easy to add you photo and some digi goodies. Use the GingerScraps code and get 10% off your printing order.
https://store.gingerscraps.net/Photo-Card-Template-Sampler.html
Here are some inspirtional quotes about life. Perfect for scrapbook pages, calendars, and 365 pages.
https://store.gingerscraps.net/Life-Word-Art.html
______________________________________________________
Wonderland Shades of White by Pretty in Green, is an elegant paper pack perfect for any layout from a winter wonderland to a beautiful spring wedding. This set includes 12 300dpi 12×12 inch beautifully textured papers with a Bonus of 2 white felt vine elements! How could you go wrong with using white!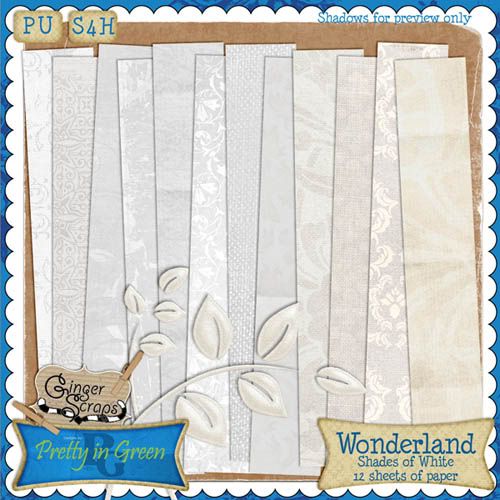 https://store.gingerscraps.net/Wonderland-Shades-of-White.html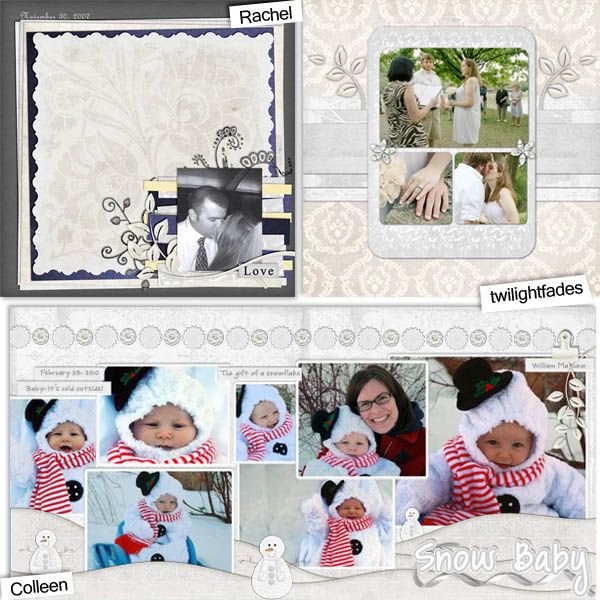 ____________________________________________________________________________________________________________
Lil Bandits by Jumping Jelly Bean Designs – 25% off …. only $3.94
Wanna scrap those moments when your kids are more like Cookie Monsters? Or how about when they are doing good and getting their allowance? Are you trying to teach your kiddos to save their money for that rainy day? Or maybe you just like the beautiful blues, yellows and greens this kit has to offer! With over 60 elements and 12 textured papers, this kit is sure to be one you grab!
https://store.gingerscraps.net/Lil-Bandits.html
_______________________________________________________
Kiddo Kuts by Jumping Jelly Bean Designs– 25% off … only $3.94
Remember those moments when your child got his/her first haircut? Or how he/she still loves or hates to go? Display those funny pictures using this adorable kit that has 65 elements and 12 papers.
https://store.gingerscraps.net/Kiddo-Kuts.html
_________________________________________________________________________________________________
Love the Giving Thanks Alpha from the "Giving Thanks" kit from Statements by Jodi, but don't want to buy the whole kit to get it? Now you don't have to! You can have just the Alpha for $2. This weekend only get it for $1.50.
https://store.gingerscraps.net/Giving-Thanks-Alpha.html
___________________________________________________________
One of the best experiences of childhood is playing on a playground. Add in a few friends and it is the perfect day for any youngster. The kit "Playdate At The Park" is jam packed with fun! This is the perfect kit for scrapping all kinds of playful memories! A lower case alpha with numbers and some symbols is included! You can go and grab Playdate At The Park by Unforgettable Moments for only $3.00 this weekend!
https://store.gingerscraps.net/Playdate-At-The-Park.html
Make your playdates quick and easy with the "Quick And Easy Playdate" extras! This cute paper stack, quick page, Title Frame, and 2 Word Arts are from the "Playdate At The Park" Kit (above). Use these extras alone or in combination with Playdate At The Park for some quick, easy, and super fun scrapbook pages! You can add these cute things to your pages for only $1.50 until Sunday.
https://store.gingerscraps.net/Quick-And-Easy-Playdate.html
It is often difficult to compose layouts with a lot of photos, and a lot of journaling. We all have events where a lot of photos are taken, and we need space for plenty of journaling. Now you can rest assured that your pages that require a lot of photos and journaling will turn out perfect! The "Tell Your story" Template Pack will help you when scrapping those important events where one or two photos just won't do. It isn't always easy to find templates with places for a lot of photos, and making multi page layouts takes a lot of time. You can have these on sale for $2.25 this weekend.
https://store.gingerscraps.net/A-Story-To-Tell-Template-Pack.html
Give all your layouts a fun and funky feel with Mattables volume 1! All you have to do is clip any of the papers that you currently have to these paper matt's and you can give all your layouts a new look! The possibilities are numerous with Mattables. Matt your background paper, or add a funky border. Stacked papers are really trendy right now and you can stack your papers easily and in a funky way with these Mattables.
https://store.gingerscraps.net/Mattables-V.1.html
_________________________________________________
So there you have it!!  We hope you have a great weekend!  Make sure you stop by the forums for a lot of laughs and fun activities!!