Good morning, my lovely ladies! It's Tuesday and you know what that means–another challenge spotlight!
This is your last full week to get your challenges in for a super nifty store discount coupon or gift certificate! And who doesn't want that? (Seriously, who? Because I'll volunteer to take yours if you don't want it!) The points thread closes on the 1st of May, so get your challenges tallied up and entered!
Since this is the last spotlight of the month, I am going to give you a double dose of awesomeness with two easy challenges that each come with a freebie (isn't free your favorite price?!): Sugar Kissed Designs' first April template challenge and Craft-tastrophic's second April template challenge!
You know how these work: we have one template for the first half of April and another for the second half, but you can still get both right now and knock two challenges out!
First, let's take a look at Terra's template for the first half of April!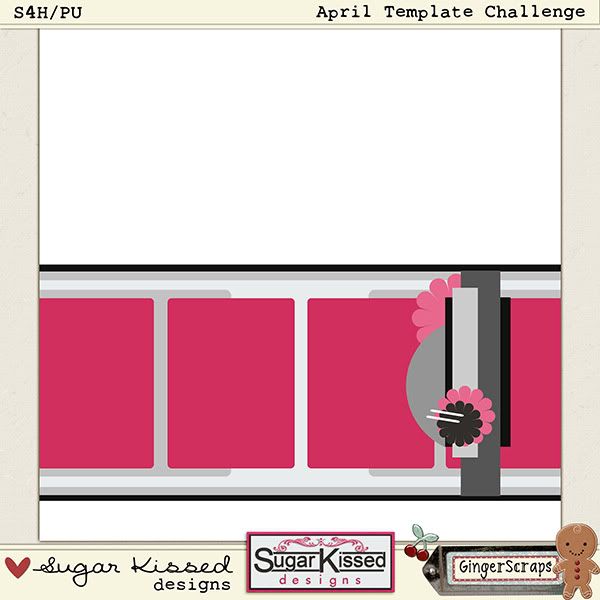 Gorgeous, right? This one is perfect for showcasing multiple photos to tell a story! Let's see how our fabulous forum gals did on this one!

By mamaape

By Neverland Scraps

By nowens
Wow, ladies–you've really outdone yourselves with this challenge! All the layouts are so unique, it's hard to believe they're all from the same template!
Now let's move onto Ivonne's template for the second half of April!
I love me some paper stacking, so I of course jumped right on this one! Need some inspiration? Thought you'd never ask! 🙂

By Lisa

By Sugar&Spice

By Ambelleina
Excellent work, as always! (Especially that last one, if I do say so myself, hehe!) This template was really versatile and fun to work with, so speed over to the forum and grab it!
Remember, the month is almost up (can you believe it?), so make sure you swing by the forum and nab both of April's templates while they're hot! Get all your challenges in and tally them up in the April Challenge Points Tracking thread before May 1st to get credit. As always, direct any questions you have about our challenges to the Cookie Jar!
Hope you all have a great week; see you next month! 🙂