Hey out there in digiland, how is everyone this blustery and chilly Tuesday morning? We're having a typical Texas weather week: 70 and sunny one day,  40 and wintery the next–no joke. Now that winter has made a comeback and it's f-f-f-reezing outside, I'm staying in and scrapping! For this last week in February (whaaat?!), I am spotlighting another challenge with a freebie: the second template challenge hosted by Bekah of Bekah E Designs! She has come up with a simple but snazzy little template that I think you'll Like. Take a look!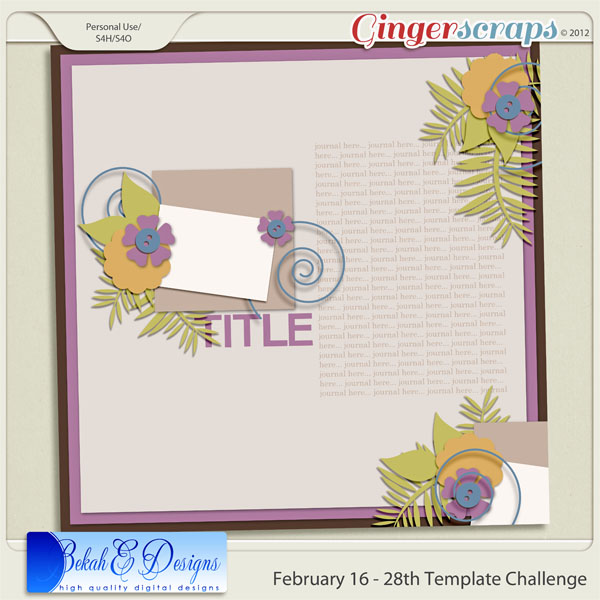 I like all the room for journaling and a nice big title! I usually gab a bunch here, but I want to get straight to the layouts completed by the ladies in the forum because they are simply outstanding this week!
By MSPeeler
By Kathryn
By sparkysgirl
Ok, where do I even start?! First, I wouldn't even automatically assume these are all from the same template! While we can pluck out some similarities, they are all so unique and beautiful! I pretty much love everything Michelle does,  but that little picture peeking out the bottom corner is just plain adorable. Kathryn's layout immediately struck my eye because of the glittery background that almost looks like a dimensional cut-out overlay. Lisa always does gorgeous cluster work and this page is no exception! Absolutely fabulous pages ladies, I love them all!

Don't forget this is THE LAST WEEK of February and there's only two more days left in the month after today! It's a short one and all your challenge layouts need to be completed and tallied in the February Challenge Points Tracking thread by the end of the day on the 28th.  You can get yourself some nifty rewards to start March out with, so get those layouts in, girls!  If you need more info or have any questions about this or any of our monthly challenges, head over to the Cookie Jar and leave us a message.

That's it for me for this week…and this month. Eek! See y'all in March!