I have a super fun kit to talk to you about today. It's called Skirts in the Dirt by Tabby of Scrapberry Designs and is a softball themed kit… for girls! I just loved the bright colors of this kit. When we think summer, it's usually baseball and boys right? Well girls play too! In fact I played softball in summer leagues as a kid for years! This kit is a must for anyone who has daughters or grand daughters playing ball. Some of my favorite things in this kit included a pink catchers vest, Word Art, silhouettes, splatters, and a pink baseball mitt. But there is so much more in this fun themed kit! Here is what the kit looks like, isn't it fun? It has a total of 13 papers and 36 Elements plus an alpha and numbers! Visit this kit here in the GS Shoppe!
I like to ask our spotlighted designer a few questions and this is what Tabby had to say~
1. what was your inspiration for the kit, colors etc?
My lead CT's daughter is a hard core baseball player. She's been looking for a kit to scrap her with but couldn't really find what she wanted so I made this kit for Ms. Catherine. The colors actually came from her uniform. Here's a layout her momma made showing her off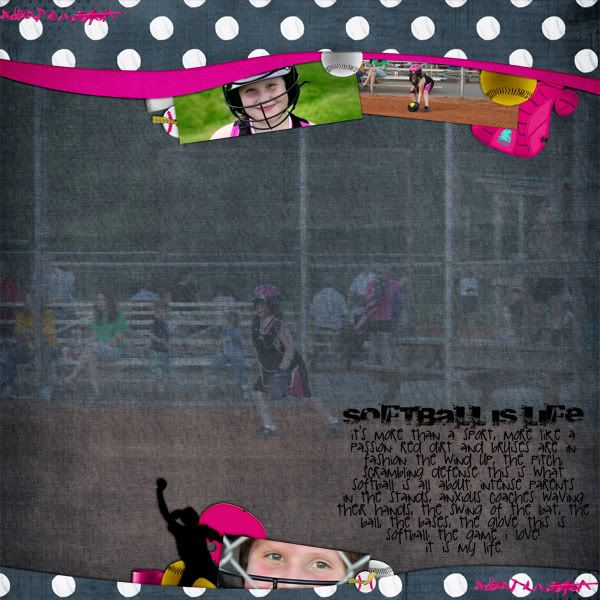 2. What is your method for designing kits, papers first ellies first?
With this one I went back and forth. I worked on some ellies and got a feel of where it was going and did some papers and then I'd do some more ellies until I felt it was finished.
3. What do you design to? Music, tv complete silence?
Ummm, whats music, tv, or completed silence? LOL. In a house with three little boys I pretty much here growling, crying, or fighting all day long. Now in a dream world I'd have an office with a door and my kids would go play in their play room and let me listen to some good old 80's music and get into "my zone" and have some mommy time. But, as I said, that's just a dream :P.
Poor Tabby, I like to design and scrap to music myself, but 3 boys sounds like a handful!
Here are some gallery stand outs I found with this fantastical kit!
This one is by Kimmiescraps. I love the attitude captured in the main photo!
And here is a feebie QP made with this kit! Snag it HERE