I don't know about you, but I wish I could scrap more often. I scrap at home, while the guys are watching something I have no desire to or while everyone is sleeping. I've thought more than once how I wish that I could scrap on the go. While I have not been able to find an app that lets me scrap from start to finish. I have found a few that cuts out some steps and I can do on the go. Not to mention they add special touches to my layouts. I am stopping by today to talk about one of those apps!
What is this app you ask? A Beautiful Mess is a photo editing app. It comes with 6 photo filters, quite a few fonts, great borders, word art, and doodles. You can make in-app purchases for more of everything (except the filters). The in-app purchases are $0.99 a piece.
When using A Beautiful Mess, it crops the photo to a square. Once you are done, it saves it to your photo library. It is available in iTunes and Google play. A lot of you will have known about and used this app. However, for those who do not, let me tell and show you how this can help your digital scrapping!
I took 4 photos that I had taken while my son and I were out having our, "Me & You Day". I edited these in about 10 minutes or less.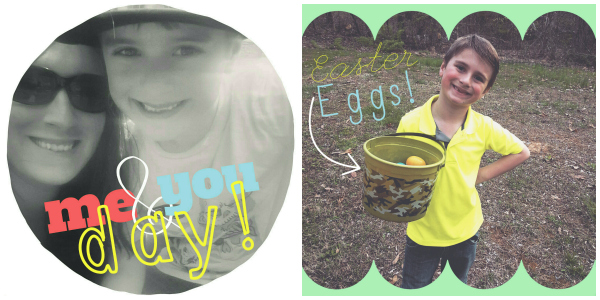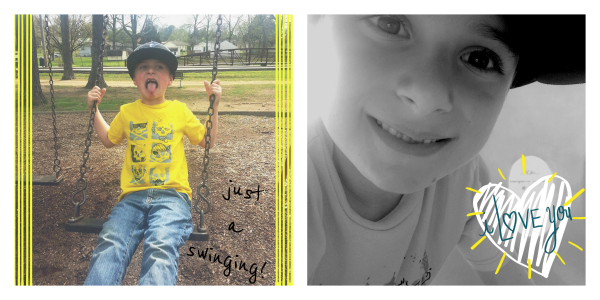 So, as you can see I took photo photos and added to them. Little word art here, a tad of color there, and fun borders. Now, how does this help with scrapping? It might have only taken me 10 minutes or less to do this in Photoshop. I think with the searching and creating though, it would have taken a bit longer. Not to mention, I can do this while waiting for an appointment, or laying in bed being lazy! I didn't have to lug out my laptop or go sit at my desktop. How easy would these be to put in a layout?
Fun, right?! Don't limit yourself to your computer and remember, you don't just have to pocket scrap with these kinds of photos. Explore your phone's apps and see what you can come up with. If you find a really cool new app, let me know! I would love to check it out and might even use it in a future post.
Made a layout using a photo from A Beautiful Mess?! Remember to upload it in the gallery and come back and link us up! We love to see what you are scrapping!