Happy 2019!! I'm so excited to bring you this month's featured designer profile. ADB Designs is one of our newer store designers. Let's just jump right in and get to know her.
How long have you been designing?
As scrapbook designer since 2012; as designer (marketing and end user products) in a photography studio since 2002.
What made you decide to design?
I retired from a high stress job in IT and found designing to be a powerful creative outlet for my time and energy – AND – it allowed me to create designs that supported my genealogy passion.
What do you use to create your designs (program, additional tools, etc.)?
Photoshop CC & AI; scanner, husband who is professional photographer, LOL!
Describe your design workplace.
I have an office in my home, with windows that overlook a wooded hill on our 5 acre property. It is peaceful and quiet, unless the office cat is demanding attention.
What motivates and inspires you as a designer?
I love history and romantic "things" – I research for my genealogy passion and all of that feeds my designer imagination. I create a lot of Heritage collections designed to assist with telling a family history.
What is your favorite kit currently in your GS store and why?
Patriots & Loyalists Heritage Collection is my current favorite. I loved the challenge of creating a collection to support research in the American Revolutionary War period. I loved the challenge of creating a product that celebrated both patriots and loyalist…all were newly minted Americans at the end of the war.
What was your first job?
WOW that really takes me back. I would have to say babysitter at age 12 for the 3 children who lived next door.
Have you ever met anyone famous?
No, I lead a boring life. LOL
What are you reading right now?
Oh goodness, I read 6-7 books at a time. (I read a lot of non-fiction) I am finishing these:

The Last Shogun – the life of Tokugawa Yoshinobu
Rosalind Franklin The Dark Lady of DNA
I Remember Nothing More – The Warsaw Children's Hospital & the Jewish Resistance
His Brother's Keeper – A Story From the Edge of Medicine
What is your favorite quote?
"The opposite of hate is not love, it is indifference." David Wilkerson
What is something you want to do in the next year that you've never done before?
Go to Australia and visit my brother Alan and his family.
You have your own late night talk show, who do you invite as your first guest?
Oprah Winfrey
If you had to delete all but 3 apps from your smartphone, which ones would you keep?
Google Drive, Adobe Capture, Google News
If you could have someone follow you around all the time, like a personal assistant, what would you have them do?
Clean & cook — oh wait, my husband does that….I guess help me stay organized.
Would you rather travel back in time to meet your ancestors or to the future to meet your descendants?
Back in time.
What commercial jingle gets stuck in your head all the time.
"Nationwide is on your side" Peyton Manning singing.
If you could turn the ocean into a liquid other than water, which one would you pick?
Would not want to do that…but if you are asking about other favorite liquids….well a good single malt Scotch makes me happy. 🙂
Thanks Diane!! Make sure to check our her GingerScraps store and her Facebook fan page. Also make sure you are grabbing the daily download every day to get this awesome kit!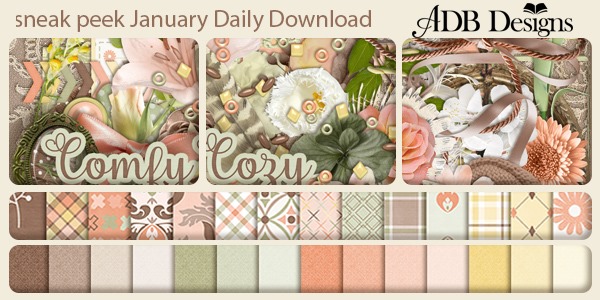 Happy New Year everyone!!