Happy May. Did everyone have fun with iNSD? I know it was sure busy around here. I wanted to hold off on posting this until things calmed down a little. Hopefully the weather is warming up in most places. I live just outside of Charlotte, NC and we are gearing up not only for the Wells Fargo Golf Championship this week, but this is also the beginning of 10 days of NASCAR racing at the speedway. Is the rest of your May as busy as mine looks to be? I would love to hear about your plans as we prepare for SUMMER!
This month our Feature Designer is Missy from Scraps by Missy. She was gracious enough to answer some of my off the wall (but fun) questions.
What is your favorite "go-to" color palette?
I'm not sure I have a go-to palette but I love anything with pinks and purples.
What is your favorite treat to have close while designing?
Sweet tea or ice water.
Do you have job outside of designing? If so, what do you do (if you don't mind sharing)?
I'm a stay-at-home mom, and it's a full time job .
What is the current ringtone on your phone?
Stop, I'm Already Dead by Deadboy & the Elephantmen
If you were deserted on an island (with all water/food provided), what three things would you want to have with you?
Family, portable solar panel charger, laptop!
If you could spend the day with anyone (living or dead) who would it be and why?
Sam Heughan…that would be a perfect day!
If you could travel anywhere in the world, where would it be?
Scotland
What songs are included on the soundtrack to your life?
I love all kinds of music, I may have the weirdest soundtrack out there….lol. Country, pop, rock, 80's and 90's are some of my favs.
What would you sing at Karaoke night?
Welcome to the Jungle
If you had a warning label, what would yours say?
Caution: Wide Load!
What is one thing you will never do again?
Get married, once is enough!
What's your favorite movie?
Gone With The Wind
Do you love or hate roller coasters?
Love
Do you believe there is intelligent life in outer space?
Yes
What was the last thing you ate?
A taco
If you were a crayon, what color would you be?
Purple
What's your biggest pet peeve?
Grammar!
Pirates or Ninjas?
Ninjas!
Country or City?
City!!
Morning or Night?
Night
Indoors or Outdoors?
Indoors
Chocolate or Vanilla?
Chocolate
Cats or Dogs?
Cats
Thanks to Missy for playing along.
Are you collecting the pieces for this month's Daily Download? Make sure you grab the download from the blog each day. The fill kit will be available in the store in June.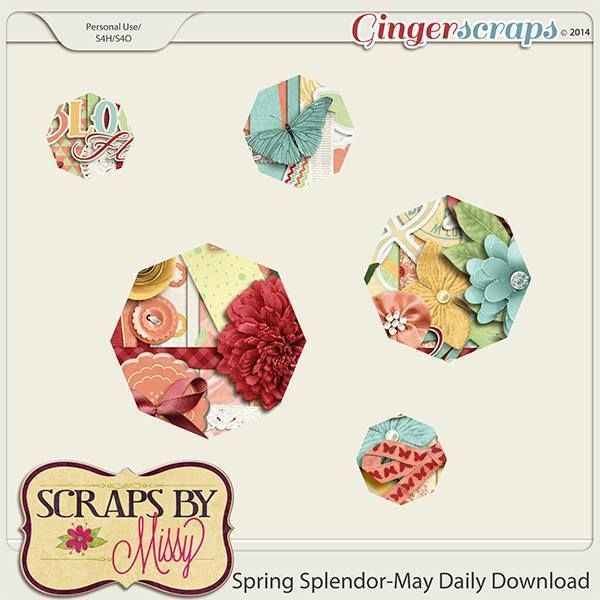 Make sure to check out Missy's store. She has graciously offered a coupon for this month. It's good for $2 off any $5 purchase (sbm_ds2). Also check out her Facebook page and her blog.
Don't forget to leave a comment about how YOUR May is shaping up.