Welcome to February. Our Feature Designer this month is Jennifer of Little Rad Trio. She was gracious enough to answer my questions and even provide a little something for you.
How did you get started in digital scrapbooking?
By accident! I bought Element 7.0 at Costco back in 2007 just for the ability to edit photos. It came with a Learn Digital Scrapbooking CD. I only watched the videos to help learn Photoshop and ended up falling in love!
What made you decide to design?
There were certain themed kits that I wanted and couldn't find. So I started playing around and took some classes on designing.
What do you use to create your designs (program, additional tools, etc.)?
I used Photoshop 6.0 and Illustrator 6.0. I'm fairly new at Illustrator so I still have lots to learn from that. Occasionally I'll use a tablet for drawing too.
Describe your design workplace.
I don't have a typical work space. I do most of my designing anywhere. Have laptop, Will Travel. I also do some occasional designing on my IRL work computer from time to time. Having dual monitors makes a world of difference.
What is your favorite thing about designing?
My favorite thing about designing is seeing people creating beautiful layouts with my products. It is so rewarding when I create something that someone just loves and then creates stunning layouts.
What is your favorite kit currently in your GS store and why?
Historic USA – Civil War kit is still my favorite. I love how the elements turned out and the color scheme is one of my favorites. Plus I'm a sucker for the Civil War history.
What was your first job?
In between my 10th & 11th grade in High School, I spent the summer working at my dad's insurance business as a file clerk. All I did was file and pull files for the underwriters. Now, I run the place with a staff of almost 50 people and 3 locations.
How many languages do you speak? What are they?
I only speak English. I've taken some Spanish classes, but unfortunately I haven't even come close to mastering.
What's your favorite holiday?
4th of July! I love the warm summer days, spending time with the family at the beach or on the lake. And I love fireworks and celebrating our Nation's Birthday!
What is your favorite family holiday tradition?
Christmas Eve! We gather at my parents, eat dinner, then we have to sing Christmas Carols before we can open presents. We then start with the kids. Once they are all done, we spend the rest of the evening with the adults opening gifts. Then, we may watch home movies or old time Christmas Movies like It's a Wonderful Life or White Christmas
What three things do you think of most each day?
My children, my husband and my parents. They are all whole world!
If you had a warning label, what would yours say?
WARNING! Needs plenty of sleep, so let her sleep in!!
Do you collect anything?
I used to collect Precious Moments figures. But once I had children, that stopped. However, now that they are older, I might have to start back at it.
If you were a super-hero, what powers would you have?
There's so many, I don't know if I could pick one. Speed was be awesome! Being invisible would come in handy from time to time. Strength would also be a plus. The ability to freeze time would be a benefit too, especially when I have a deadline and I'm running out of time.
Aside from necessities, what one thing could you not go a day without?
Water! I've been addicted to it. I can't seem to have enough of it! Of course, Water is a necessity, so next I would say the internet. I'm constantly online for a variety of things from designing, shopping, checking the weather or getting directions, etc/etc.
If you were a fruit or vegetable, which one would you be?
Any kind of fruit! Because everyone loves fruit over vegetables!!
What would you prefer as a second home: Mountain cabin, beach house, or big city condo?
Mountain Cabin with a lake. The views would be stunning and so peaceful and quiet. But I would have to have internet!! When I was in high school, my mom painted a picture of a mountain cabin by a lake and this has been my dream place ever since and by far my absolute favorite painting!!
What would you do on your dream date?
There are so many things I could do, that it couldn't be limited to one. I love the romance with candles and soft music, but I also love doing things like zip lining or ATVing.
Thanks Jennifer!! Make sure to check out her GS Store, her Facebook page, and her blog. Also make sure you are grabbing the Daily Download every day from the GS blog to get all the pieces of this awesome kit.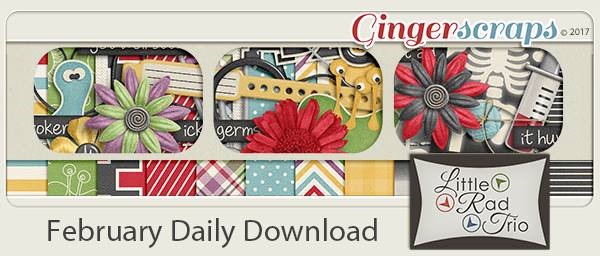 And, just for reading all the way to the bottom, make sure to take advantage of this great coupon she is offering: