Happy October 1st!!  Where did September go?  I guess every month ends that way.  As some of you may know, I live in Connecticut and it is looking a lot fall around here.  The leaves are all turning the most beautiful colors and are falling from the trees.  My kids are looking forward to jumping in leaf piles this weekend.  What do you have planned this weekend?  Hopefully you'll be doing some shopping with us!  We have to many sales this weekend it will make your head spin!
I'm not even sure where I should start!!  I guess at the beginning – Today is the 1st of the month and you know what that means – $1 Bake Sale!  That's right – we have tons of kits for just $1 today only!!  Hurry because after midnight the sale is over!!!
Did you know that we have started a Daily Download?  That's right!  Today is Day 1 of our Daily Download so make sure you check the blog to get the first link.  Want a sneak peak of what you will be getting?  I'm not sure I should…but if you don't tell anyone…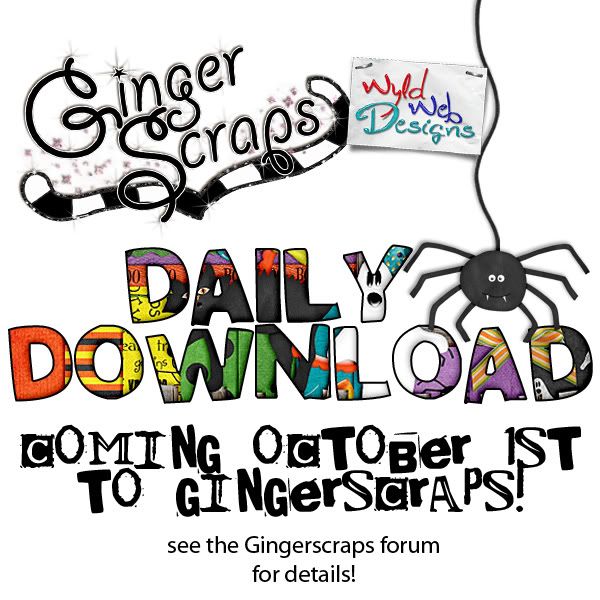 Don't worry if you skip a day or two – the entire kit will be sale November 1st!!
Now I have very exciting news.  (I told you we have a lot going on!) We have a guest designer joining us this month.  Are you curious about who?  I can't keep a secret so I'll just tell you – Misty O'Brien!!!  How awesome is that!  We are THRILLED she is visiting us for the month!

Misty has a little message for ya…
"Hello Gingerscrappers! I am Misty O'Brien and I am back here at Gingerscraps as a guest designer for October. I am a stay at home mom to two beautiful boys and have been married to my husband for almost 5 years. I originally got my start at GS as a CT member for Ginger in Dec 2008 and then a site CT member for GS. Later that following spring, Ginger took me on as a new designer (and boy was I new!). I am glad to be back this month to the site and look forward to some familiar faces, as well as meeting some new scrap friends!
You can check out my Facebook Fan Page, my Twitter, my blog, and sign up for my newsletter for contests, coupons, and the latest info."
*********
Take a look at some of her kits! And keep checking often- she will be adding new goodies throughout the month!
To kick off October, Misty has created this spunky little Halloween mini, Trick or Treat, exclusive to Gingerscraps. Originally priced at $3.00, it's even going to start off in the GS Bake Sale at only $1 on Oct 1st! After that, it will be $2.00 through Thurs Oct 6th.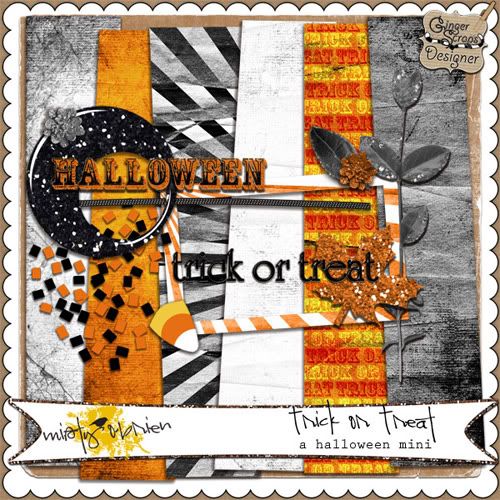 https://store.gingerscraps.net/Trick-or-Treat-Halloween-Mini.html
And Misty's even debuting a new CU product, "Which Way?" hand doodled commercial use arrows. Perfect for personal use too and will add a fresh personal look to any layout or kit. They are available now for only $2.00!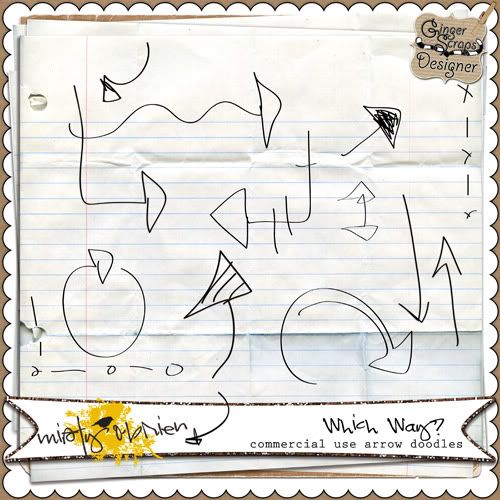 https://store.gingerscraps.net/Which-Way-Doodled-Arrows-CU.html
________________________________________
Its the Frist of the month.. and you all know what that means! It is time to reveal out kit of the month!!!
This month you can get this amazing GingerBread Ladies collab for only $1.00 with any purchase over $10.00. Are you ready????
It is time to wake up and smell the coffee- Say Good Morning to the world and get to scrappin! The GingerBread Ladies bring you GoodMorning!
This kit is so cute!! It includes:
*72 Elements
*62 Papers
*44 piece Word Art Set including blank strips to make your own Word Art
*Pancake Alpha
*Set of Syrup and Jelly Styles- CU, S4H, and PU approved
You can purchase it for $7.00 OR you can get this huge collab for only $1.00!!
With any purchase over $10.00 you will get a coupon in your e-mail to buy this kit for only $1.00! Please allow 24 hours as all coupons have to be e-mailed manually.
_________________________________________
Do you want more sales?  How about a New Release Sales?  Everyone released today is 25% off for the weekend!  Come see what we have!
Kathy Winters Designs has a new mini kit that is perfect for those quick apple picking or fall themed layouts. Apple Of My Eye contains 10 papers and 20 elements in bright, fall colors.
Regular price $3.00 Sale Price $2.25
https://store.gingerscraps.net/Apple-Of-My-Eye-by-Kathy-Winters-Designs.html
______________________________________
Statements by Jodi has some new Commercial Use overlays for all you designers out there!
This pack of 10 commercial use overlays is a perfect addition to your CU stash. Each one is unique.
Only $4. This weekend only save 25% and get it for $3!
https://store.gingerscraps.net/CU-Cardstock-Overlays.html
_________________________________________
Statements by Jodi has made an add on to her Lil' Crime Fighters kit. As seen on the Ginger Scraps blog, you can now get it in the store, FREE!
https://store.gingerscraps.net/Lil-Crime-Fighters-Add-on.html
______________________________________
Daphadilly Art, HK Designs and Marshmella Designs teamed up to bring you this frighteningly fun kit called "Spooktacular"! Perfect for every halloween layout. This kit includes 15 papers and 63 elements. Regular price $5.50, on sale for $4.13.
https://store.gingerscraps.net/spooktacular-collab.html
They also made these 3 quickpages perfect for your fright night memories! Simply add your picture and some journaling and you are done. Regular price $3.00, on sale for $2.25!
https://store.gingerscraps.net/spooktacular-collab-quickpages.html
________________________________________
RebeccaB has created Hootilicious has a gorgeous color palette and is suitable for a range of different styles of layouts. There are 16 patterned and textured papers, 40 elements and a full a-z lower-case alpha each with a flower element attached.  Hootilicious will be $2.50 from 1st October till the 15th October. Regular Price $5.00.
https://store.gingerscraps.net/Hootilicious.html

________________________________________
RebeccaB has a great new kit called Twinkle Gal Witch.  It is a magical girl themed kit with a gorgeous color palette. You will be able to create many scene layouts or stick with the traditional style. Too many options in this kit will keep you scrapping forever. With 16 amazing textured papers, 48 magical elements and a-z Alpha.  Twinkle Gal Witch will be $2.50 from 1st October till 15th October. Regular Price $5.00.
https://store.gingerscraps.net/Twinkle-Gal-Witch.htm

________________________________________
RebeccaB has Zebras in my Garden .  It is a Funky, Fresh and Fun Kit with lots of amazing papers and elements in a gorgeous color theme. There are 18 patterned and textured papers, 53 extremely funky elements and a full A-Z alpha.  Zebras in my Garden will be $2.50 from 1st October till 15th October. Regular Price $5.00.
https://store.gingerscraps.net/Zebras-In-My-Garden.html

________________________________________
Do you love those warm days of fall, and huddling around the campfire during the cool nights. Pretty in Green has a new kit perfect for fall! This beautifully colored kit celebrates a warm Indian Summer. This kit is full of beautiful elements that complement all your fall pictures, with a variety of Doodled, Paper cut, and Extracted elements. There are 28 papers including a full set of cardstock papers, and 47 elements. I am just in love with the colors of this kit! this kit is on sale for the weekend at $3.75 reg. $5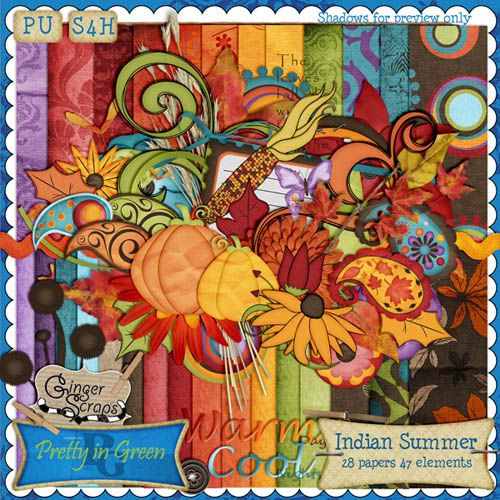 https://store.gingerscraps.net/Indian-Summer.html

________________________________________
Daphadilly Art has designed this beautiful new kit named Shy.  Shy is a versatile kit with funky sweet pastels!  You can get it for only $2.50 this weekend!!
https://store.gingerscraps.net/Shy.html
_______________________________________
Top it Off Calendar Templates! Make your own calendar with these easy to use templates by Creations by Julie. Just add your favorite photos, papers and elements! The templates are 8.5×11 for easy printing, in PSD and PNG formats. Add the calendar grids and the top and bottom of your calender is done! Make some great gifts for your family and friends, and yourself! Only $5.00
https://store.gingerscraps.net/Top-It-Off-Calendar-Templates.html
__________________________________________
These calendar grids by Creations by Julie are perfect to create your own personal calendar. Add your important events and some fun elements. Easy to use PNG form. Just drag onto your favorite digi paper. Pair with the Calendar Toppers for a perfectly coordinated 12 moth calendar! Use for you desktop calendar or print out and organize your monthy activities. Only $2.00!
https://store.gingerscraps.net/2011-Calendar-Grids.html
Look what Trina made with the calendar templates and the Spooktacular Collab.
____________________________________________
If you are looking to make a layout that has a unique composition than you have found the template set for you! If you ever think to yourself that your layouts have a similar look to them, and you'd like to make a page that doesn't fit your typical scrapping mold than you might want to give this template set a try. In this Uniquely Composed set by Unforgettable Moments you will find four templates with original arrangement just waiting for you to make unique pages with your one of a kind photos! These templates are regularly bargain priced at $2.50, but currently they are on sale and you can grab them up at $1.75!
https://store.gingerscraps.net/Uniquely-Composed-Template-Set.html
____________________________________________
See how busy this weekend is going to be for you?  We have some great challenges that will help you with a big BASH we have going on at the end of the month.  I can't give you details yet, but trust me when I say you will want do these challenges and you will want to watch the forum for news of our BASH!!