Creating Clusters… not Clutter

When I first started digi-scrapping, I was convinced I would never be able to create the gorgeous layouts I was seeing from other people. My efforts were so patently amateurish and very simple. I wanted so badly to cluster like a pro. On Day One. How realistic of me! So I started using templates to help me figure out the basics of clustering. Then I started playing around a bit with my software and learning new things with it. And over time, I found my clusters were looking a lot more natural and I was getting closer to my goal. Today I'm going to talk a bit about composition, and show you some of the tricks I've learned to make my clusters look more pleasing and real.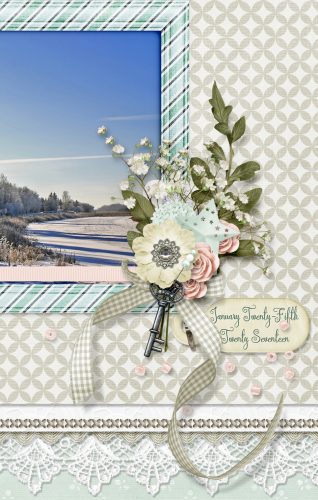 There are no rules, but lots of possibilities. Our eyes like to see odd numbers of things, with 3 being an aesthetically-pleasing number, to quote my good friend Sandy. Are any of you gardeners? The way to create pleasing planters is to have a mix of textures, shapes and colours. The gurus of container planting call it the Thriller-Filler-Spiller theory. I use the same theory for my clusters; when I choose the items I'm going to include there's always something bold and obvious, like the cream-coloured flower in my cluster. The key is also a thriller, as is the tin star. I used baby's breath, roses, a pom-pom-shaped flower head and foliage as my fillers, and the gingham bow is my spiller. You might recall from last week that the frame I used is from Ooh La La Scraps' In the Frosty Air collection. All the other items used in this layout/tutorial are in Ooh La La Scraps' collection called Shabby Chic.
So let's get started. Once again, this is MY work flow and you don't have to do what I do. I'm making suggestions based on how I like to work. Whatever process you find that works for you is perfectly perfect. Having said that… I start at the beginning, the bottom. What do I want in the background? Leaves, of course!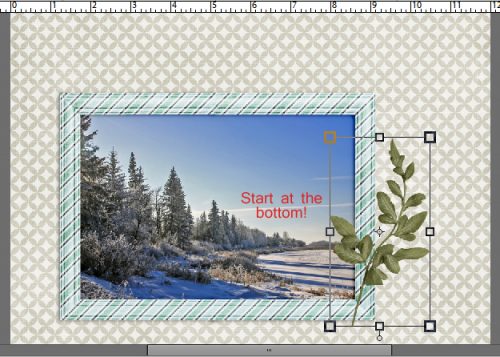 Then I add in some filler material. Everything can be tweaked and and adjusted as you go along.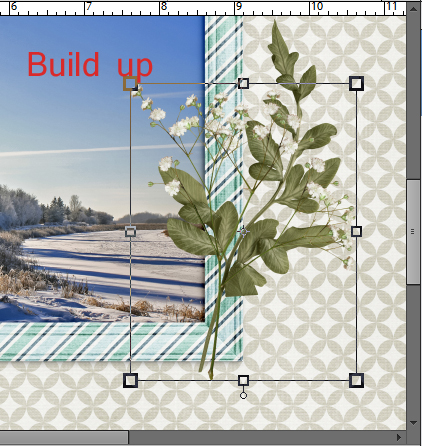 If you're making a spray of flowers as the base of your cluster and you're going to add a bow or some other type of fastener later, have the stems cross over each other a little or touch each other somehow so that there's a natural place for your bow.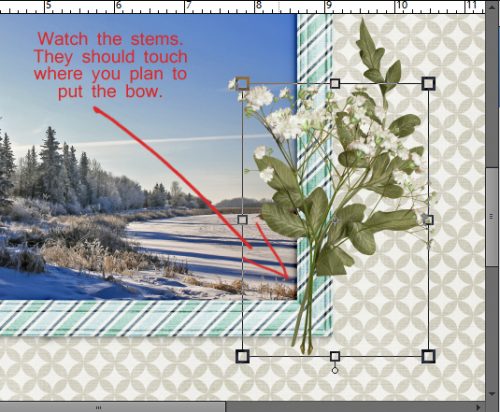 See how the bow just nestles right in there? That's just how it would look if you gathered a bunch of leaves and baby's breath in your hand and tied a ribbon around the stems.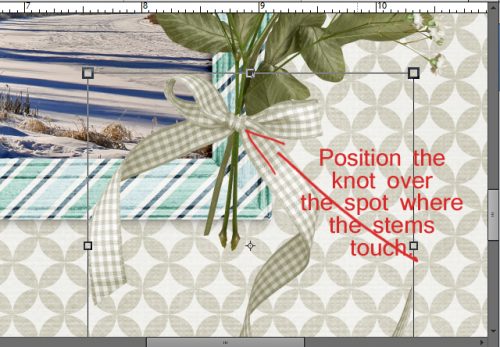 Remember to use your Zoom In (WSNH tip: CTRL/CMD>+)and Zoom Out (WSNH tip: CTRL/CMD>-) frequently so you can get an up-close look at what you've got going on.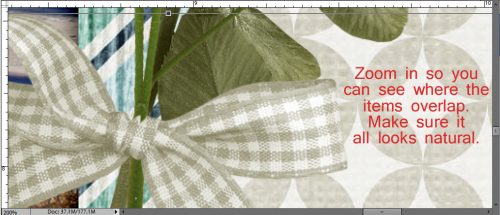 Ever wondered how others can wrap ribbon around something, or twine string between letters, or have just a single leaf hang down over the loop of a bow? You could just use the Eraser tool to erase the part that overlaps, but if you make a mistake, you have to Undo a lot to get back to where your oops is. The easier and non-destructive way to to that is to create a Layer Mask and do your erasing on that. Click on the blue rectangle with the gray circle in it and you've now got a Layer Mask.

Making sure you're working on the Layer Mask, select the Eraser tool and have white as your foreground colour. Black reveals, White conceals. Setting the size of your Eraser just slightly smaller than the area you're going to conceal, paint over the area where the leaf would hang over the loop of the bow. Don't worry if you erase too much, because you can switch your foreground colour to black and paint it back in. (This was covered in the lesson on Extractions.) WSNH tip: Ctrl/CMD>X to toggle between reveal and conceal.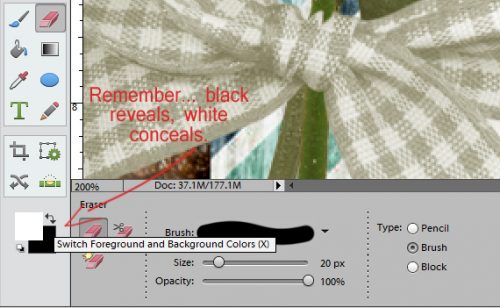 This screenshot just reinforces the important points of the narrative above.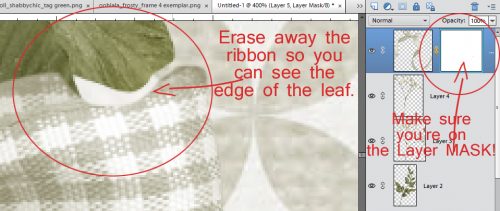 Once you've painted the ribbon back up to the edge of the leaf, it'll look like this. Try to ensure you can't see any of the paper or whatever is immediately behind your items. If you have trouble seeing exactly what's where, you can make a temporary fill layer underneath everything in hot pink, or black or whatever would work, and then delete it later. (WSNH tip: Layer>New Fill Layer>Solid Color then use the colour picker to fill the area.)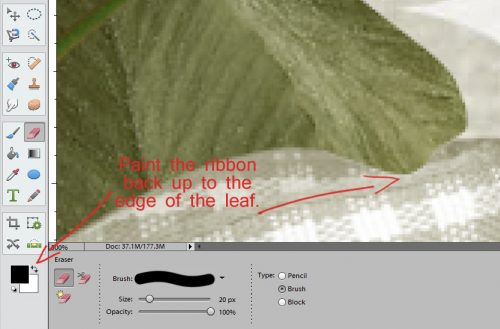 When you're satisfied with how it all looks, Simplify your layer. You'll thank me later when you put in your drop shadows. If you forget to simplify the layer, you'll have some shadowing where the masked parts are and it'll look awful. Trust me on this!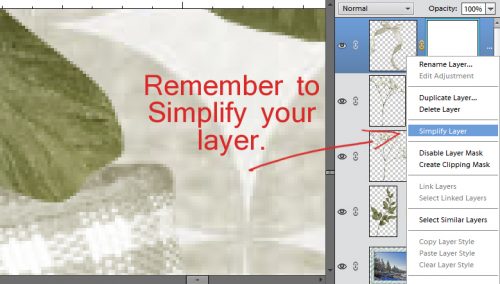 Now let's hang a key from the knot in our bow. This sequence can be modified to suspend other heavy items, tags, charms and such.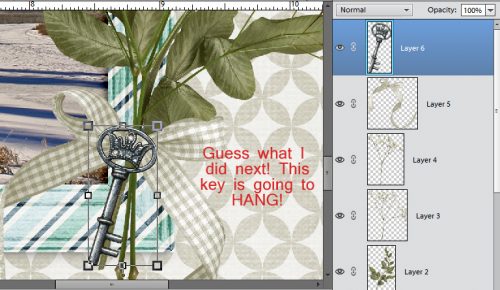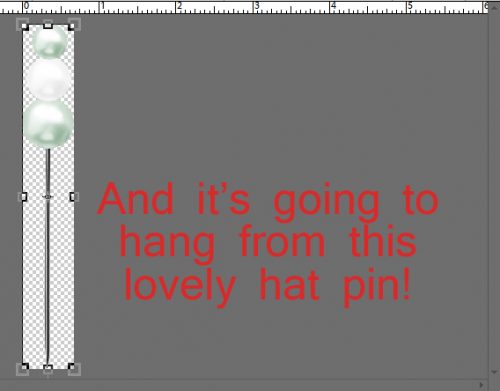 Once I had the hat pin shrunk down to a size that would work with my other bits, I lined it up so it looks like it's holding the key up and passing through the knot on the bow.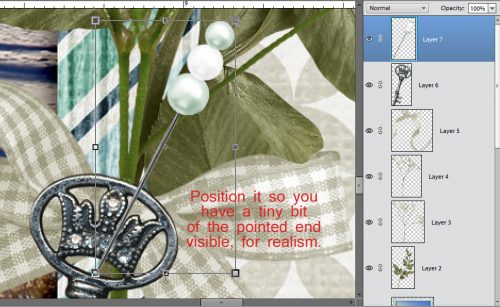 Yes, there's another Layer Mask involved. Please don't be intimidated by Layer Masks. They're fantastic tools! This one lets me take a little bite out of the knot by removing the part of the pin that wouldn't be visible.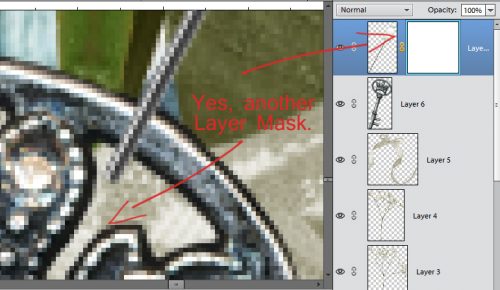 To keep the realistic look going, you'll need to use a Drop Shadow brush, which is very different from the Drop Shadow styles we've all used. (Yeah, I know… I have a LOT of brushes.)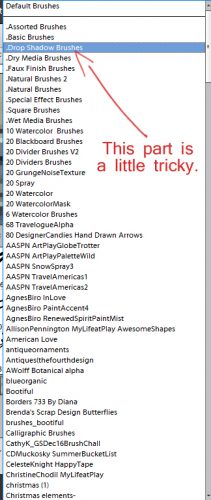 The reason for using the Drop Shadow brush is to create a little hole or depression where the pin passes into the ribbon. You want it to surround the spot where the pin would pierce the fabric.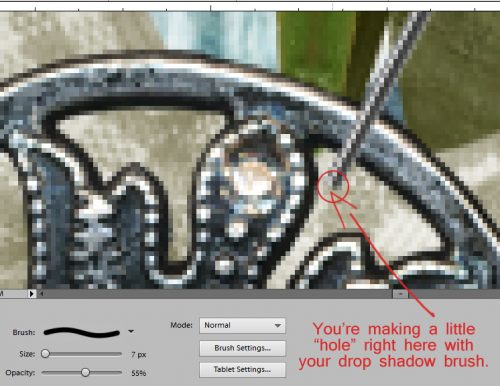 See how it makes it look more like the pin is actually going into the ribbon and not just sitting on top of it. Ensure you're on the BOW layer and not the key or pin layer!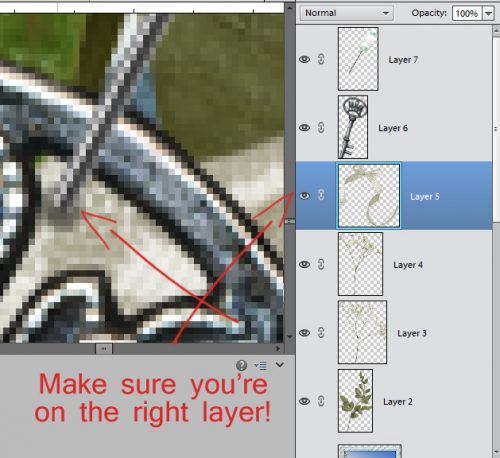 Before I moved on, I wanted to put down a shadow behind the pin. Because it's overlying a green/tan/gray area I decided to change the colour of the Shadow style and double-clicked on the fx icon on the layer and then clicked on the colour picker box in the Style Settings menu.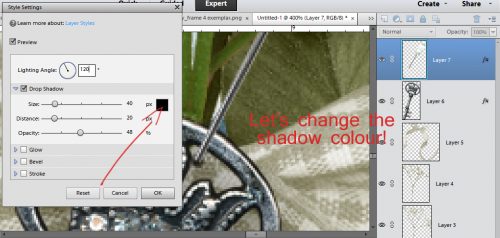 I moved my sample source (the circular cursor) to a gray area and then clicked on the rainbow to choose a more golden gray.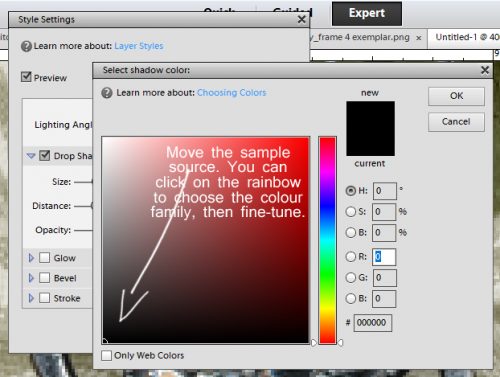 The preview shows what the new colour will look like.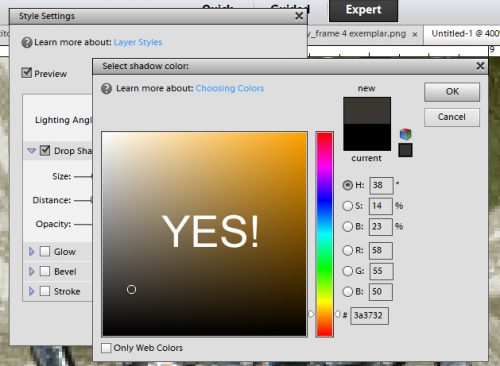 I decided not to put the shadow on its own layer and warp it because it looked pretty realistic as it was. Then I tucked my Thriller cream flower in behind it. I was very careful NOT to get any of it in the way of my hat pin.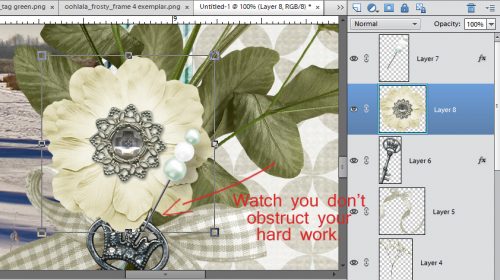 Then I added in some smaller flowers, tucking them in where they looked good. You can always move them up or down in the Layers panel, and reposition them as many times as you want, until you like how it looks.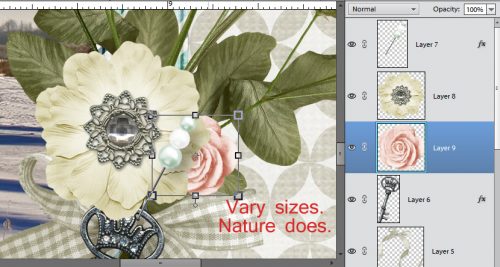 As I went along I made sure I wasn't hiding the hard work I'd already done with the hat pin.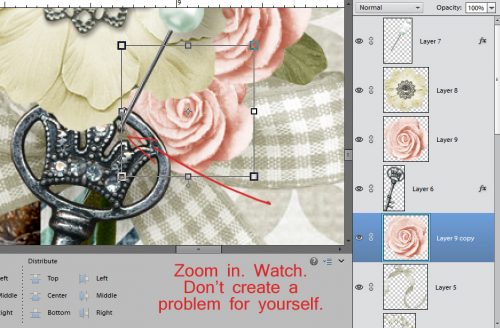 I added a few more things onto the cluster, moving them around until I was happy. (Think about what you like about other people's clusters as a guide for placement. Also pretend the things you're using are real, solid, dimensional articles and think about how you'd use them in that realm.)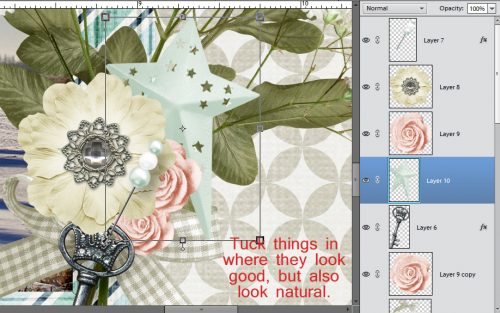 I wasn't totally happy with my cluster and felt like it still needed something. So I added in a ceramic heart. It would be very heavy, so it needed to go behind the rest of my things.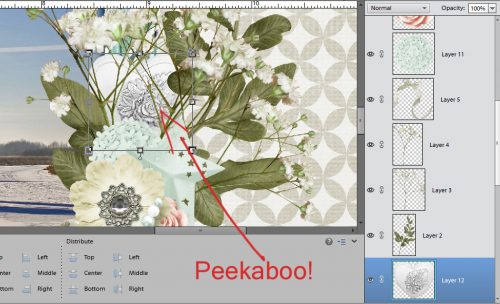 The spot next to the tin star was a little underwhelming so I put another rose in there.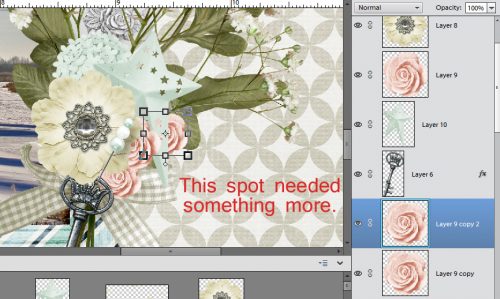 Then I decided to tuck one of the points on the star, where it was overlying the leaf to, under the loop of the bow. Layer Mask time again.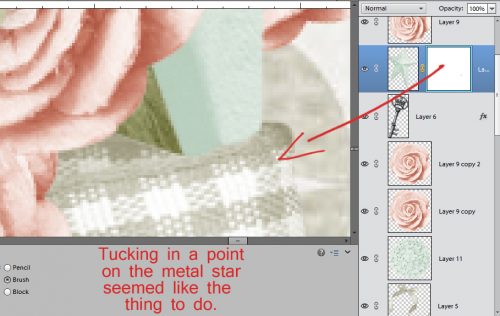 Once I had everything where I liked them, I zoomed out and cast a critical eye over everything. The cluster just didn't have the oomph I wanted it to have. So I made everything bigger. I think I also tilted it slightly. To keep all the things I'd already done in the appropriate places, I selected ALL the layers for the cluster and adjusted them at the same time. (Remember, Work Smart, Not Hard!)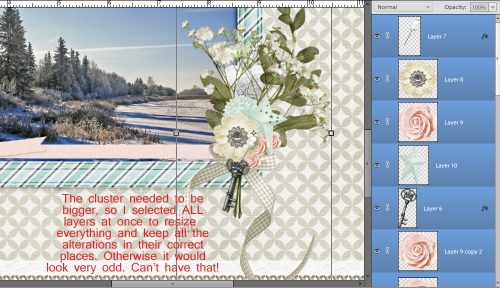 Another close-up inspection suggested there should be some baby's breath behind the ceramic heart, so another Layer Mask was created.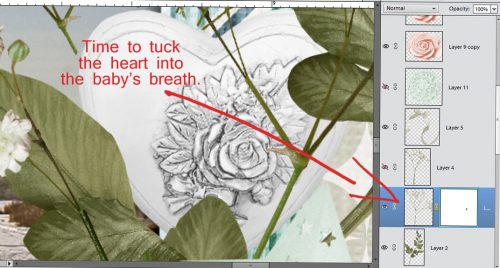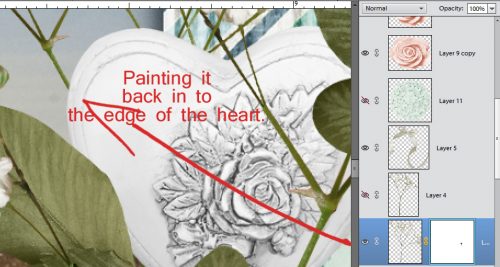 And then I was happy. I liked how my cluster looked, the various items in it were in a pleasing arrangement and looked natural. The last step was to add in my drop shadows. WSNH tip: I batched them by selecting all the flower layers then applied my drop shadow style to the entire batch in one move. Once all my layers were shadowed. I took another long look, tweaked shadows on a couple of layers to look more real, and opted to shadow the bow on a separate layer so I could warp it a bit. (See how I'm pulling in bits form so many of our previous lessons? 😉 )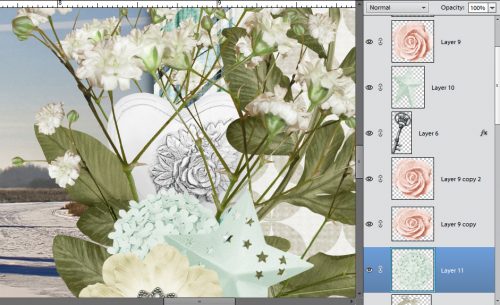 The resulting layout was my January Inspiration challenge layout.
Remember, if you've used a technique from these tutorials, post your finished layout in the GingerScraps Facebook Tutorial Tuesday Challenge Gallery for an opportunity to have YOUR chance to challenge me. If you're not a Facebooker, you can post a link to the layout you've created with the tutorial you used in the comments section here on the Blog. I'll get a notification and will then enter you into the draw. The first week of March I'll have a random draw of all entries and the winner will be announced at the end of the first tutorial of the month. So far there are two entries, both from the same person… Anyone want to give her some competition?