Hello My Friends!!  I'm so excited to be here today.  The snow is gone (although rumors have it that it will be back later this week) and the weather is warm (but yet again, it's New England…it won't last long).  I have some great new friends I want to introduce you to.  Gosh, I have no idea who to start with.  They are both fantastic.  I was fans of them both before they were here.  I'm so excited I can share them with you.
First up we have
 As you know I like to stalk my designers…um…I mean I don't peer through their windows…much…I mean.  Sorry Jenn…I promise…not….to….oh..um…never mind.
Here are some legal ways to stalk her!
*Store*  *Newsletter*  *Facebook*  *Twitter*  *Blog*
While I was looking, oh I mean, researching (yeah, researching sounds better) about Jenn, this is what I found out:
– Joyful Heart Designs is a mix of whimsy, funky, and grungy-goodness
– Jenn started designing back in Oct. 2004, after doing web design since 1999.
– She is a stay-at-home mom with three kiddos and a hubby of 17 years.
– She is originally from Texas but now resides in Madison, AL.  
– She loves making papers and is crazy about grunge and color!
– All of her personal products are Scrap-4-Hire friendly
Here are just a few products to show you all her amazing talent!  Make sure you check out her store for more and more goodies!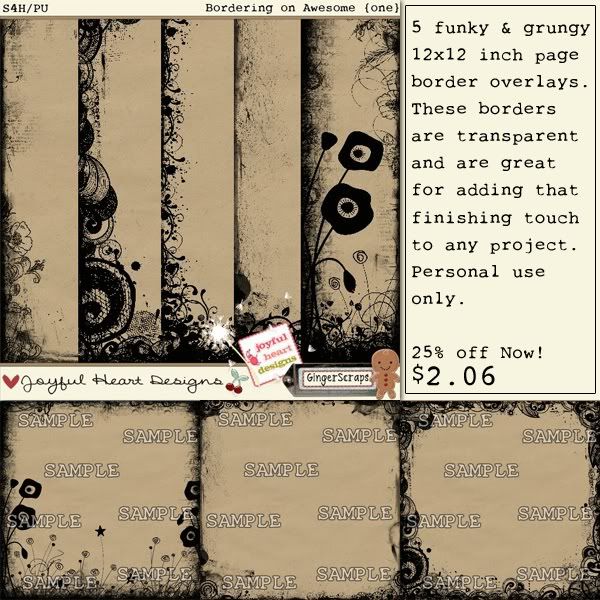 https://store.gingerscraps.net/Bordering-on-Awesome-one.html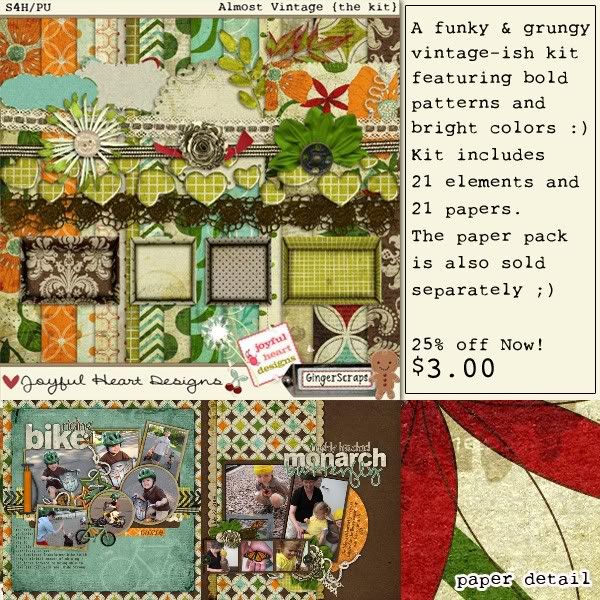 https://store.gingerscraps.net/Almost-Vintage-the-kit.html

https://store.gingerscraps.net/Grungy-Sentiments-two.html
Isn't her stuff awesome?  I have someone else I want to introduce you to that is just as awesome.  This designer I've always admired from a far (and no, it has nothing to do with a restraining order…lol).  She is fun to talk with might be just as happy to be here as we are to have her.  I still think I'm a little bit more happy about it though.
Please help me give a very warm welcome to…
She is another great person to stalk!
*Store*  *Blog*  *Facebook*  *Twitter*  *Newsletter*
I asked Jill to tell me a little bit about herself.  This is what she had to say!
 I  am SOOoo excited to be  joining the GingerScraps team!!
I'm  a 40-something YO SAHM,  with wonderful hubby, Paul, and 2 terrific  teen-agers (one is 19 and in  college  already!  I can't believe how FAST  it goes!).  Daughter Eliza  is pursuing a nursing degree/career.  Son,  David, age 15, is into  weight-lifting/body-building, and you would NEVER  guess he's only 15  looking at him – he looks like a college football  player, at least!   Both kids were home-schooled until 9th grade, when they started  high-school.  There was no way I could provide all of the opportunities  and electives once we hit high-school age, so I decided to retire. 
I'm also mom to 1 spoiled and neurotic cocka-poo  (cute but bark-y dog)  and 1 pampered Egyptian Queen disguised as a Siamese kitty.  But don't  tell her she's "just a cat"…  she is sure that she is the ruler of our  home!
I've  been digi-scrapping since  early 2005, as far as I can figure out.  I  started with Photo-Shop  Elements 3 (back when that was the newest  version! LOL!) and about a  year later I graduated to Photoshop CS2  (brand-new at the time) because  I knew I wanted to learn to design  digi-kits, and most of the  tutorials I found at that time (for making  kit elements) were for PS,  not Elements.  I love the creative freedom  that Photoshop allows, and  now I also use Illustrator, which I also  really love!  I am so happy  (and lucky!) to have a husband who is  supportive of my addiction. These days I use PSCS5 and Illustrator.  I love some of the new tools that Adobe has come out with!  I also make cutting files for Silhouette/Cricut etc. digital cutters, and am  hoping to expand that collection in the near future.  
I am inspired by beautiful color combinations, mostly.  Also inspired by just plain-old-everyday real-life events, and needing to scrap them!  Often when I make a kit, I have some family photos in mind that I want to scrap with.  And then sometimes I'll just see a photo in a magazine, or a cute dress, or something else that catches my eye, and I think "I have to make a kit like that!"
Lately,  I've been on a  bread-baking spree, and trying many different recipes  for  soft-and-fluffy buns, English Muffins, sour-dough,  Honey-Whole-Wheat  bread (my fav), and more.  I even ordered a special  kind of yeast  from Amazon –  one that you cannot typically find in  normal grocery  stores, but it works SOOooo well!  (It's called "SFA Yeast" for any who are curious – and I also add extra gluten as well, which gives me great results.)
I am also a musician, playing  piano/keyboard, banjo,  percussion (bongos, congas, djembe, etc.) and  played in a large  (contemporary) church band for over 15 years.  I  decided about a year  ago to step away from that "for a while"  (indefinitely?), and I  am really enjoying not having to get up early on  Sundays to go practice and  play!!  🙂
So first I need to say…the banjo? Seriously?  My husband is dying to learn.  Jill…want to come over to my house?  Please?!?!  How cool would it be to hang out with Jill….would you all be jealous?  Well we can't have that.  PARTY AT MY HOUSE!!
 Would you like to see what goodies Jill has in her store?  Of course you would!  Make sure you check out her store as I know she will be adding things ALL the time (I got a sneek peak of some of her new stuff and OMG is it perfect! but shhh…I didn't say that).
https://store.gingerscraps.net/Jill-DZines/
 Boy are we lucky to have these two designers joining us.  Thank you to you for being a fan and I promise to keep bringing you only the best in digiscrap land!!