Happy February!!!  In three days we find out if Punxsutawney Phil will see his shadow.  If he does it means 6 more weeks of winter.  If he doesn't then spring is on it's way.  I have to say this has been such a very mild winter that either way I can deal with it.  Another thing I can deal with?  Our sales!!  Ok, I guess it's time I jump right into the GingerScraps news!!
 Let's start right away with huge sale!   It's our $1 Bake Sale!
February marks our 1 year anniversary of our Buffet!  In order to mark this anniversary we asked our designers to help build up our buffet kits and they did!  To celebrate our new additions and our anniversary we have marked ALL of our buffet kits on sale for $1!!!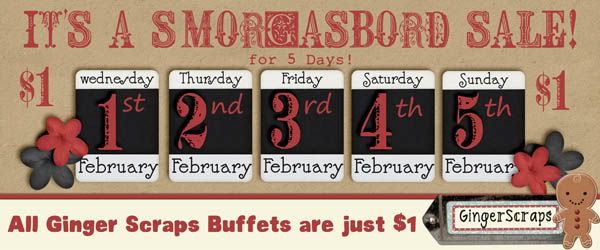 Did you forget what they were?  Well let me show you!
http://store.gingerscraps.net/GingerScraps-Buffet/
http://store.gingerscraps.net/Chocolate-Kisses/
http://store.gingerscraps.net/The-GingerScraps-Pet-Shop/
http://store.gingerscraps.net/Puddle-Jumpers/
http://store.gingerscraps.net/The-GingerScraps-Flower-Shop/
http://store.gingerscraps.net/GingerScraps-Summer-Cottage/
http://store.gingerscraps.net/It-s-My-Birthday/
http://store.gingerscraps.net/Colors-of-My-Life/
Here are some layouts:
 Let me show you our new Free with Purchase Kit!  This month's grab bag is made by Luv Ewe Designs!
Let's see what else I can tell you.  Oh!  Our January Guest Roseytoes is staying here at GingerScraps!  There was talk about her bribing us to stay but I can honestly say I haven't received any money yet…Ryan, let me know if you need my paypal email address.  Nah, I'm just teasing…we are so happy to have her stay. But now it is time to introduce our February Guest.  I'm so excited about this one.
Our guest…is the one and only
 I decided this month to interview Lina and I want to share it with you!
First things first – tell me about your kids! I have two kids. A 6 year-old girl and a 3 year old boy!!! I have my dd with me as she goes to school and I have her in my school and the boy stays with our family back in my home town as I can't have them both here alone and he is too small so he has to go to nursery school and there aren't places like this here in the island and I can't afford to pay for this!!! So hubby and I have decided to try to keep our family together as much as we can so they come to visit me once a month for a week and this way wemanage to feel better!!!! We just wait for summer to come and we have decided that it will be the last time I will ask for an appointment that risks being away from my family!!! Unfortunately the situationhere in Greece with the salaries doesn't allow us to pay for two homes. One here in the island and another back in my home town. But being away from my son is a situation that really make my heart ache!!!
Wow, that must be tough leaving your son and husband.  I would love to hear more about your hubby.  Hubby!!! hm he is a hero!!! he actually lives alone as our son lives with the grannies as they share him. half a month in one granny and the other half with the other!!! It had been a really difficult situation for both of us and for the kids but we have managed to get through it last year, we will manage this year too!!!We know each other since we were kids and we are together 13 years. We have been through so many things all this time but we have a strong relationship!!!! And this or anything else won't break us apart.
You mentioned you worked for a school? Yes I am an english teacher and my regular work actually keeps me away from my family as I was stationed to work in an island (which is amazing ) but without my family it doesn't feel the same.
 You mentioned you lived on an island…now that is different! Now as far as the island of Zakynthos is concerned is a real heaven on earth!!!!! It is one of the most beautiful places on earth which actually makes the situation of our family feel less bad as we have a good time here with my dd and when they come to visit we have a really amazing time!!!!  Last year we went on sooo many excursions that we saw almost everything!!! And this year we do the same as there are sooooo many beautiful things we hadn't seen. Also there are sooo many festivities here during the winter, including the amazing Carnival festivities and the Giostra and the revival of the Venetian Wedding with 200 poeple participating.And in the summer it is the best thing!!!!! Konstantina ( my dd) and I were sooooo suntanned last year that everyone thought that we went to the Carribean islands since we had started going to the sea in May!!!!The beaches are amazing!!!!!!Here are some blogposts I had made back in our first visit that so how amazing this island is!!!   Part 1  Part 2  Part 3
It sounds magical!  Tell me about your designing now!   I started designing in 2008 after being prompted to start by Andrea Nye!!!!  (remind me to thanks Andrea)
How did you get started? I started by making paper packs as freebies for challenges and then started making bigger things like kits and I became an apprentice designer for ScrapMatters.
How do you get your inspiration? Wow that is easy..Just go on a small ride on Pinterest and you get amazing ideas about anything!!!!! Usually I start with colours as I love colour palettes but when it is this time of year like Valentine you just make a small search about Valentine and you get endless new ideas and trends about this!!!! Being a foreigner like myself who has a completely different mentality and ideas about life going through Pinterest gives me endless inspiration and guidelines of what to make in order to make my customers more happy with my creations!!!!  Of course sometimes I have an idea about something and I don't know what to make!!!! So I do the same. For example these photos and some others of course were the inspiration for my kit for Ginger Scraps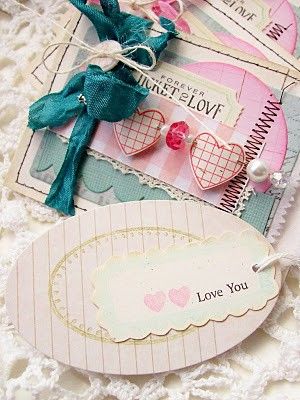 Do you have any hobbies? Hobbies. I have many!!! But they change from time to time!!! Lately I love making things in my house like remaking lamps or hangings lights or designing my dd's room in our house in Volos!!! And also I have started making wreaths. My family has gotten crazy with this and they have started asking from me to make them some too!!!! But every idea comes from Pinterest. I have become an addicted fan. So much inspiration over there and sooooooo many amazing ideas!!!!!
Thanks Lina for your time!  I hope you get to be with your family soon and you can all live on your magical island!!
Now it's time to show you the incredible designs by LDrag Designs!
Practically Perfect: the full kit http://store.gingerscraps.net/Practically-Perfect.html
Practically Perfect: ellies http://store.gingerscraps.net/Practically-Perfect-ellies.html
Practically Perfect: patterns http://store.gingerscraps.net/Practically-Perfect-patterns.html
Practically Perfect: solids http://store.gingerscraps.net/Practically-Perfect-Solids.html
Are you drooling over this kit like I am?  I can't wait to get my hands on it!
While you are in the store checking out LDrag's goodies , make sure you swing by the blog to pick up Day 1 of the Daily Download.  Marie H Designs made it and trust me when I say she spoiled you this month.  (If you click on the link below you can get day 1…shhh).
Speaking of daily downloads, did you get all of January's?  Don't worry if you missed any, the kit is now available for sale!
http://store.gingerscraps.net/New-Day-Designs-by-LauraMarie-Scraps.html
Thanks for being such a huge support to GingerScraps.  I hope you all have a great week and I'll see you back here on Friday!