Happy Friday! Are you having a blast with the birthday party celebration going on? There is so much going on!
Here are some Quick Links to a few threads you will not want to miss:
Scavenger Hunt- Search through the shop to find the hidden birthday image.
Cake Walk- This is really cool! And some awesome prizes too! Be sure to check it out.
Facebook Hop- An awesome hope of freebies, around the GS designers Facebook pages!
Special B-day Bundles!- There are a TON of special $5.00 B-day Bundles! 3 FULL SIZE PRODUCTS for only $5.00!
EVERY Buffet is 40% off!- http://store.gingerscraps.net/GingerScraps-Buffet/
There's still more goodies to come this week! The designers went all out! Fall is coming around, and the colors are showing in the designs! Templates are coming out of your ears from so many of the designers! It'll be hard to choose a favorite, I promise you!
Before I share the great new items, I have to share a few layouts, using this month's buffet, Crisp Autumn and the monthly mix, The Boy Zone.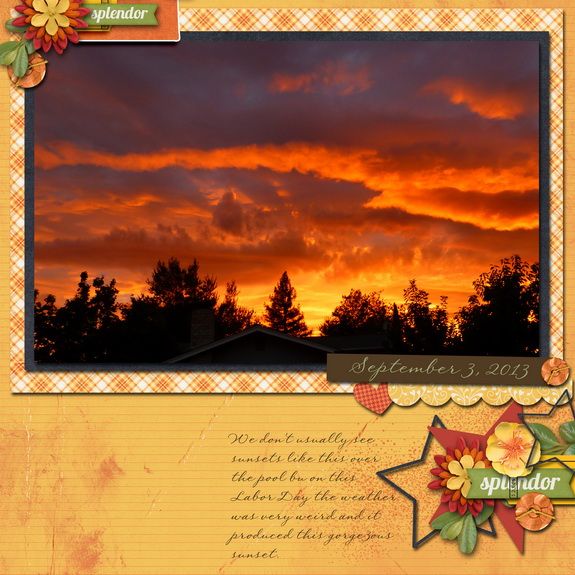 Created by mdusell. I'm a sucker for all things sunset-related, and this picture. Oh my goodness!! It's gorgeous! I love that the picture is the main focus of the layout, with a small, but beautifully done cluster.

Created by JaninAlberta. I love the simplicity, how the focus is on the pictures. So well done!

Created by swastinadia. I love the black and white photos. The smiles make the layout perfect.