It is that time of the year. You know what this blog post is going to be all about, don't you? 🙂 February brings Valentine's Day for us in the states. All things love, hearts, pink and red. So with that in mind, we are going to take the hard part of your digital scrapbooking shopping and bring you a ton of Valentine's Day stuff all in one post. All images are linked to the store. Don't forget, there is a section just for Valentine's Day in the store. You can these items and more there.
Cannot mention Valentine's Day digital scrapbooking supplies without mentioning this month's Monthly Mix! This might be one of my most favorite Monthly Mixes to date; and I generally don't lean towards all things lovely dovey when it comes to my digital scrapbooking supplies. I just love this one though!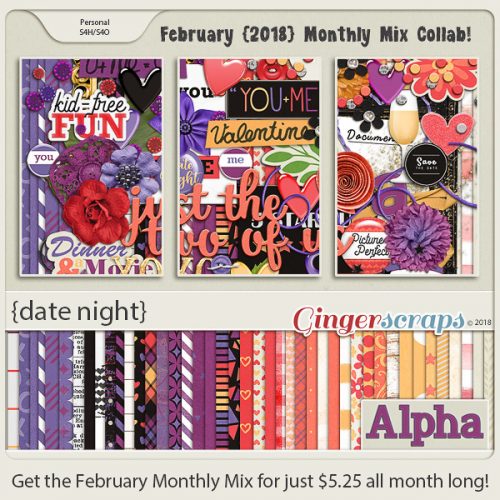 GingerBread Ladies Monthly Mix: Date Night : A collaboration from our GingerScraps designers.
Date Night: This purple and pink filled kit will be perfect for any date night or special romantic occasion. It is full to the brim with hearts, champagne glasses, flowers and much much more. You'll, no doubt, have an amazing time using this lovely kit to remember your romantic adventures for years to come.
This collab includes:
1 Full Alpha
44 Papers
93 Elements
Here are some more great supplies from our GingerScraps' designs to get your lovey dovey Valentine's Day scrap on!