It's December!! What do you have planned this month? We have a lot planned. First – have you seen our guest designer? Mel Hains is here with us for the month and has some incredible products in her store! Make sure you stop by her store. We also have a great 12 Days of Christmas planned for you! That starts on the 14th so make sure you come back!
We also have a new collab kit deal for you! Spend $10 in the store and get A Day in the Snow for just $1!!
Our Daily Download is also going on too! Have you seen the Sneak Peek yet? Check the blog (The first few days of links will be taken down on Sunday!)
Now for what you've been waiting for – our new releases!!
I forgot to tell you. Rachel of Pretty in Green wanted me to let you know about her Scrap Chat! This is on the 8th at 8pm EST.
__________________________________________
Z Pink Boudoir Designs brings you Speak Softly Mini. Speak Softly is a cute whimsical kit perfect for scrapping cherished memories. Orig Price: $2.50 Sale Price: $1.50 save 40%. This kit contains: 6 Papers, 13 Elements, and 2 Word Art. PU/S4H/S4O OK
https://store.gingerscraps.net/Speak-Softly-Mini.html
Zeee-Speration Layouts
__________________________________________________
Z Pink Boudoir Designs also has Home For Christmas Full Kit. Celebrate Christmas with your family. Home for Christmas is a traditional holiday kit perfect for scrapping your Christmas memories with your family and friends. Happy Christmas! Orig Price: $5.00 Sale Price: $3.00 Full Kit Contains: 10 Papers, 51 Elements, PU/S4H/S4O
https://store.gingerscraps.net/Home-For-Christmas-Full-Kit.html
Home For Christmas Bundle – Bundle Contains: Full Kit, 2 Alpha Sets, Glitters, Word Art, Quick Page Set. PU/S4H/S4O except for the Quick Page Set which is PERSONAL USE ONLY. Full Price: $15 Sale Price: $10 *You can also buy the bundle separately*
https://store.gingerscraps.net/Home-for-Christmas-Bundle.html
_______________________________________________________
Full Photo CD 2011 Calendar Templates by Creations by Julie! CD Calendars are all the rage. They make a great little calendar to put right on your desk. They make great gifts as well! These Templates make it so easy to put together one of these cute calendars. With the Full Photo Template your precious photos will be the center of attraction on your calendar. Full directions are included in the download so putting it all together is a snap!
https://store.gingerscraps.net/Full-Photo-CD-2011-Calendar-Templates.html
Make greeting cards the easy way! Use a Template. These are the first 4 cards in the Sweet Cards set by Creations by Julie. Use your favorite digi supplies to create a one of a kind card. Full directions and printing tips are included in your download. Print it all as one layer for a quick and easy card, or print the layers separately and cut and glue for a total Hybrid experience. Add some "real" embellishments and go all out! The choice is up to you.
https://store.gingerscraps.net/Sweet-Cards-Templates-1-4.html
Your precious memories make you smile. The perfect moment, captured. Show off those smiles with the fun Photo Masks by Creations by Julie!
https://store.gingerscraps.net/Smile-Photo-Masks.html
Do you like Creations by Julie's goodies. She has lots more FUN ideas in her head and is having a CT call 🙂
_________________________________________________
Come on, it's Lovely Weather for a sleigh ride together with you! Pretty in Green has gotten in the spirit of Christmas and She's all ready for Snow! Come on it is Lovely Weather even though it may be cold outside, this kit is sure to warm you up with beautiful reds and greens, with rustic tans and brown, and a cool touch of blue. Now that I have that song in my head… this kit contains 44 elements and 21 papers, looking for more this kit also has a Bundle pack! Reg. $5, 25% off this weekend for $3.75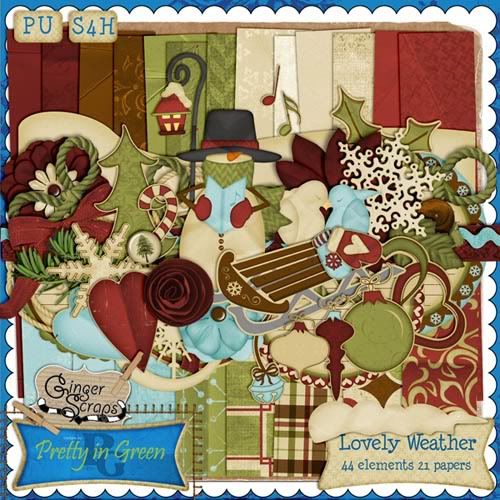 https://store.gingerscraps.net/Lovely-Weather.html
Lovely Weather the Bundle a $15 value for $10! This Bundle Pack contains the full kit with 44 elements and 21 papers, and a set of 3 alphas that include sheets and individual pngs, also a set of word art tags in two colors red and green for a total of 62 tags, Plus this bundle contains an added set of 7 worn and torn papers to give your layout a rustic look!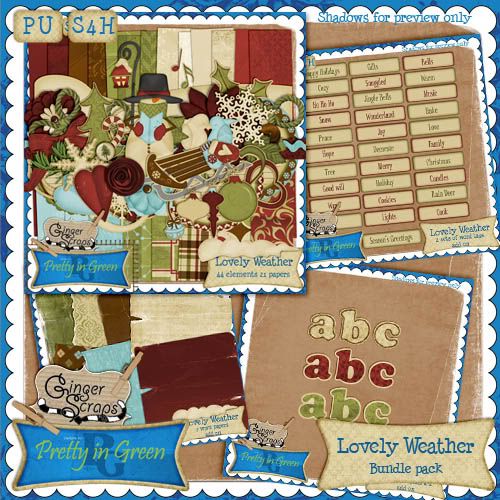 https://store.gingerscraps.net/Lovely-Weather-the-Bundle.html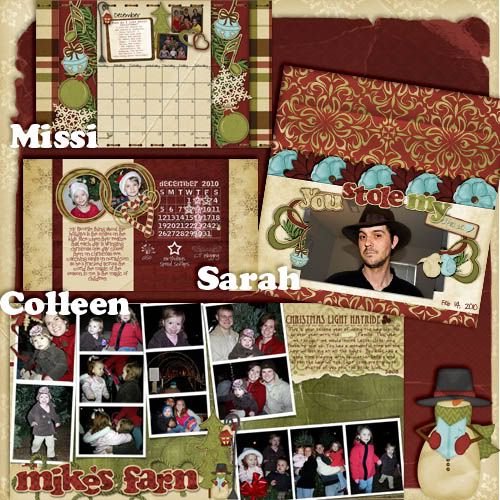 Puppy Love Retirement Bundle Pretty in Green is Retiring her Puppy Love kits and has bundled them all together for one great price! This Bundle is worth over $34 and she's letting them go for just $5. You'll want to jump on this sale because once it's over you won't be able to get them any more! This Bundle includes 17 puppies 17 puppy shapers 18 pieces of word art, and 13 fun doggie elements!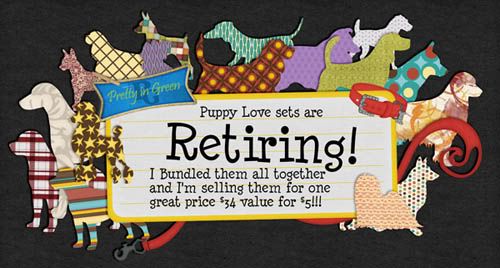 https://store.gingerscraps.net/Puppy-Love-Retirement-Bundle.html
____________________________________________
Statements by Jodi's second addition to her "Lil' Fighters" series is ready for you! Do you have a little fire fighter? A little hero? Then this kit is perfect for you! This kit has so many cute elements you will not have any trouble making the perfect LO for your little fire fighter! This kit includes 13 papers, and 35 elements.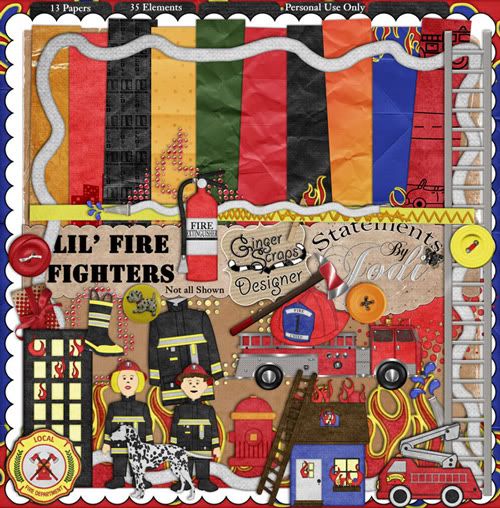 https://store.gingerscraps.net/Lil-Fire-Fighters.html
_______________________________________________
Mel Hains Designs has a brand new exclusive kit out for all the working women out there! 'Mother, wife' is a full kit in retro shades consisting of 14 papers, 42 elements, a full embellished alpha and a FREE add on word art pack!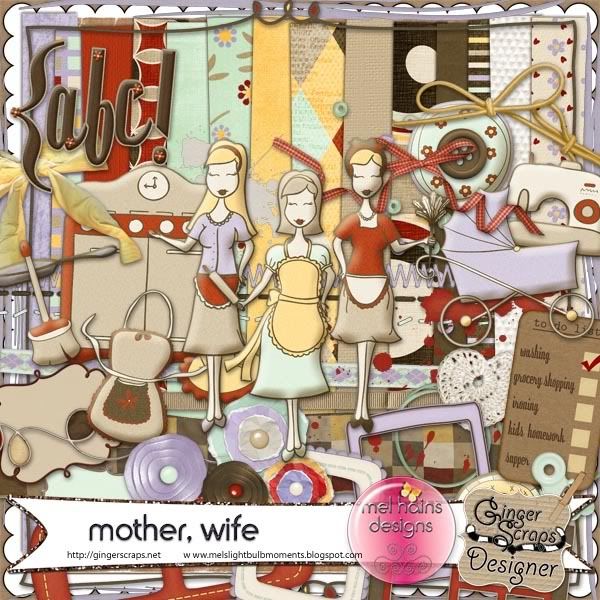 https://store.gingerscraps.net/Mother-Wife.html
Mel also has 'Silly Old Bear' you today! A beary cute kit in red, brown, blue and yellow! This kit includes 10 papers, 35 elements and stitched styled alpha!
https://store.gingerscraps.net/Silly-Old-Bear.html Remember that Mel's store is also 30% off until 08/12/2010! ________________________________________________________
Simply Shan Marie first had a mini kit "What a Turkey" that she made for the designers challenge last year and has fixed it up and added a few things to it! It is perfect for some fall pages and some Thanksgiving pages for the pictures you took over the holiday weekend! It is on sale this week for $2.00!! Get it now while it is on sale!!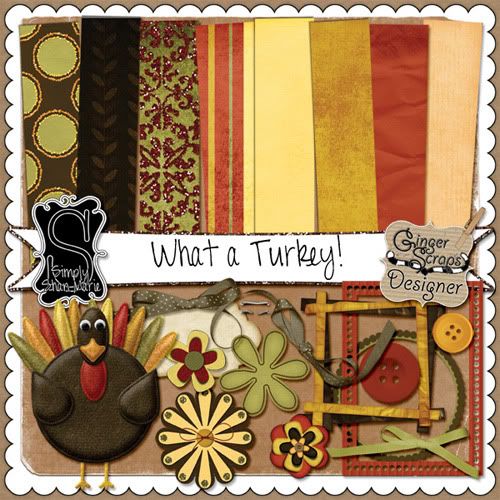 https://store.gingerscraps.net/What-A-Turkey.html
She also has a coordinating glitter set for you as well! It matches the mini kit perfectly! It comes with 6 12×12 jpeg sheets of glitter so you can just clip them to whatever you need!! They are for personal use only. Get them this week on sale for $1.00 as well!!