Merry Christmas!! And Happy Holidays!! My lovely Shannon is on vacation this week… and I almost forgot to do the FreshBaked newsletter this week. Yikes! lol.
I hope this newsletter finds you all healthy and happy. I have a house full of excited energy! My daughter, son, little doggie, and kitty are all bubbling with excitement for Christmas Morning tomorrow.
I woke up today at 6am today and couldn't fall back asleep because, like most …. I was worried about a few bills.  When my son Chandler woke up at 7 he was shocked to see me awake.
Chan "wow mom your up early"
Me "yep I woke up at and couldn't fall back asleep."
Chan "Oh! cuz your so excited about Christmas! I know I woke up and tried to fall back asleep but I just couldn't!!"
Me "Totally! I cant sleep at all cuz I am so excited too!"
I love the wonder of Christmas through the eyes of a child!
To all of you, from my family to yours-  Merry Christmas! Enjoy every moment!!

Now lets got on the FreshBaked goodies this week!
Kathy Winters Designs has a new set of Christmas themed word art ready for your holiday layouts.
Regular Price $3.00 Sale Price $1.50
https://store.gingerscraps.net/Expressions-of-Christmas-by-Kathy-Winters-Designs.html
______________________________________
Did you miss Statement's by Jodi's day during the 12 days of Christmas? Well you can snag it now!
Regular Price $2 sale price $1.50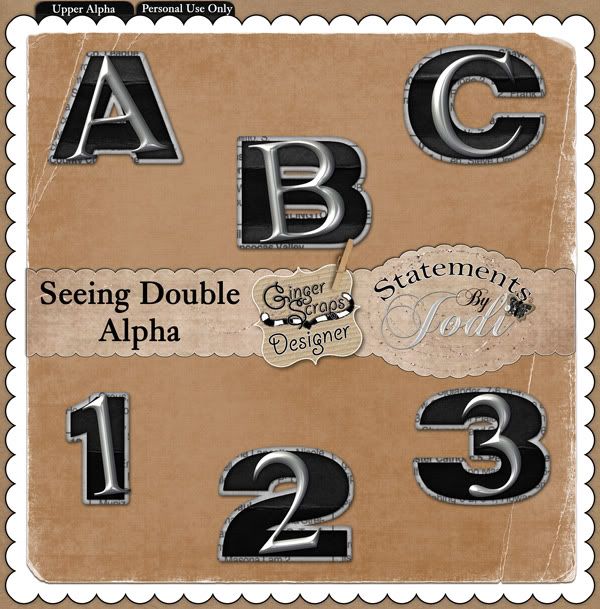 https://store.gingerscraps.net/Seeing-Double-Alpha.html
______________________________________
This kit is bright, whimsical, and fun. You can't help but picture happy memories when you look at this kit. It truly is a versatile kit for scrapping all kinds of pages. "What A Wonderful Day" has a gender neutral color palette and non-specific theme and is a kit that digi-scrappers will find themselves reaching for over and over again because it can be used for all types of pages and for almost any event. You'll definitely want this kit around for all your wonderful memories! Loosely inspired by "Zip-DeeDoooDahhhh Day," this kit will inspire you in many wonderful ways. This kit is heading your way for only $3 (on sale through Sunday).
https://store.gingerscraps.net/What-A-Wonderful-Day.html
______________________________________
Penguin Holiday from Pixels By Jen
If you got this kit in the 12 days of Christmas on the GingerScraps blog you already know it is great for winter layouts as well as holiday pages. If you missed the free download, you can get it now for $1; it is regularly $2.
https://store.gingerscraps.net/penguin-holiday
______________________________________
It's time for the final set of templates for the year!
https://store.gingerscraps.net/Julie-s-365-Templates-41-52.html
365 Twenty-Four Seven. Is that how your life goes too?
If you are looking for some templates that are specifically created for those 365 layouts, then this mega pack of 12 templates will do the trick.
If your looking for the perfect template to help you scrap those days where you take lots of pics and want to get many photos on one layout- these templates work like a charm.
It will give you a much needed break from having to decide how to show your week in review. Each layout come with 7 photos and room to journal your thoughts.
Julie is now offering her 365 templates to you in Big templates packs. This is her fifth set weeks 41-52. She makes a new template EVERY week – but they all go together perfectly…. making the most amazing 365 album ever!! Get the whole set this weekend for $4.00. Regular price $6.00.
______________________________________