It's October!! Can you believe it! Fall is upon us and the air is getting crisp, here in Northern California. The leaves will soon start their amazing transformation, I am surrounded by so much beauty! How about you all? Are you enjoying the first sights of Fall?
In honer of the month of October we have a new Grab Bag-  Brought to you this month by the, oh so talented, Kathy Winters!  The grab bag is packed with some Halloween fun! There is a full size kit with a cute Halloween theme using a mainly black and orange color palette. The bag also contains a full spider web alpha in two colors, a set of decorated word that coordinates with the kit and a set of coordinated cluster frames.
 This grab bag has a $14+ value but can be yours FREE with every $10.00 purchase, during the month of October.
https://store.gingerscraps.net/Grab-Bag-Free-With-10.00-Purchase
Remember TODAY is the Monthly Bake Sale!! On the First of every month you can get amazing full size products for only $1.00!! Our designers pick a few special goodies to share with you for $1.00, but these deals will be gone on the 2nd, so Run, Run, as fast as you can….. over to the October Bake Sale!
https://store.gingerscraps.net/-1.00-Bake-Sale-October
You are going to LOVE our October Buffet!! I am soooo inspired by the beautiful scrapping supplies our ladies created this month! Dark, Rich, and absolutely exquisite, with the warm olive green and eggplant purples, and rich golden undertones, you will want to grab up every delicious part of the October Buffet: Night Fall

https://store.gingerscraps.net/Night-Fall
And Now.. the moment you all have been waiting for… our October Guest Designer!!
We are so pleased to have the lovely Sherry Ferguson joining us this month!!
https://store.gingerscraps.net/-Oct-Guest-Sherry-Ferguson
Here is a little bit about Sherry in her own words:
"My  name is Sherry and I'm very excited to be joining GingerScraps this  month! I've loved taking pictures and keeping various scrapbooks  throughout my life. Right after my first daughter was born, I bought my  first digital camera and started doing some "scrapbooking" in various  computer software programs. Then, in 2006, a friend introduced me to  Photoshop and the world of digital scrapbooking.  I was almost  immediately drawn to the design aspect of things and opened my first  store shortly thereafter.  It  never ceases to amaze me that there is always something new to learn.   I live in Texas  with my husband of eleven years and our two beautiful daughters who are  ten and eight. My girls are very much opposites and there is never a  dull moment with the two of them. When I am not in front of the  computer you will find me baking treats for my food allergic daughter,  watching old episodes of Little House  on the Prairie with my girls, or experimenting with different iPhone  apps as I seem to have developed an addiction to them. I love my life,  my family, and this fun filled hobby!"
She has her shop full of goodness! here are a few of her kits, but be sure to go check out her full shop! She even has a few items in the Bake Sale!! Yahooo!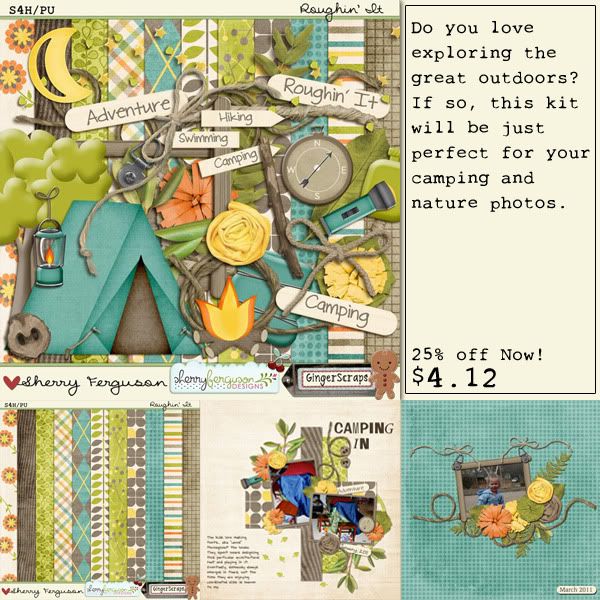 https://store.gingerscraps.net/Roughin-It.html
https://store.gingerscraps.net/Pretty-as-a-Picture.html
https://store.gingerscraps.net/PJ-s-and-Popcorn.html
Are you all ready for some EyeCandy!? Well, after your done with all your shopping head over and check out our newest issue of the GingerScrapsStreet Magazine, it will inspire you! Packed full of amazing goodness, a true feast for the eyes!
And today starts a new Daily Download! This month form Psychozoe, and trust me, you will want every part and piece!! Check the GingerScraps Blog – Every Day for a new piece to this awesome full size kit!.
 {The Link for Day one will be up soon, and we will leave it up a few extra days too}