Long time no talk!  Did you have a great rest of the week?  The weather here is warming up.  It is wonderful.  I'm trying not to get my hopes up since the weather man is saying it won't last.  Wasn't that exciting news on Wednesday?  We are so excited that Ellie Lash is here joining our talented group of designers.  We have some more joining us starting in March as guests.  I can't wait to share the names with you, but trust me when I say they are BIG!!
Did you remember our EXCLUSIVE partnership with Persnickety Prints?  You can save 10% just by entering the gingerscraps coupon code.  You can find the code in the store.
Now let  me ask you a question.  Are you looking to join a new Creative Team?  Well, I have just the one!
*1 layout per release posted in at least 3 galleries.
*Can use other store/designers products with templates.
*Call ends Saturday, February 19
*Please email photocowgirl@hotmail.com
with your name, forum name, teams you currently ct for and a link to your gallery.
Before I forget there is an exciting Speed Scrap coming up on Monday (2/21) I want to tell you about!  Jen has lots of fun prizes to hand out (trust me, you don't want to miss it!).   It will be at 1pm EST in the chat room.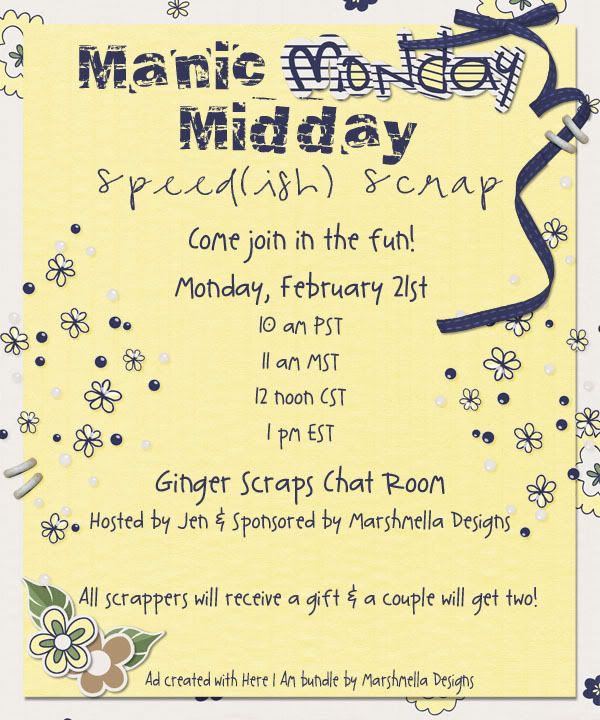 Now it is time for New Releases!  Remember they are all on sale all weekend!
Marshmella Designs new collection "Here I Am". The kit is super versitile and perfect for those spring layouts too. The kit includes 14 papers and 47 elements.
All pieces will be 25% off for a week. Grab the bundle for a 35% savings.
https://store.gingerscraps.net/Here-I-Am-Kit.html
https://store.gingerscraps.net/Here-I-Am-Alphas.html
https://store.gingerscraps.net/Here-I-Am-Word-Fun.html
https://store.gingerscraps.net/Here-I-Am-Templates.html
https://store.gingerscraps.net/Here-I-Am-Bundle.html
Here's a layout by shawnbear using the Here I Am collection

____________________________________________
Remember Me by Pretty in Green
Journaling is an important part of scrapbooking, anyone can stick a photo down in a book, but with scrapbooking you have a chance to tell a story about those photos and in return remember that moment in time later in life, or even for future generations to learn about what you were about. These Journaling mats Remember Me by Pretty in Green will help get the gears turning when you have those days that you just don't know what to write about. In this pack you'll find 14 everyday journaling mats. Included with this set is unlined journaling mats as well.
https://store.gingerscraps.net/Remember-Me.html
Pretty in Green also has a pack of 15 Baby Book Journaling Mats with customizable tags. Remember Me Baby to help you remember those special milestones.
https://store.gingerscraps.net/Remember-Me-Baby.html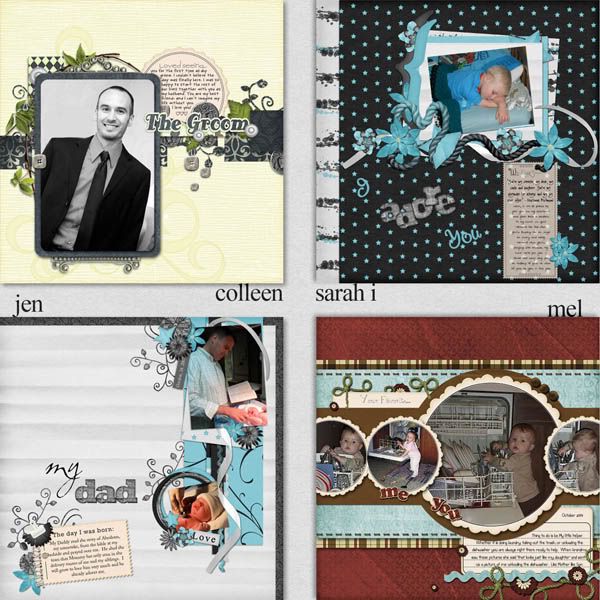 ______________________________________________________
Pretty in Pink from Julie Marie. You can never have too much pink in your life or layouts! A touch of cream & soft pastel green make this kit ready for spring!
https://store.gingerscraps.net/Pretty-in-Pink.html
____________________________________________________
Make 2 page LOs that flow perfectly together with ease with help from Creations by Julie!
Get those memories ready to be printed. Make your pages with these templates for perfect 2 page LOs.
All my templates are in PSD and PNG format.
https://store.gingerscraps.net/12×24-Two-Pagers-Templates-Set-1.html
These handmade Weater Felties are perfect for any LO.
Want to show the weather this week on your 365 LO? Use these adorable weather felties to remember those moments.
Perfect for cards, calendars and hybrid projects. Why not print them out and make them into magnets for your fridge!
All hand made by me and prodessionaly extracted!
Personal and Creative use for all you scrapping and designing needs.
https://store.gingerscraps.net/Weather-Felties.html
_______________________________________________
U Mooo-ve Me Doodled Paper Pack from Pixels By Jen– $2.25 this weekend, reg. $3.00
This hand doodled paper pack works perfectly with the U Mooo-ve Me collab by Pretty in Green and Pixels by Jen. 8 papers total including 6 doodle and 2 solid.
https://store.gingerscraps.net/U-Mooo-ve-Me-Doodle-Paper-Pack.html
___________________________________________________
There you have it!  Another great week and another great set of products by our designers!
I hope you have a great week!!