Good Morning!
Are you wondering what the 3000 bit is?  I'm pretty excited to share with you we've reached 3000+ "Likes" on our Facebook page!  All weekend long I've been having fun giving away designer coupons and gift certificates to our wonderful fans. It's been fantastic!  To find out more, and to have your chance at a little treat, make sure to go "like" us on Facebook.
How about that September? Another new month, just where is this entire year melting away to? As ever, there are new challenges galore in the Forum. So much fun, and a great way to earn yourself some free kits (or even a $5 gift certificate!).  Do make sure you check out our challenges, meet a few new faces, learn a few new tricks and just have FUN! 🙂
New month means new buffet, Sarah introduced us to this  beautiful new buffet yesterday. Our designers blended so perfectly this lovely color pallet. Life IS beautiful!
Of course, I've got to share one or two pieces I just love –
I absolutely love Joyful Heart Designs' Grungy Corners! I can't even describe why, I just love looking at them. Such a simple, pretty way to liven up your pages (which I intend to use more than once I tell you!)!  Another simple fun way to add a little something extra is with wordart- something I love to use ALL THE TIME, so of course when I saw Wyld Web Designs' wordart in the buffet I started to salivate. Okay, I didn't really  salivate, but creatively I was drooling.  I LOVE the "Keep Calm" bit.  So check out both of these designers contributions to the new buffet- but don't stop there, check out ALL of our designers pieces!  I am amazed and yet not surprised at all the beautiful bits created by everyone.  In fact, when I'm done here I'm totally going to go look through them all again, increase my wishlist a bit, you know- typical Sunday morning. 😉
NEW GUEST DESIGNER! I suppose I didn't need to CAPS it, but how exciting, right?! Ocean Wide Designs is here to play with us during the month of September.  I'm excited and can't wait to see what she's got in store for us – literally and figuratively. HA!
There's quite a bit to share today, let's just keep going friends!
There are two, very different, but equally fun calls going on right now. First up, our newest designer Kawouette, is having a CT Call!
I really love what she's shown us so far and am excited to see what else she will create for us!
The other call happening, is one very near and dear to me of course, my own call! "But you're not a designer!" Of course not, silly. 😉  The Ad Team is looking for a few good peoples.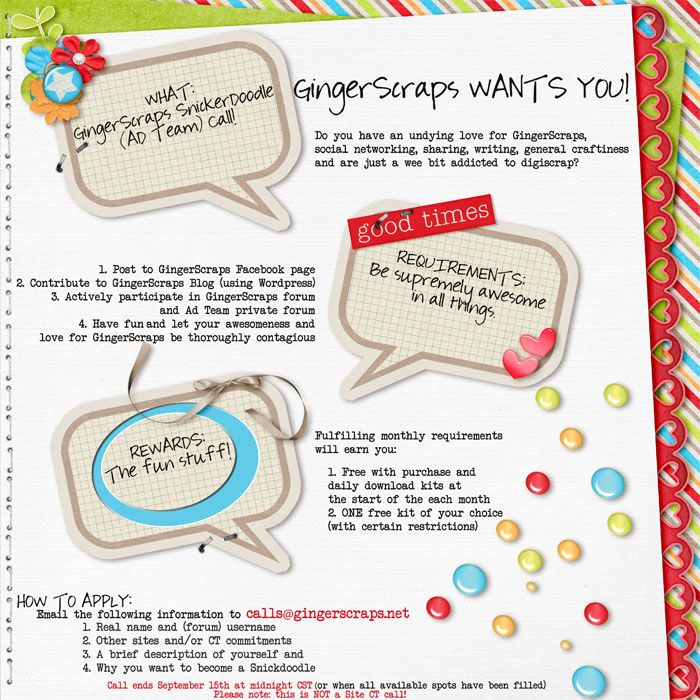 The Ad Team has loads of fun, but I can't give away all our secrets, so you'll just have to apply! 😉  Maybe some of you are thinking, "Well, I don't do Facebook", well I don't blame you. BUT! Don't let that discourage you! We can work around that, I promise. 😉
I will leave you with that for today. I've got to head over and surprise a few Facebook fans with some Sunday morning fun! 😉 Have a happy scrappy day my friends!
-April-