It is time to revel the GingerScraps book club selection for May, 2015!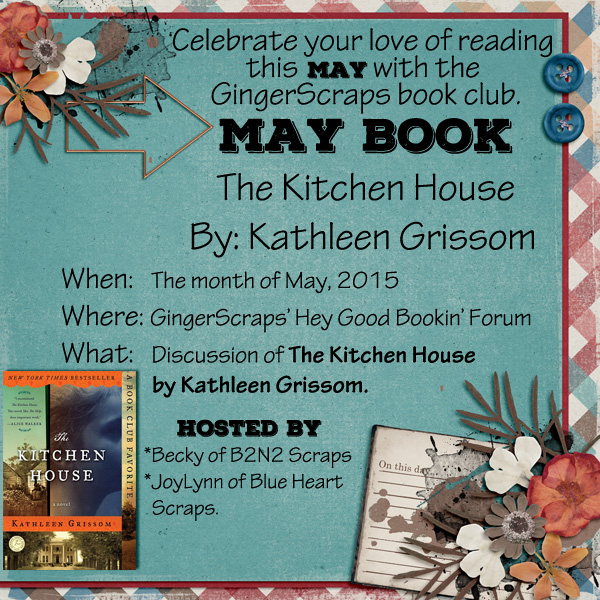 Our May 2015 book is…. The Kitchen House by Kathleen Grissom.
From Amazon the description of this book is as follows,
"In this gripping New York Times bestseller, Kathleen Grissom brings to life a thriving plantation in Virginia in the decades before the Civil War, where a dark secret threatens to expose the best and worst in everyone tied to the estate.

Orphaned during her passage from Ireland, young, white Lavinia arrives on the steps of the kitchen house and is placed, as an indentured servant, under the care of Belle, the master's illegitimate slave daughter. Lavinia learns to cook, clean, and serve food, while guided by the quiet strength and love of her new family.

In time, Lavinia is accepted into the world of the big house, caring for the master's opium-addicted wife and befriending his dangerous yet protective son. She attempts to straddle the worlds of the kitchen and big house, but her skin color will forever set her apart from Belle and the other slaves.

Through the unique eyes of Lavinia and Belle, Grissom's debut novel unfolds in a heartbreaking and ultimately hopeful story of class, race, dignity, deep-buried secrets, and familial bonds."
Here is what others are saying about The Kitchen House
"Forget Gone with the Wind . . . a story that grabs the reader and demands to be devoured. Wow." (Minneapolis Star-Tribune)
"To say Kathleen Grissom's The Kitchen House is a page-turner wouldn't do it justice . . . Grissom breaks away from the gate at a fast clip, the reader hanging on for the ride." (Durham Herald-Sun)
"A gripping tale of the South during the days of slavery. . . . Kathleen Grissom's first novel explores the well-known side of the dark world of slavery as well as the not-so-well-known world of white slavery, or indentured servitude. The book is written in a manner that is fast-paced and action packed, making it difficult to put down." (Bookreporter.com)
"You will be thrilled by this intimate and surprising story that connects us with an unexpected corner of our history. Kathleen Grissom gives us a new and unforgettable perspective on slavery and families and human ties in the Old South, exploring the deepest mysteries of the past that help define who we are to this day." (Robert Morgan, Bestselling author of the Oprah Book Club selection Gap Creek)
"Kathleen Grissom peers into the plantation romance through the eyes of a white indentured servant inhabiting the limbo land between slavery and freedom, providing a tale that provokes new empathy for all working and longing in The Kitchen House." (Alice Randall, Author of The Wind Done Gone and Rebel Yell)
I hope my fellow book lovers join us in the GingerScraps forum to discuss The Kitchen House by Kathleen Grissom.