Here we are into March already! Time is flying, and as I get older, the faster it goes. (Retirement can't get here soon enough though.) This week I thought we could talk about one of the new GingerScraps monthly challenges. This one, the Facebook Timeline Cover challenge, was suggested by one of our wonderful members and Ginger thought it was brilliant. In some ways it's like the Signature challenge, not a full-sized layout, and with some specific limitations. I'm an inherently lazy person, so I decided I would make myself a little template to make it easier. And now I'm sharing it with you! (Of course, if you're not on Facebook it's essentially useless to you and you've probably already quit reading…) You can grab the template HERE and as you can see in the image below there are two layers. One is the photo spot and one is the background, which includes a stroke outline, if you like that sort of thing. I measured everything for you so you can just fill 'er up!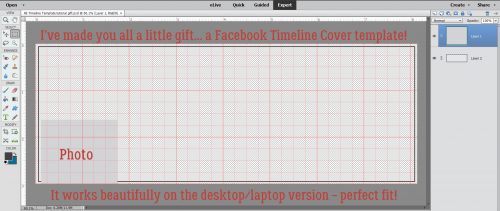 Here's a caveat for you. This template works really nicely on the desktop/laptop version of Facebook, but on your phone or tablet the photo will be centered on the background. Isn't it great then that I've made the photo spot moveable? It's on its own layer! You can see in the image below that the paper layer is on top of that stroked layer. I'm going to move it up my stack later.
I chose Kristmess' Happy Go Lucky kit – I LOVE it! I decided I wanted a frame around my photo and it looks great! It will hang off the template at the bottom and that's okay. When you've got your Timeline Cover finished you can crop that bit off using the Crop tool. (CTRL/CMD>C) You might also notice I've thrown a scatter on there underneath the photo layer.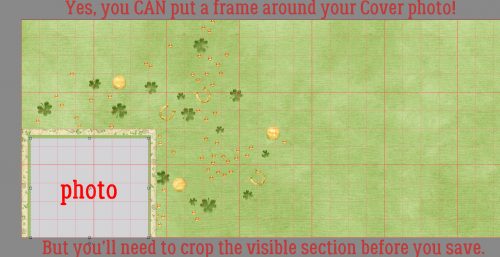 This month's challenge was to create a Cover that reflects March to us. Some people might be already deep into spring, some might have a birthday (both my daughters are March babies), some might be into basketball and March Madness, and some might have special holidays to commemorate. For me, March is always about St Paddy's Day. My very Irish grandfather lived for that day each year (it was the only day Grandma didn't limit his pints) and he actually died on March 17 the year I turned 4. So my Timeline Cover is all about that. I added a few Irish elements then moved the stroked layer right on top of the paper layer so I could apply a glitter-gloss stroke to it. I used that dark green from Miss Mis Designs' March Buffet Sunshine and Rain style pack. I made the stroke a little wider first though.
Don't forget to shadow your elements. The dimension and realism they provide will really elevate your cover.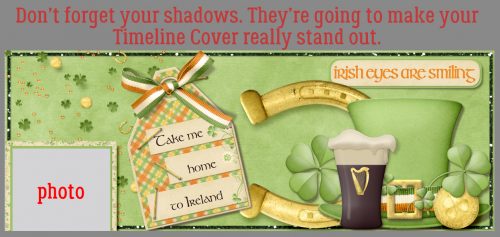 After I put my finished cover up on my Facebook profile, I noticed there were a couple of tiny little tweaks needed to give it a perfect fit, so I adjusted your template to be just right for all of you.

Have some fun with this one! Make sure you keep a plain copy for next month and the month after that!