Happy Sunday scrappers. Sorry for the lateness of this awesome question and answer session with Lina of LDrag Designs. April is getting away from me.
Lina was awesome to answer my questions. Let's see what she had to say!
How long have you been designing?
I have been designing since 2008. It's been 11 years and I can't believe it!!!
What made you decide to design?
I used to be CT member but I always wanted to make things. So the owner of the shop I was CTing for loved my freebies for challenges and speed scraps and suggested I would apprentice as a designer for the shop!!! I immediately took this chance and loved it every step of the way!
What do you use to create your designs (program, additional tools, etc.)?
I mainly use Photoshop CS5, but I also use Artisan 4 for my Page files for the templates and Artrage for glitters.
Describe your design workplace.
My office is now in my bedroom. Luckily, I have a big bedroom and I have a huge black glass desk, with two scanners, one big pc screen and a TV on it. I love watching TV while working. It helps me focus. Especially, my favourite series. Also, I have a big library with all my books and a printer.
What motivates and inspires you as a designer?
Basically what I love is colours. So I need vivid colours. If you take a look at my shop I am sure you are going to notice that I love vivid colours. That is why I search at Pinterest for photos that might inspire me.
What is your favorite kit currently in your GS store and why?
Difficult to choose I love them all, they are my babies. I especially love the collections I have made the last two years. I believe that I have reached a level I really love and that is why I love them all. But if I have to choose I would say Over The Rainbow. What can I say I love the colours.
What was your first job?
If you mean my other job, well I am an English teacher. This is what I have studied at the University. And I still work as a teacher.
Have you ever met anyone famous?
I live in Greece and not in the capital, therefore it is difficult to meet anyone famous. So unfortunately not.
What are you reading right now?
Outlander. Book one
What is your favorite quote?
If you believe you can do it, then you can.
What is something you want to do in the next year that you've never done before?
A trip the the States. Especially New York. I always wanted to do it but it is really expensive.
You have your own latenight talk show, who do you invite as your first guest?
Sam Heughan. I think you can imagine why!!! I am really in love with this series.
If you had to delete all but 3 apps from your smartphone, which ones would you keep?
Facebook, You Tube, and Candy Crush Saga
If you could have someone follow you around all the time, like a personal assistant, what would you have them do?
Clean the house, cook and iron the clothes. Especially the last one is the worse for me!!! I hate it!
Would you rather travel back in time to meet your ancestors or to the future to meet your descendants?
I am not sure about the past. I would probably fear it. But I would love to see how my kids and grand-kids would end up! And how life in the future would be.
What commercial jingle gets stuck in your head all the time.
None as I rarely watch Live TV. I love Netflix. No commercials lol!!!
If you could turn the ocean into a liquid other than water, which one would you pick?
I don't know really. Orange juice maybe? I don't drink soft drinks like coke or lemonade or anything else, so I can't think of which liquid to say.
Thanks again to Lina for answering my questions. Make sure to check out her GS Store and her Facebook Fan Page.
Are you grabbing the Daily Download this month? Here's a sneak peek of what you will get.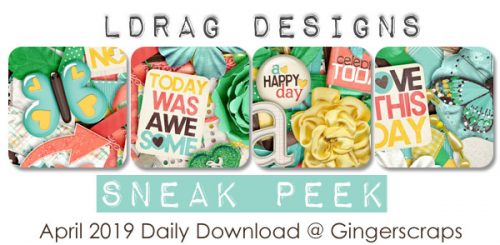 See you next month for another fabulous designer feature.