Following Up for Donna

Last week's organization tips drew some great comments. Many of you have good systems for sorting and retrieving your digi goodies. But… there are some things that still prove elusive.
Donna had this to say: "Dragging from all different folders from the finder is a pain in the ***, it was so much easier dragging from the searched results in photos.. " Because I usually copy the files I plan to use and place them in a subfolder of my digiscrapping master folder, I hadn't worked out a trick for that process that might streamline it a bit for those of you who prefer to drag-and-drop right from your folders into your scrapping software. Read on!
First I've shown my folder method using the search box in Windows. (Sorry, I'm not a Mac girl so I don't have any tips for that platform.) I ran a simple search for "buttons". The search box is at the upper right of the window and the progress bar runs from left to right as Windows does the work for you.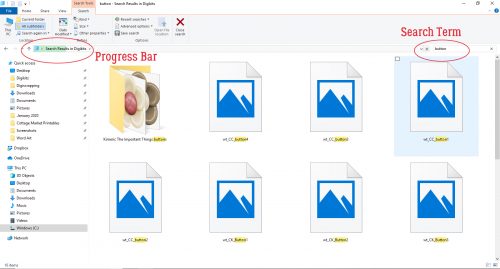 Once the search was done, I selected 4 buttons with a similar colour scheme, from 4 different folders. Remember, to make multiple selections, hold down the CTRL/CMD key while you're clicking on the items you're choosing.
Next, I Copied all 4 of the buttons.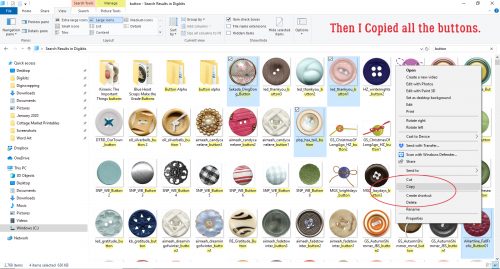 Finally, I Pasted those buttons into a new Button folder I'd created within my Digiscrapping folder. Now, when I'm ready to use them in Elements, I can open that Button folder with the Open tool on the main screen. But that seems to be a little involved. Is there a way to select the same 4 buttons and open them in Elements without the extra steps? Work Smart, Not Hard, right??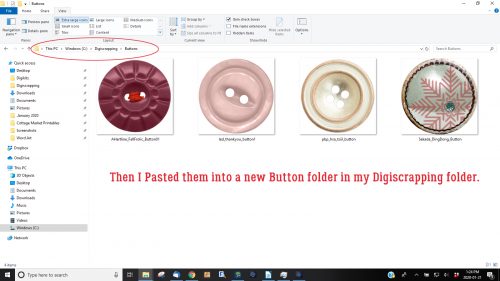 OF COURSE!! I got Elements up and running. Then I activated that big Open button at the left of the main screen. But instead of having a dedicated folder with my buttons in it, I instead opened my Digikits folder and USED THE SEARCH BOX! It was something that had never occurred to me before. I typed "button" into the search box and waited.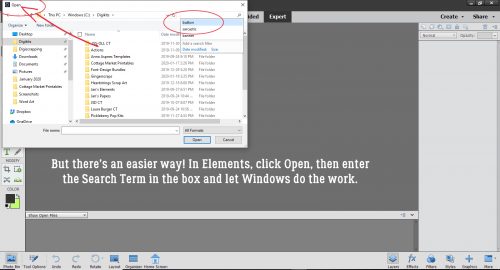 Then I went through the results in the same way I would any other time. I Selected the same 4 buttons as before. (The image below shows the search results as a list. I did my selections using medium icons so I could see the actual images then I changed the display to a list so I could show you multiple selections.) When I had all 4 selected, I just hit that Open button at the bottom right of the menu.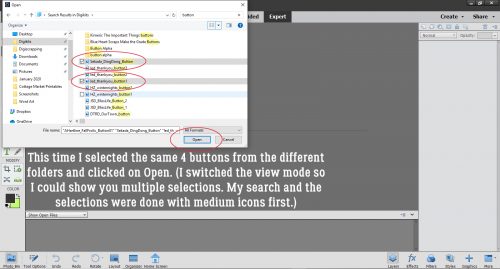 And there they are! All from different folders and in fewer steps! I hope this is what Donna was looking for.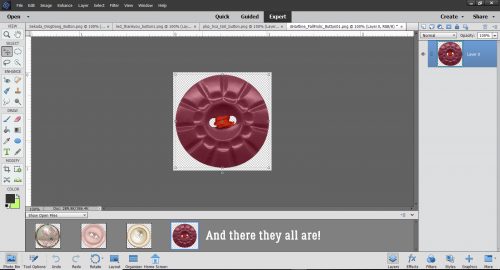 Her second organizational challenge reads like this: "Having switched to using my cellphone as my primary camera these last few years has actually made it more difficult to group as events, etc because of all the random photos, notes, screenshots etc that I also take photos of. Open to any suggestions there…?" This one is actually an easy fix. Both iPhone and Android have the ability to build albums with our photos. My Android phone creates some of its own albums, but I can make more to suit myself. Moving photos into the albums is as easy as clicking on them, going to the gallery menu and moving or copying the selected photos over. The key here is to sort them soon after you take them so it doesn't become an all-day job. If you're planning to use a group of photos taken on a specific day, make an album for that day. Sending the photos to the platform upon which you do your scrapping is the same process as whatever you're doing now. If you're using the iCloud, Dropbox or Google Drive or some other cyber-sharing device, that will allow you access to all your phone folders. Give it a try and see if it makes life easier!
Next week I'll be showing you another paper-to-digi technique courtesy of Steph Barry. I think you're going to love it!