Archives for April 2012
Congratulations to Jacque for winning LOTW! Her layout is absolutely stunning. Can you imagine how long it took to layer all of those flowers. My guess is a LONG time, but well worth it in the end to have an absolutely gorgeous LO in the end. Click the image to leave her some love or click here to view her entire Gingerscraps Gallery.
You can pick outstanding gallery layouts which become the next LOTW nominee's by posting in the "Baker's Best" thread. Check out the rules here.
As always your vote counts so head over the the forum to vote for the next LOTW winner. You can be a LOTW winner too, all you have to do is scrap! Happy Scrapping.
Oh holy … wow. Is it really 2 days until April is over? :O
A week from now, we'll be nearing the end of NSD. Did you know that Gingerscraps has a whole lot of stuff planned?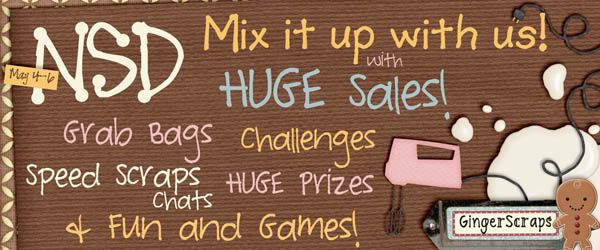 Oh wow. Right? I know! I'm excited. I'll be there Friday, and a chunk of Sunday, if I don't die. I'm going Girl Scouting with my daughter's troop 😀
Now, on to the haps here at Gingerscraps:
Barb asked "What's Stressing you?". The biggest common one is money, it seems. Everyone's worried about it. I hate seeing friends and ones I care about stressing. 🙁
Wendy claims her daughter is a brat, but in a good way. She commented that she wanted more pictures and journaling. The topic went off a little from the original idea with how to get kids to give good faces and the like for layouts. Pictures are included, hehe
Even though it's close to the end of the month, there's still a chance to do a challenge or two! Earn some points towards some kits and things!
Other news: Mystery Designer has ended. It was a lot of work behind the scenes, and Shannon was just so much better at having all of that under control!
This week, the forum was full of chatter. There were several new topics started, nearly every day. I loved it! I love seeing our forum getting active!!
I hope we see you for NSD starting on Friday!!
For those of you who don't know who me is, my name is April, known as [mamaape] in forum(s). For the past couple months I have been bringing you your weekly "get-to-know-you" interviews of our designers and team members. This month I thought I'd act out on all my selfish desires and interview myself! It is the month of April after-all.

In order to make this fun and not me just droning on about all the exciting boring tidbits of my life, I asked YOU to ask me anything you wanted to know. Silliness was encouraged, and I absolutely got what I asked for. 😉
The first question asked, by Julie (Juliemomof4) was "What is the color of your kitchen?"  Cream and blue, except it's totally yucky and cheap- we live in an older apartment and though the appliances are newer YAY!, the counter tops are this hideous blue and cheap. It's a tiny little (currently messy) kitchen "closet" I like to say, but the cabinet space is ridiculously plentiful!
Julie also asked, "If you had a free day all to your self, where would you go and what would you do?"  Oh man, I would of course get a mani/pedi, then I think I would go to the poshest hotel, rent a room on the top floor and just sleep. 🙂
Barbara (nutsaboutgabe) asks "What's your favorite color and what's your biggest pet peeve?" My favorite color varies depending on mood, but I have a few always-favorite colors I gravitate towards more than others. The majority of the shirts hanging in my closet are purple, and I'm pretty sure that's my favorite color 99% of time. I also love greays, greens, and a dash of hot pink.
Biggest pet peeve? Oh man, I have so many it's hard to pick the biggest! HA! Not picking up after oneself (I'm talking adults here), and maybe people who chew loudly, and not using your vs. you're properly (or their and there and they're) Ohemgee, that really gets me… and I better stop there or this is going to totally turn into a rant against humanity's faults.  Hahaha!
Barbara then asked how I met my husband which has a fun twist to the story. We met at work (where neither one of us still works at). I saw him from across the warehouse and just wondered who he was, he was talking to another older coworker. That was the first I saw him, we didn't actually introduce ourselves until a good month or two later being on two different shifts. The funny bit is that the older guy he was talking to is a giant goofball (and a little crazy) and what they were talking about was ME! The older guy was joking with my husband saying that he was going to marry me some day (even though neither of them knew who I was). SAY WHAT!
Christina (Ambelleina) asks, "What's your favorite meal?" My answer is simple: the one I don't have to clean up after.  She then asked if I was a cat or dog person to which I will reply dog dog dog. That's not to say I'm not a cat person, because I have a cat (and she's so awesome, stinky, but awesome), but I've grown up been dogs, have always had a dog and will always have a dog.
Terra wants to know what my favorite sandwich is, which is a tricky question because I'm not a huge sandwich person. It must have avocado on it though to be my favorite.  There's this "California Club" or something like that (pretty sure that's totally not the name of it, but generally sandwiches with "California" in the name have avocado), at Chili's restaurant that I totally love.
Lisa makes me chose, "Howard, Leonard, Raj or Sheldon?" Without hesitation I say Sheldon.
"If you could be one person in history, who would you be?" (from dodgelade) This is a really good make me think question, which is not something I like to do on a Saturday morning. 😉 There are so many great people in history that I'd much rather meet them than be just one. Pretty sure most of them are writers or singer/songwriters. Some dead, some still alive. J.K. Rowling, Adele, Etta James and Ella Fitzgerald, Sylvia Plath, Anne Boleyn and Queen Elizabeth I.. the list could go on and on.
Colleen wants to know "How many states and other countries have you visited?"  I have visited California, Missouri, Illinois, Kentucky, Georgia, Florida. I have driven through nearly every state west of the Mississippi, and a few east of the Great Lakes on my way to Toronto – which is my only other country I've visited.
Let's talk some scrap shall we?
I was asked,
What is your one "can't live without it" element in a kit? Right now I am obsessed with templates. I know it's not an element, but I can't not use a template lately. There are just SO many awesome ones out there!
Who is your MOST FAVORITEST designer? This is totally a loaded question 😛 I like designers for different reasons- SOME of my favorite designers are obviously those that I am lucky enough to be a part of their creative teams (Blue Heart Scraps, LauraMarie Scraps, Kathy Winters Designs and Sugar Kissed Designs) but I also love Jen Yurko and Inspired Designs (Crystal).
What kind of elements are your favorite? Which ones do you absolutely detest? I love frames – I don't always use them, but I feel like I need them. I also NEED wordart, since journaling is not my forte, even though… I'm writing an awful lot right now. 😉
How many hours a day to you spend doing the following: Designing layouts, "surfing" Gingerscraps, Facebook? I'm not exaggerating when I say, all day long.
I wish I could keep answering your questions but I'm already late and I can only hold everyone's attention for so long! 😉 If you (for some awesome reason) want to see ALL the questions and remaining answers, go here). Thank you EVERYONE for submitting your questions, silly and serious. This was so much fun for me!
I'll leave you with my favorite recent layout I created as a homage to my three year anniversary (celebrated last week).
Have a happy Saturday!
Oh wow, is it Friday already? Where did the week go? It seems like it was just yesterday, that I was writing last week's Fresh Baked announcement. Wow.
We have so much going on behind the scenes here at GingerScraps!! National Scrapbooking Day is quickly approaching! If any of you are new to Scrapping, National Scrapbooking Day (NSD for short) is an event we look forward to all year long! It started out as one day, but grew into a whole WEEKEND! You will want to cook some meals ahead, find a baby sitter, and plan on being on your computer from dusk till dawn. The Gingerscraps Designers have some big plans for NSD weekend. May 4-6th are the official dates of the festivities…. but…. shhh I will let you in on a little secret, you will want to make sure you check in bit early 😉
Here is a sneak peak of some of our NSD plans.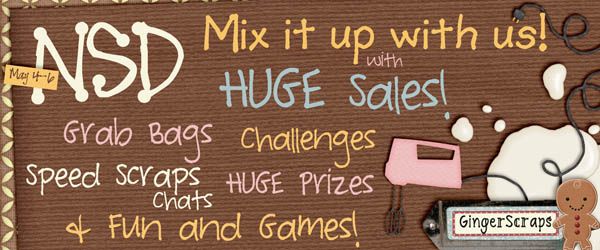 Trust me, it's going to be a blast!!
Now are you ready for our Mystery Designer of the week?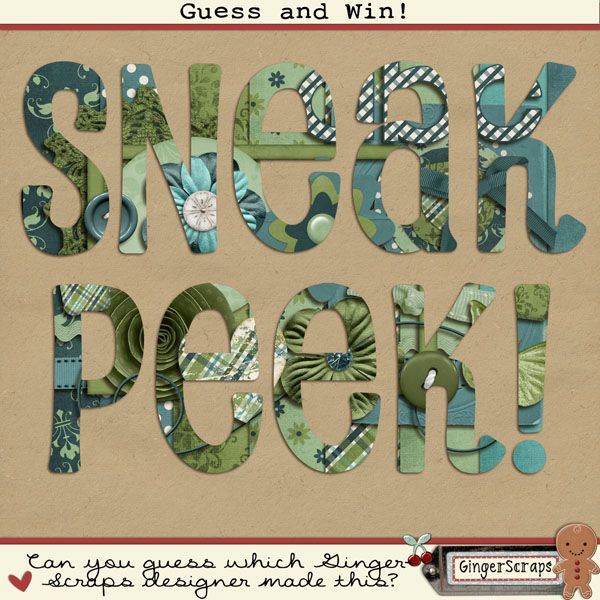 Do, do you think you guessed correctly? If you guessed Luv Ewe Designs, you're correct! Congratulations!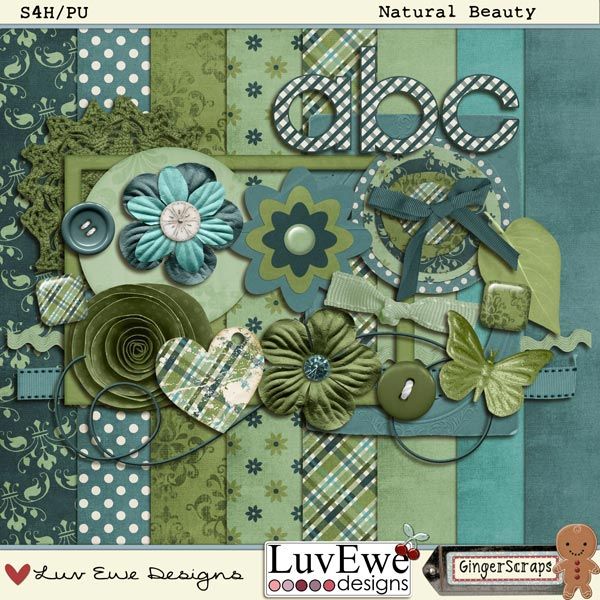 Beautiful kit, right? I love the colors.
The Winners:
On Facebook: Chalane Wride
On the Forum: mischalaneous
On the Blog: Rachel DeVaughn
Congrats to the winners. Your coupons will be sent out soon!!
We have decided to bring the Mystery Designer guessing game to a close, I hope you all had fun guessing! Be on the lookout for a new fun guessing game starting in a few weeks!
Before we get started with this weeks new releases, I have a present for you, courtesy of PsychoZoe Designs!!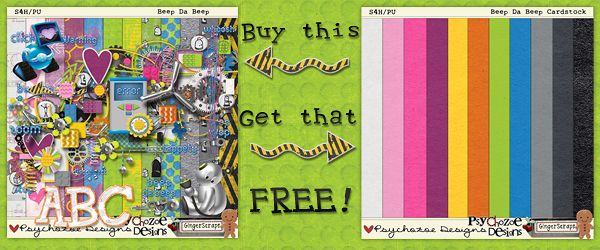 Also, remember if you spend $10 in the store you get this grab bag by Jill DZines for free!
And now, I hope your ready for some wonderful Fresh Baked Goodies!!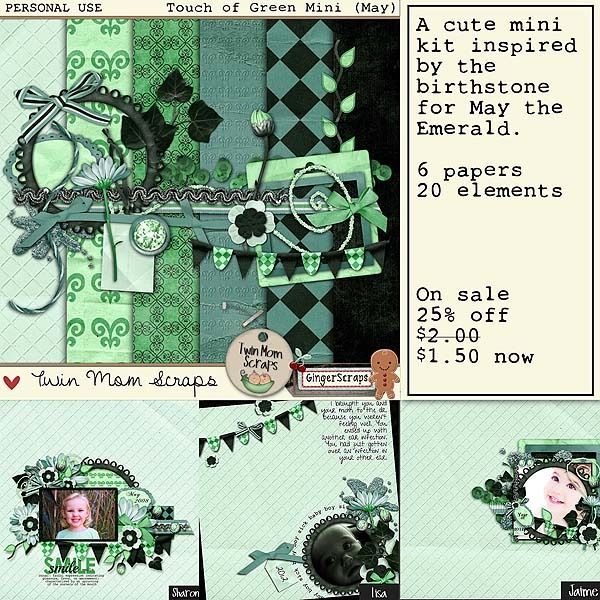 https://store.gingerscraps.net/Touch-of-Green-May.html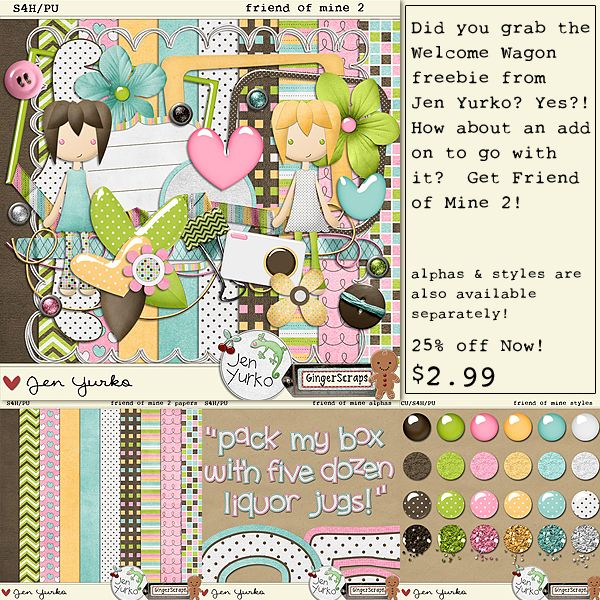 Kit: https://store.gingerscraps.net/Friend-of-Mine-2.html
Alphas: https://store.gingerscraps.net/Friend-of-Mine-Alphas.html
Styles: https://store.gingerscraps.net/Friend-of-Mine-Styles.html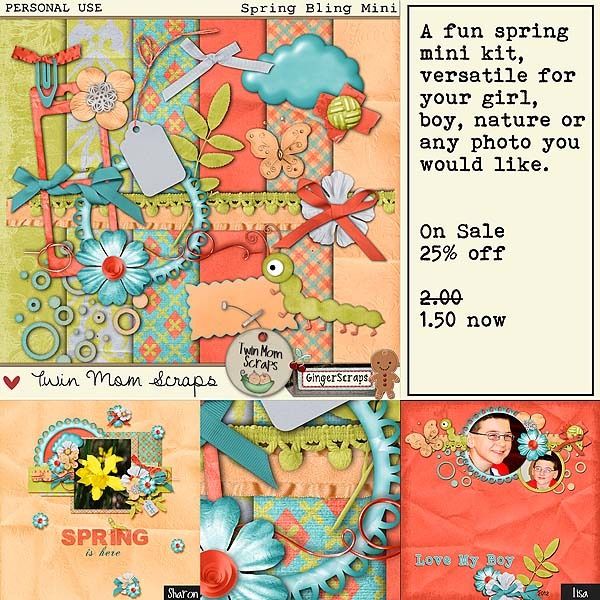 https://store.gingerscraps.net/Spring-Bling-Mini.html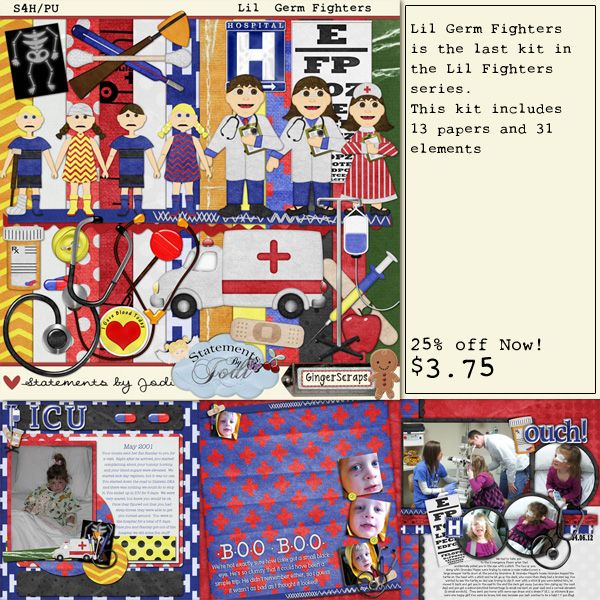 https://store.gingerscraps.net/Lil-Germ-Fighters.html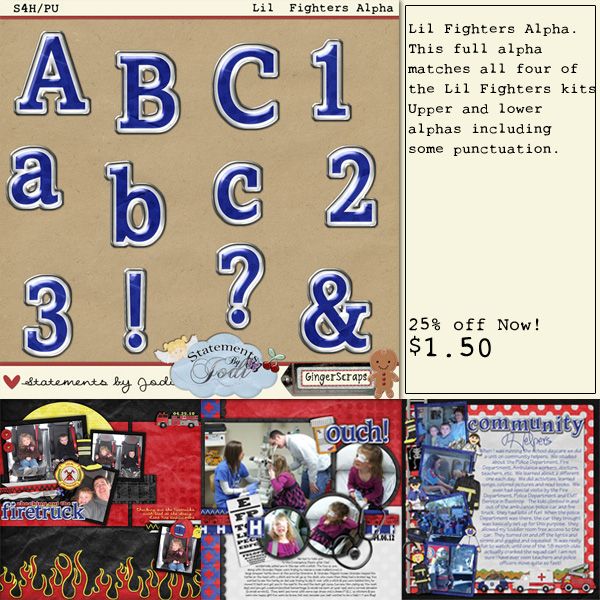 https://store.gingerscraps.net/Lil-Fighters-Alpha.html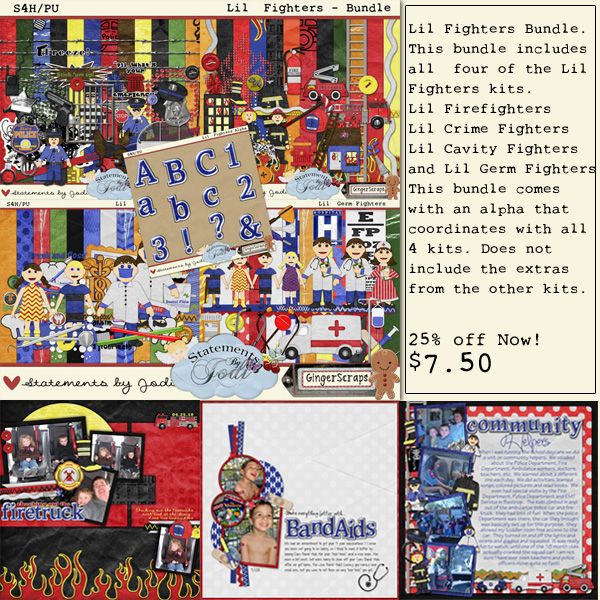 https://store.gingerscraps.net/Lil-Fighters.html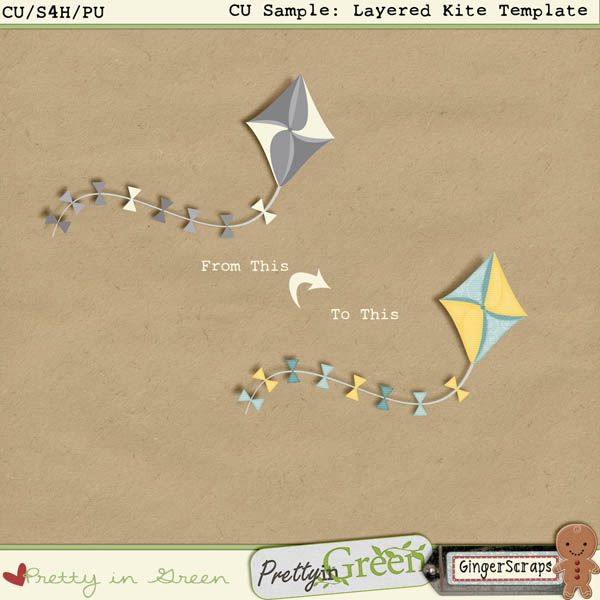 https://store.gingerscraps.net/CU-Sample-Free-Layered-Kite-Template.html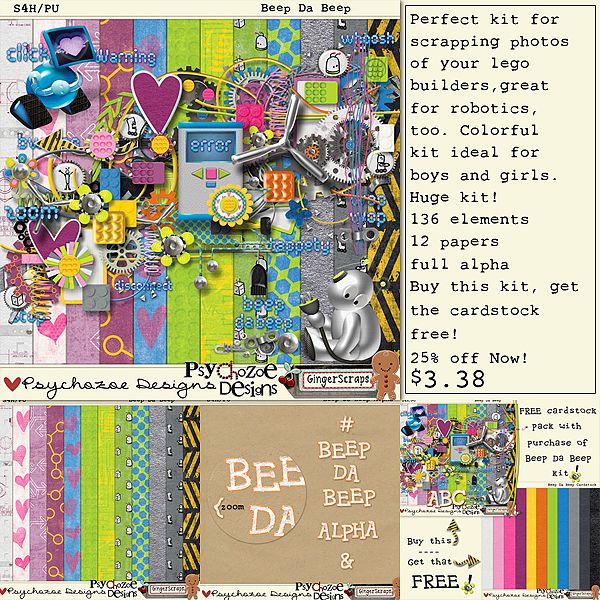 https://store.gingerscraps.net/Beep-Da-Beep-Robotics-Kit.html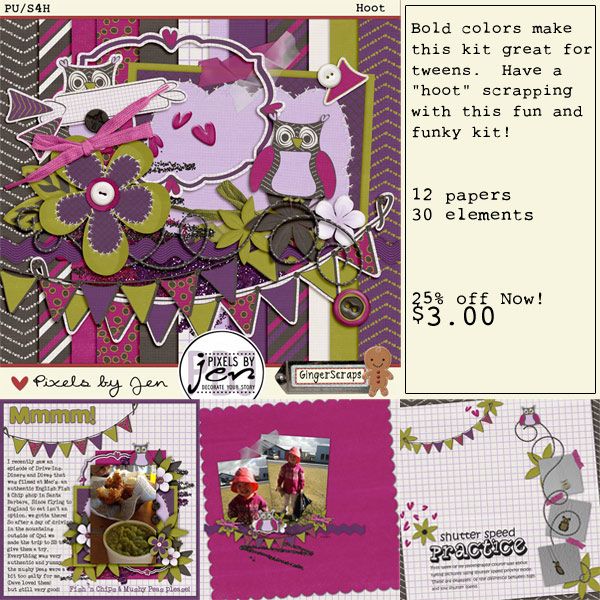 https://store.gingerscraps.net/Hoot.html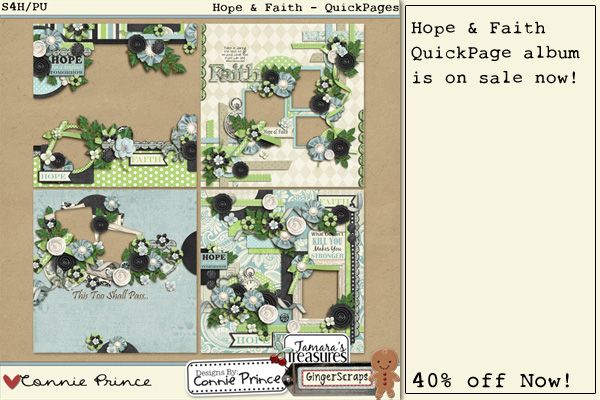 https://store.gingerscraps.net/Hope-and-Faith-QuickPages-TT.html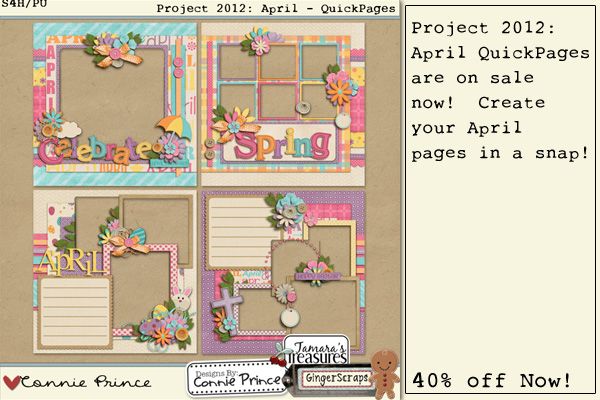 https://store.gingerscraps.net/Project-2012-April-QuickPages-TT.html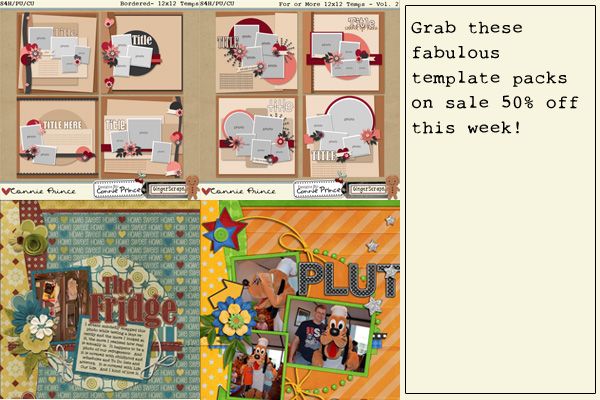 store.gingerscraps.net/Four-Or-More-12×12-Temps-CU-Ok.html
https://store.gingerscraps.net/Bordered-12×12-Temps-CU-Ok.html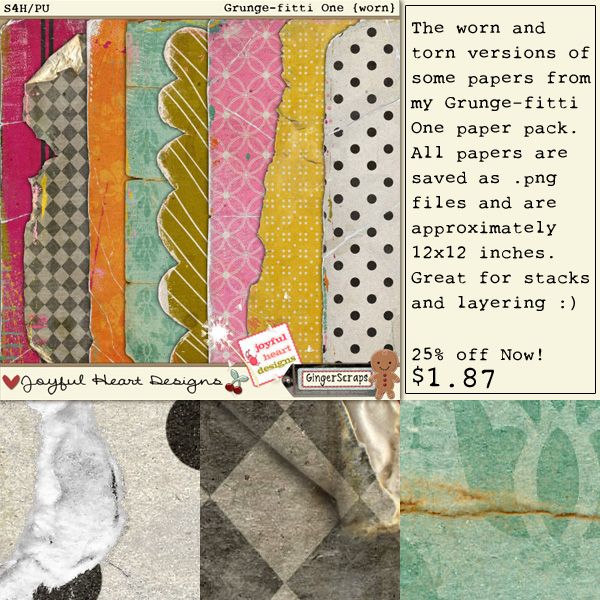 https://store.gingerscraps.net/Grunge-fitti-1-worn.html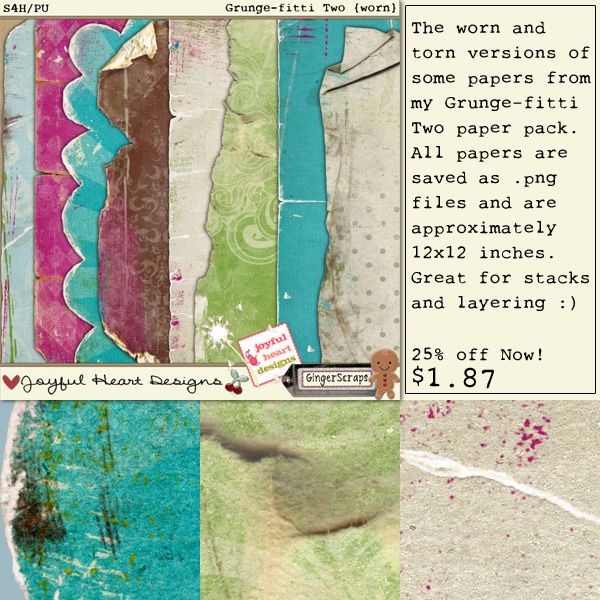 https://store.gingerscraps.net/Grunge-fitti-2-worn.html
Come over and register in the GS forum to get a digital welcome wagon full of goodies! Remember you have to be registered and logged in to access the Welcome Wagon area of the forum. Susie has a brand new mini kit free today in the Welcome Wagon!
I bring you some news about Mystery Designer. We're no longer going to be doing it. We have some big plans for something to replace it, so don't worry. We'll announce the information on that after NSD!
Here's our final reveal: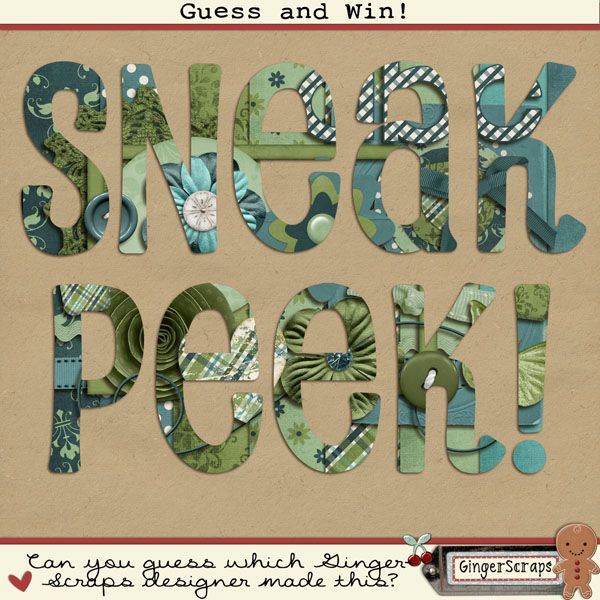 So, do you think you guessed correctly? If you guessed Luv Ewe Designs, you're correct! Congratulations!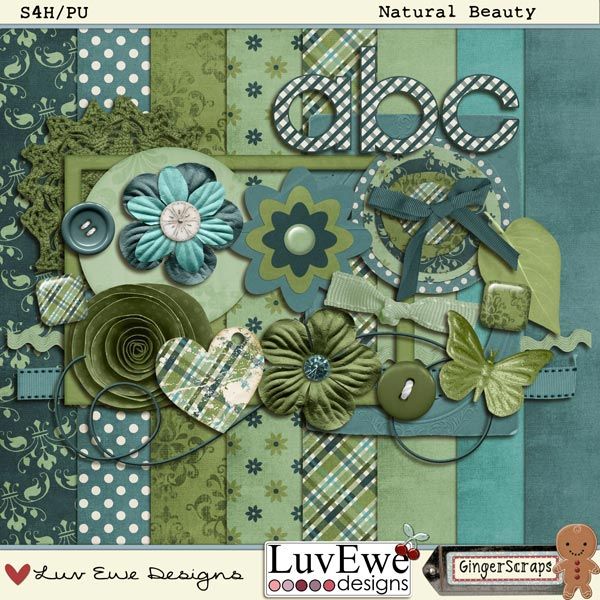 https://store.gingerscraps.net/Natural-Beauty.html
Beautiful kit, right? I love the colors.
The Winners:
On Facebook: Chalane Wride
On the Forum: mischalaneous
On the Blog: Rachel DeVaughn
Congrats to the winners. Your coupons will be sent out soon, I promise!
This is where I would announce the new Mystery Designer, but not today, but I do have something for you to look forward to! I mentioned NSD! Well, the Gingerscraps Designers have some big plans for NSD weekend. Oh yes, something is going on ALL weekend next weekend!!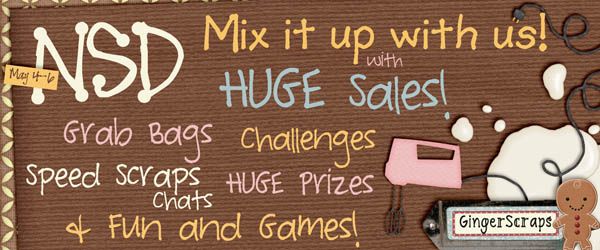 I'm really wishing I wasn't going to be missing it because of Girl Scouts! Trust me, it's going to be a blast!!
Hey Hey Hey!!! It's my favorite day of the week again! Peek A Boo Thursday!!! I love love love getting to see glimpses of what is coming to the Gingerscraps store, don't you!?
And yes, I am feeling tons better than last week, thank you! I feel so good, that I can't wait to shop again!!!! I love to shop. I absolutely love it. I shop for shoes, I shop for house stuff, I shop for clothes for me and the kids, I shop for the best bargain, I shop for gifts, I shop for things that help me bring out the creative side of me, like antiques, architectural salvage materials, and my favorite, Digital Scrapbooking Supplies! Oh how I love shopping for Digi Stuff! I don't need a shelf to keep it on, I don't need to worry if I leave the lid open or the scissors out, or if the cat will get into it. Oh, how freeing!!!
But I will tell you why I love to shop. I love to be INSPIRED. I am inspired creatively by the things around me, that surround me every day, and by what is new to me. When I am inspired creatively, I am better able to be creative in my job, at home, with my kids, with the organizations I am involved in, and feel more balanced and productive.  No, I am not rationalizing my shopping habit. Well, maybe. But when you come to Gingerscraps you cannot help but to be INSPIRED by the fantabulous designers and their Creative Teams!
So, let's see what we get to shop for this week in the Gingerscraps store, one of my favorite hang outs other than the CAbi store in the outlets….
From PsychoZoe, we have this fun little number…
Yummalicious colors are coming from Pixels by Jen shown here… I love that owl!!!
From Keeping In Touch Designs, and a template by Craftastrophic from this month's Template Challenge, we have this lovely ensemble of colors and notions that will inspire so many projects and ideas for preserving those memories!
Also from Keeping In Touch Designs with a template by LauraMarie Scraps….
And here is a fun kit from Jen Yurko that is coming out. Talk about INSPIRED! I think I can use this in a ton of different ways! Can't wait to get my mouse on this one!
from Jen Yurko…
Coming from Luv Ewe Designs…

Coming from Jen Yurko and Joyful Heart Designs…
Well now, if you are anything like me, your socks have been knocked off by the way super fabulous designers here at Gingerscraps, and your brain is going a mile a minute as you are thinking of wonderful ways to incoporate these new kits into your scrapping closet! I am one who needs to see the kit first, then I figure out how to use it. And I like that my scrapping closet doesn't need to worry about being messy, or over flowing.  I have a good system of organizing my files so everything is at the ready, so I'm good to go! Rock on!!!!!
So pull up a mouse, grab some tea, or java, or lemonade, and sit here with me while I wait until Friday for these fabulous kits to show up in the Gingerscraps store!  In the mean time, you can catch some fun times and loads more inspiration on the Gingerscraps forum, the friendliest digi scrapping site in the universe!!!