Archives for July 8, 2012

Hellooooo!
I know, a little too much for a Sunday morning, eh? Well, I'm riding on a fictional high- been in a reading frenzy lately! It all started with our Book Club read for July, Unwanted by Neal Shusterman.
I'd love just to pour out all my thoughts on this book, and for a young adult book, WHEW! it's RIPE with topics to discuss until our brains melt, however I'll save all the **spoilers** for the discussion thread. 😉 After I finished that book I picked up another, devoured it and am onto my third book in four days.
But, wow, enough about me.
Recap! This week has been busy busy busy starting with last Sunday up until this point. First week of July, DONE! It's a little bit scary how fast it's flying by. We've all drooled over the new buffet, Away We Go! (oh admit it), been given a whole boat load of new challenges, PLUS new releases from our fantastic designers on top of it all AND our July Guest Designer: Wendy of WendyBird Designs!
I asked Wendy to tell us a smidge bit more about herself, since she's so awesome an all.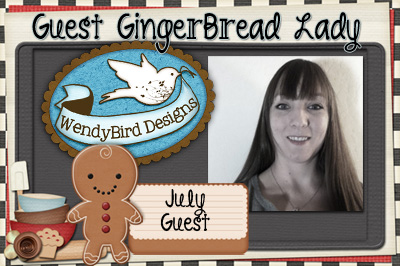 How long have you been working with Hybrid(where did you start/how)?
I have always loved art and being crafty and I tried paper scrapping when my son was born, but it didn't "stick" lol… I discovered digi scrapping in 2008 and fell in love! It didn't take long for me to miss the hands on crafting, so when I started doing hybrid crafts in 2009, it was a match made in heaven! 
Best part about designing hybrid templates?
I love seeing digital kits printed and brought to life into 3D projects! I also love seeing how other crafters find new ways to use my templates!
Your favorite weeknight meal?
I love to try new recipes! I have a few dog eared cookbooks, but mostly I find recipes online – especially pinterest these days! Some of my favorites are shredded beef tacos and BBQ pulled pork sandwiches that cooked in the crock pot while we were at work – because after working 10 hours, the last thing I want to do is stand in front of the stove.
Hardcover or e-book?
e-book! I have a Nook Color and love it! I still have a collection of my favorite "real" books, but anything I buy now is electronic! I also do a lot of driving and listen to audiobooks to pass the time. I usually have 3 books going at a time – one on my Nook, an audiobook for me, and one that I'm listening to with my son. I'm so glad he inherited my love of reading!
Coffee or tea?
Do I have to choose just one? I like coffee, but only with a lot of flavored creamer (my boyfriend teases me that it's just coffee flavored milk). In the winter I drink hot tea and iced tea all year long!
If there is anyone who could get me to really try a full on hybrid project, it's Wendy. Check out her hosted hybrid challenge this month. Banner(s). Need I say more?!
So what do I have next for you? How about a whole bunch of sales!?
First up JenC Designs is wrapping up her Celebration Sale! You can save 40% on everything!
Next, today is the LAST day of Connie Prince's Red, White &BOOM! sale!
Roseytoes Designs is having a store wide sale, everything is 50% OFF!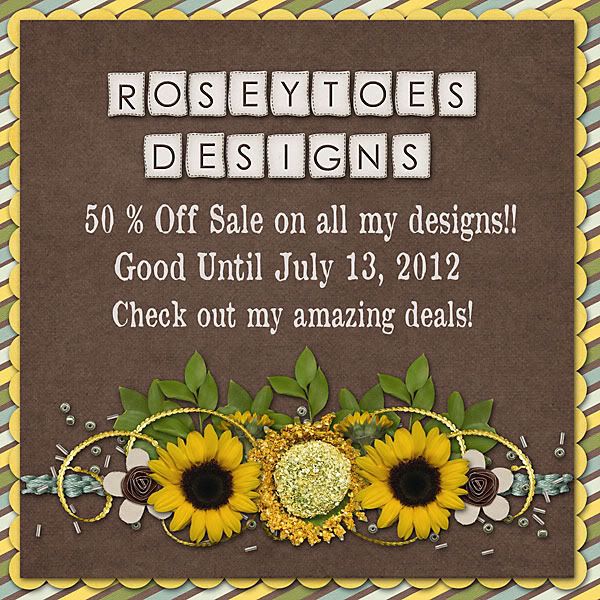 Last, but certainly not least, we say farewell to PsychoZoe Designs. She's so sweet, I hate to see her leave us! She's going out with a bang though! (I've already snagged some goodies! Fun with Tulle templates, get them. Right now.)
We will miss you Susie but hope to see you around the forum(s)!
Okay, new buffet, challenges and guest designer? Check. Sales? Check. Try to entice you into joining in on the Book Club fun? Check, check.
Aside from continuing to welcome all the new friendly faces I keep seeing pop up in the forum, that's all I've got for you today! I hope everyone has had a terrific weekend, that we're all hiding out in our caves from the heat and scrapping to our hearts content!
So… stay scrap happy friends and keep on scrappin' on.
-April-