Good morning (again) friends!
I'm popping in quick to throw at you some WONDERFUL sneak peeks of tomorrow's new releases. Are you ready? Are you sure? GOOD! Let's do this! 🙂
First up is a new one from Sugar Kissed Designs- and sure I'm going to be a super tease and say it's definitely a new favorite of mine! Love the color pallet, the journal cards, love the everything!
Another new one to hit the store is from Luv Ewe Designs!  By the looks of it, I see it's a must for any photog-phile! 😉
I see STARS! LOVE stars almost more than banners! I am also totally digging those button and flair elements of the camera and the word "smile". The papers? CHECK! Totally cute. The more I talk about it the more I want it right now!
A bright, super sweet preview of what's to come from Z Pink Boudoir Designs,
Another preview of this yummy looking kit with a new template by Pretty in Green!
Here is a pretty pretty preview of something  coming from Keep in Touch Designs,
How about some more new templates by Pretty in Green?
(both templates are using older kits by Pixels by Jen and Keep in Touch Designs)
I am seriously all about the blocking in those templates. Paper, pictures, journaling, so many options! So many ideas coming to mind!
Twin Mom Scraps has a bright fun kit on the way!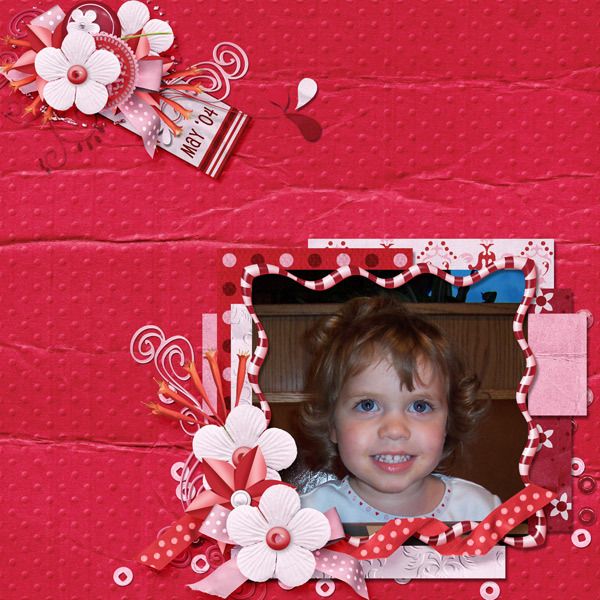 There is just something about this layout that makes me want to see the WHOLE kit. The papers, the ribbons, the frame and flowers are ALL just darling!
Since this is a speedy delivery to whet your appetites, I have but one more preview for you and it is quite literally delicious looking!
Connie Prince has served us up with what could possibly be my favorite carbohydrate on the planet.
Pasta. If I had a last meal, I'm fairly certain that would be it.
That's all I've got for you this morning, get ready because tomorrow these will be in the store and I know what I do first thing Fridays!