GOOD MORNING!
All CAPS because it IS a good morning! Or should be anyway. Always start the day right, even if you wake up on the wrong side of the bed. Words of wisdom by… me, which I just made up right now. I admit it, I'm a little goofy right now (just right now?) but I've got LOTS to do today before the heat advisory kicks our butts!
So, what do I have for you? Well a couple of sales for starters! I know how much you loves sales (I know I do!)!
First up is PsychoZoe's Retirement Sale.  If you haven't heard already, yes, you read that right, she is sadly leaving us as a designer. She's got her entire store up for 60% OFF now until July 31st. She's also put all her CU pieces at just $1 only!
Next sale you NEED to take advantage of is Blue Heart Scraps Vacation Celebration Sale! She's got EVERYTHING on sale for 50% OFF until July 20th! Stellar deal!
So now while you're in our stores, filling up your cart with these great sales, it should be no sweat getting our July Grab Bag! FREE with a purchase of $10 or more! Without any bias opinion whatsoever, I must say Roseytoes truly outdid herself with this grab bag- it is OVERFLOWING with just about everything!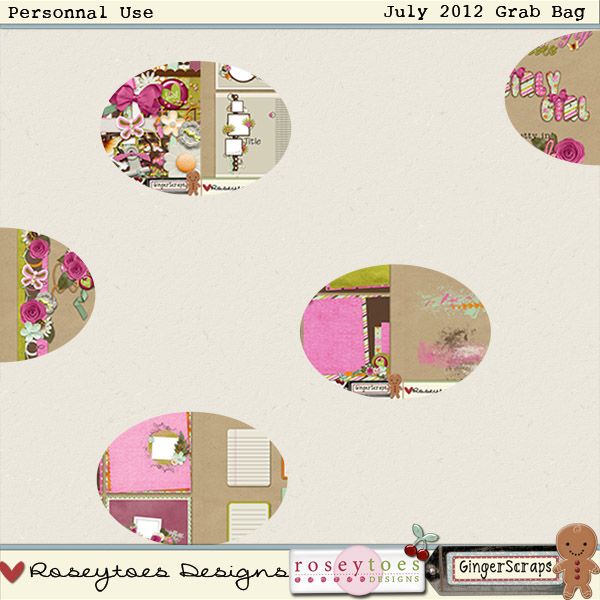 Ready for some more fun? I know one of my to-do's today is to check out another beach I discovered is just a short bit away from home! With Summer in FULL swing, finding all these water front retreats near home has been so fantastic! Where am I going with this? Making you all jealous talking about not one but two beaches just a hop skip away? WELL! Kathy Winters Designs has provided GingerScraps Facebook Fan Page with an absolutely DARLING fan freebie! It's just beachy!
Just head on over to our Facebook page, like us (if you haven't already!), and grab this super cute mini under the Exclusive Freebies Tab! You need MORE incentive? Well let me just tell you, this mini is a little SAMPLE of a FULL SIZE kit that Kathy has got for us! So grab it now before it hits stores!
I'm trying to think of anything else I need (and want) to (over)share 😉 with you, but coming up blank. I'll blame my lack of coffee, since I haven't had ANY yet today! I like to live dangerously. 😉
So with that said, I'll leave you with a few tid bits:
Don't forget to check out our newest Fresh Baked goodies from Friday, pretty delicious stuff right there. Make sure you're working on your challenges! Remember the Rewards System has changed just a smidge, so check that out too. Keep your eye out for a …  Fantastic! just doesn't do it justice… but a super fantastic! event coming it's way to GingerScraps in the very near future! Plus! You'll see some new blog features, including some fun tutorials and way cute non-scrap (yes, NON scrap) projects that you just MUST try yourself!
Okay okay, I've got to stop myself while I'm ahead- otherwise I'll just get so excited (which I already am you know) and share TOO much, TOO soon!
Off to the beach with me! Have a super scrappy Sunday!