Happy June! We're at the halfway point for 2015! Amazing how fast the time is flying by! Don't worry too much about it! There are some great things in store for you this month from the designers! A GORGEOUS series of kits for the monthly mix, free with purchase, and challenge reward. Plus June's palette for the buffet is absolutely gorgeous!
It is the First of the month, and that means the revel of our new Buffet!! Don't forget the new Buffet items will all be 50% off (from the 1-5th of the month)!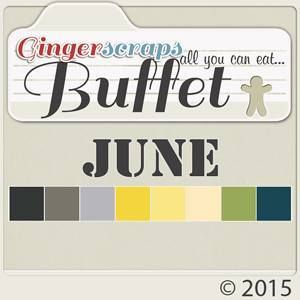 The designers all had their own take on what the colors and theme said to them! I love the variety!
The designers knocked it out of the park. The designs are just amazing and so well done!