"Pleasure in the job puts perfection in the work."

– Aristotle
September! We're nearly three-fourths of the way through the year. Summer is officially coming to an end. Next month is all about the spooky sights. But don't count 2019 out just yet! The buffet colors for this month are AMAZING! I can't wait to see the layouts that come into the gallery!
So, sit back, enjoy, and checkout what's new at Gingerscraps for September!
It is the First of the month, and that means the reveal of our new Buffet!!
Don't forget to check out the Buffet Bundles, one easy click to add bundles of Buffet goodies to your cart, and an amazing value too!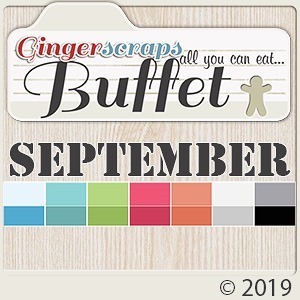 The designers all had their own take on what the colors and theme said to them! I love the variety!
The designers definitely each made the palette their own and came up with some gorgeous designs, each unique but working so well with the other designers' creations
The CT did such a great job showing how well all of the kits blend. They all did wonderful work!
This is just a few of the layouts.
Remember when you spend $10 in the store, you get a great new collab! September is the start of fall and that means APPLES!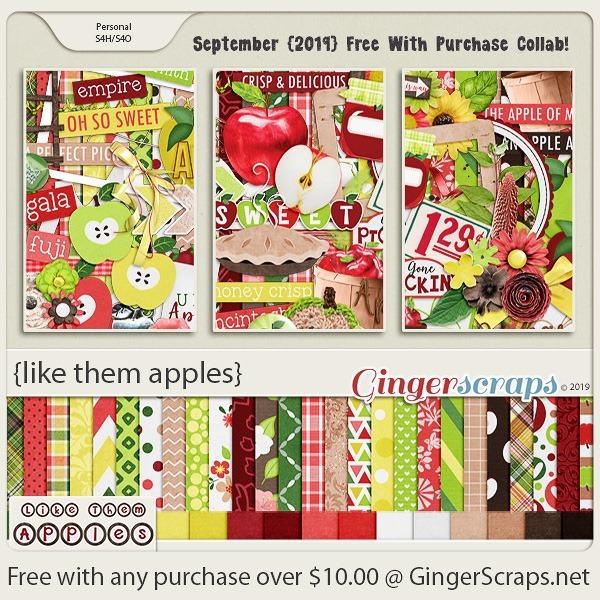 https://store.gingerscraps.net/GingerBread-Ladies-Collab-Like-Them-Apples.html
September's Monthly Mix, Sunny Delight, was created by Kristmess, Neia Scraps, Word Art World, and Snickerdoodle Designs. Just because summer is ending, it doesn't mean the sunny memories have to stop!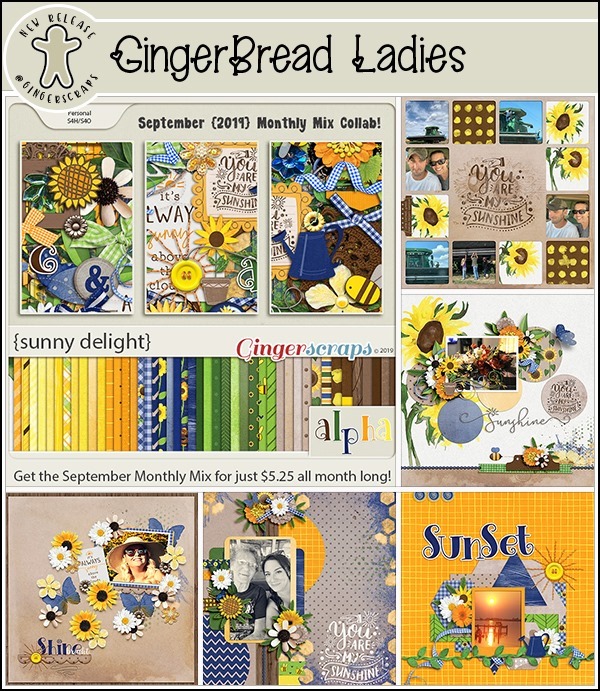 https://store.gingerscraps.net/GingerBread-Ladies-Monthly-Mix-Sunny-Delight.html
Before we jump to September's Daily Download, let's get a full look at the August Kit. Isn't this awesome? I can't wait to get some beach pictures to use with this!!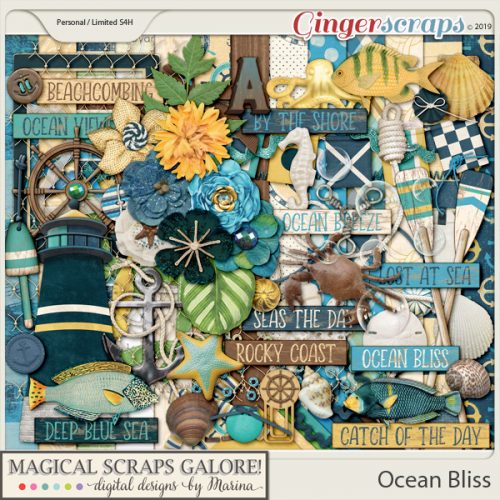 https://store.gingerscraps.net/Ocean-Bliss.html
Now let's look at September. This is going to be great. With so many people learning more and more about their heritage, I can see some great layouts with this.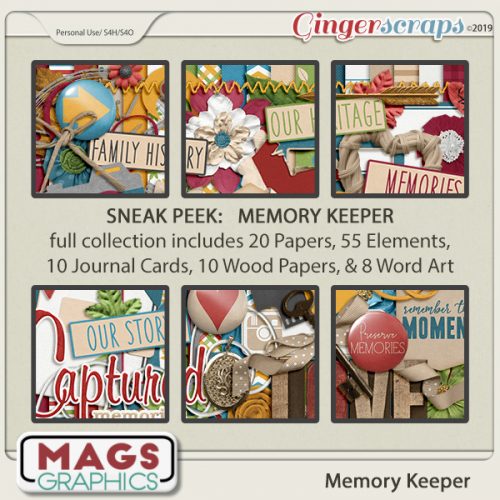 https://gingerscraps.net/gsblog/2019/09/dd-sept-1/
Remember, the download is kept up for 5 days, and then it is taken down. If you miss pieces, the kit will be available for purchase on the first day of the following month.
We have a new guest for September, but first, I'd like to announce that Tami of Tami Miller Designs is staying on at Gingerscraps as a permanent designer! Welcome to the family, Tami!
And now our guest for September is Sheri, of Jumpstart Designs.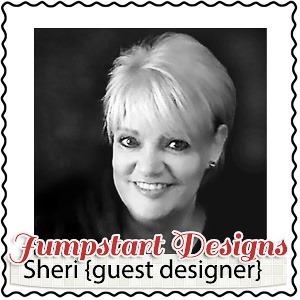 We always ask designers joining us for a little snippet about themselves, and this is what she had to share:
I am a 57 year-old mom and grandma. I have three grown children, two awesome son-in-laws, and three of the most adorable grandsons ever! And yes, I'm a little biased about that, but I am very proud of them!
I retired from a professional career about eight years ago and after retirement, I started dabbling in digi. I avoided it for several years because I knew if I got started, all my paper scrapping supplies would end up gathering dust (and they are). Once I got started, I was hooked, and soon found myself invited to several creative teams. About a year later, I was asked by the owner of another shop if I'd be interested in designing. Me? Seriously? I knew nothing about Photoshop (other than the standard drop-shadow styles) but dove quickly into a learning curve. I was fortunate to have a few mentors and now eight years later, find myself knee-deep in a fun and fulfilling career of designing. I never expected to have done as well as I have, nor to have made as many friends as I have. I am truly humbled and blessed!
I am inspired by colors and feel that my style changes a bit from one color palette to the next. One time I'll be in a doodling mood and the next time I may be in a grungy, realistic, or watercolor mood. However, the one thing that never changes is the fact that you will always find tons of flowers and leaves in my kits. I guess that's because I love clustering so I tend to create plenty of them for my products. I also try to create each kit so that it includes plenty of versatile papers and elements for every scrapper. I just can't leave well enough alone. I hope you enjoy playing with them!
Here are just a few items in her store: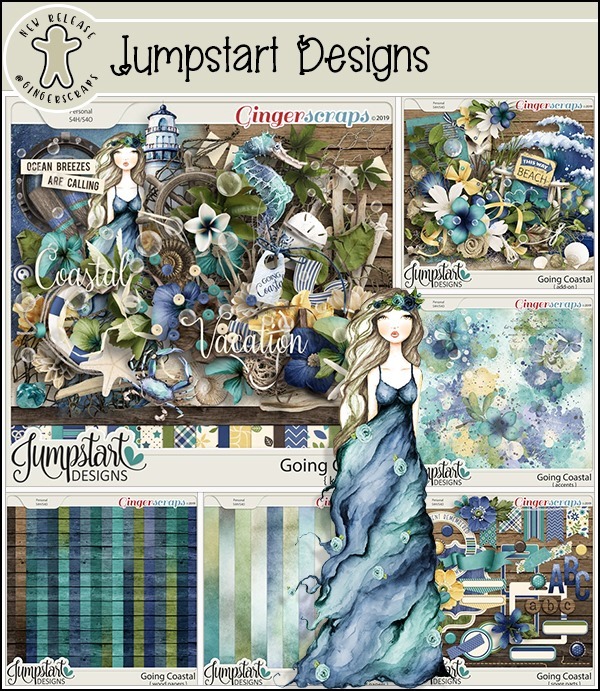 https://store.gingerscraps.net/Jumpstart-Designs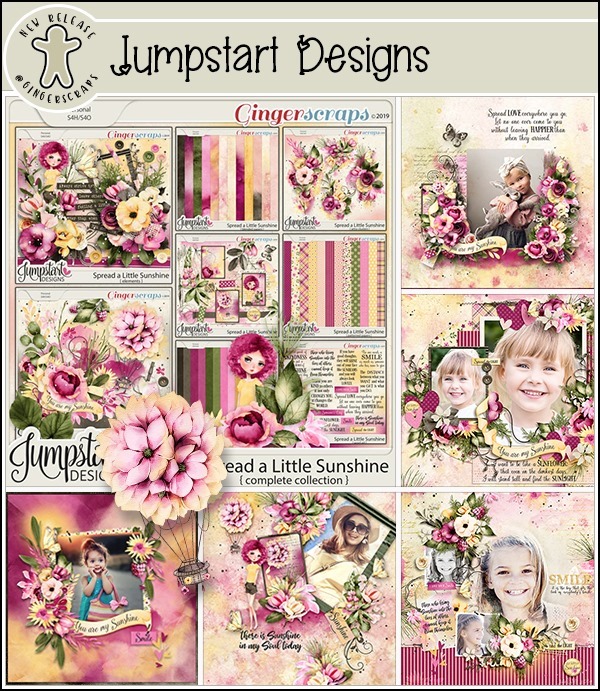 https://store.gingerscraps.net/Jumpstart-Designs

https://store.gingerscraps.net/Jumpstart-Designs
And she has a great sale as well!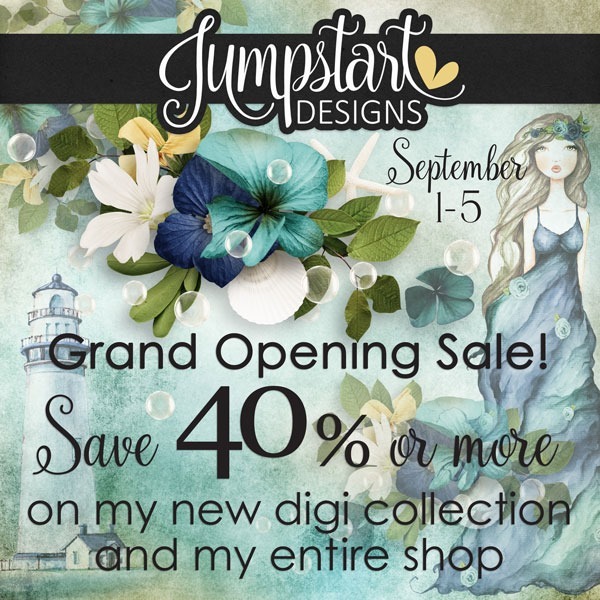 https://store.gingerscraps.net/Jumpstart-Designs
Remember, if you complete 10 challenges, just ten, you get a free kit as well!!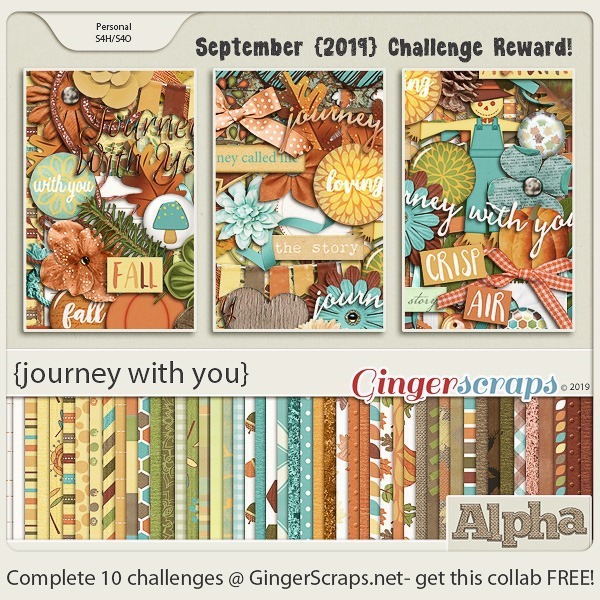 Take the journey into fall!