Spring-y Fonts (Part 2)

Are you ready for some fresh new spring-y fonts? I last did a spring font post a year ago and figured it was time. (Plus I've been so busy trying pretty much single-handedly to get our current house ready moving out of. I'm getting tired of the smell of paint!)
All the fonts below are free for personal use at Dafont. They're ones I haven't shown you before, and there are a couple that would be perfect for titles. See what you think!
CF Springtime is one that I might use for a title or two. It's got good weight and with the leaves, it's just a bit different.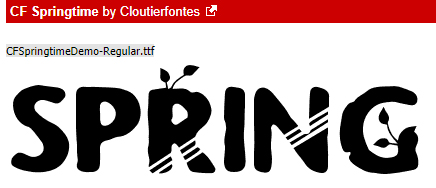 This isn't a font but it's so pretty! These wreaths, or whatever we want to call them, can be used as photo overlays, to frame photos, to frame other fonts and so many other possibilities. You're looking for Spring Romance.

Here's another font just screaming to be used in titles. It lends itself well to multiple modifications, and if I can find some time, I'll play with it so you can see what I mean. Floral Dawn sounds so poetic!

Can you see this one as a title font? How much fun it would be to deconstruct it and use multiple colours to make it really pop. Floral Capitals might be my favourite of the bunch.

This is just a cute little romantic script with curlicues and everything! Flower Shop could be a journal font, don't you think?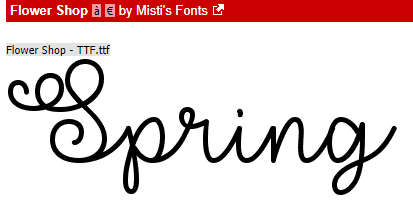 I like the graphic effect this one has. Imagine it clipped to a pretty green paper, maybe with a glitter style added on top. I'm not really loving the name the designer gave it though… Forced Flowers.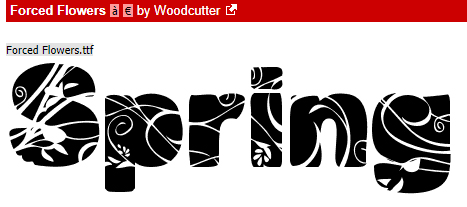 Sweet Duck has three different options and all of them are pretty awesome.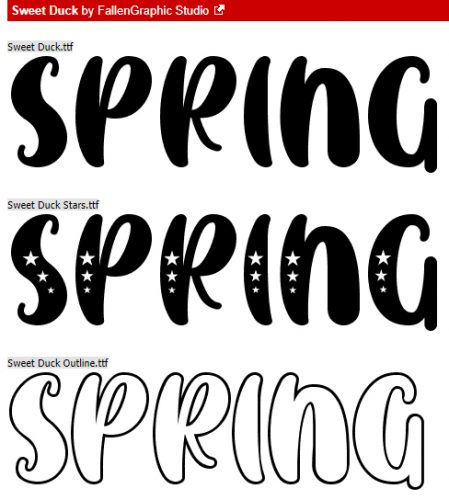 I threw this one in just for fun, for all of us arctic blonde hippie chicks. The 70s were the BEST decade ever… LMS Hippy Chick says so!

How do they come up with these names? LRT Chickenhawk… it's cuter than its name, for sure.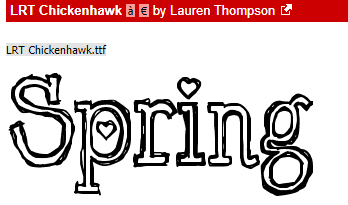 And last but not least, I've got a dingbat for you. KR Spring Me has an assortment of spring-y images you could use as stamps.

I've linked up each font for you so if you see one you love, go and grab it! I have a couple of ideas for tuts for next week but haven't decided which one I'll go with. Stay tuned!