Challenge Spotlight: Real Moments

PDF Version : https://bit.ly/3DlA2Ay
Did you notice there are a couple of new Challenges for 2023? Today we're going to check in on the Real Moments Challenge hosted by Cindy Ritter. This is how Cindy describes the Challenge: "There's a quote that says "Life isn't measured by time, it's measured by moments." and that's what this new challenge is about, preserving those moments that stand out; the good, the bad and everything in between. Many of those moments in our lives are not accompanied by photos so feel free to experiment and think outside the box while making your layouts.
Each month I will give you a theme and prompt (it might be a quote, a song, a poem or something different) and you should create whatever you are moved to do.
This months theme is Change.
Please use the following quote to inspire your page.
"Sometimes change requires you to take a giant leap. But, you won't be able to fly unless you are willing to transform." ― Suzy Kassem"
I love the idea of scrapping REAL moments, even the ordinary ones. Each of us has our own idea of what that means, and our Individual Style will guide how we approach the Challenge. I think as memory-keepers we tend to scrap the happy stuff and pretend the no-so-happy stuff even happened. But we all have REAL moments, and we shouldn't shy away from them. The layouts in the Challenge Gallery cover the gamut; there are a couple of them that might be too REAL for some of our readers; if that's you, no one will know if you skip over those ones. The layouts will appear in the order they were uploaded to the Gallery. You may notice that a number of them have been created using Cindy's Real Moments – Metamorphosis collection, and each participant will be gifted a matching mini-kit. As always, each layout is linked to its spot in the Gallery so you can drop by and leave some love; just click on the member's name. Ready?
First up is a layout by lulutoo; her journaling, paired with that Pinterest-worthy photo would fit in well with our discussion on resolutions, wouldn't it? I love her vertical cluster and how she's combined all the papers she's stacked behind it. Tucking elements between papers always adds interest.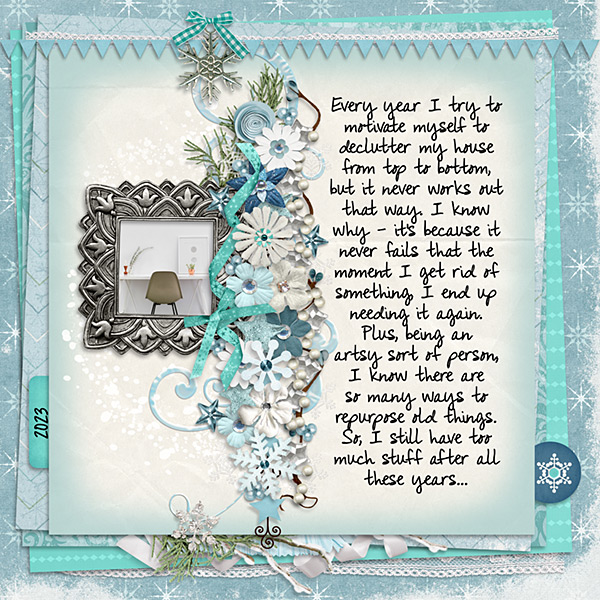 As a former military spouse, I found 01lousmith's journaling to be very familiar. Change can be really hard, and not always good. She's created a beautiful but haunting photoless artsy layout.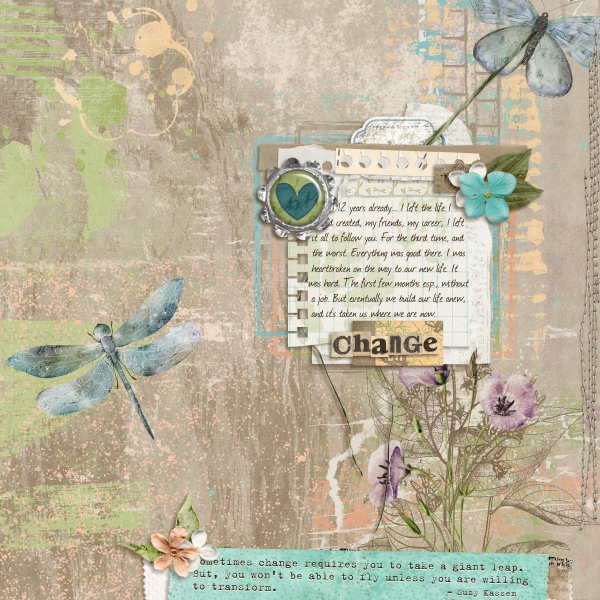 We're all our own worst critic! AJsRandom proves it. The smiles in her photos and the cheery-ness of her clusters is a little at odds with her journaling. But I commend her for taking such a personal approach to the Challenge.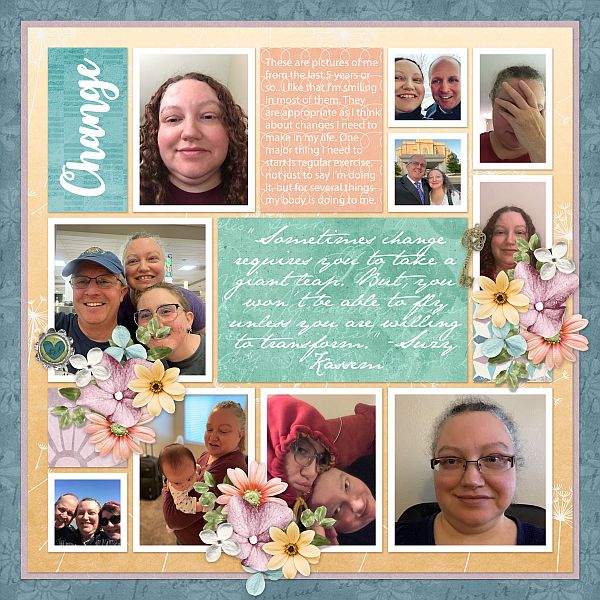 I really think I need to buy this collection! This beautiful, simple layout from dkane has me really convinced. There's so much warmth and optimism here.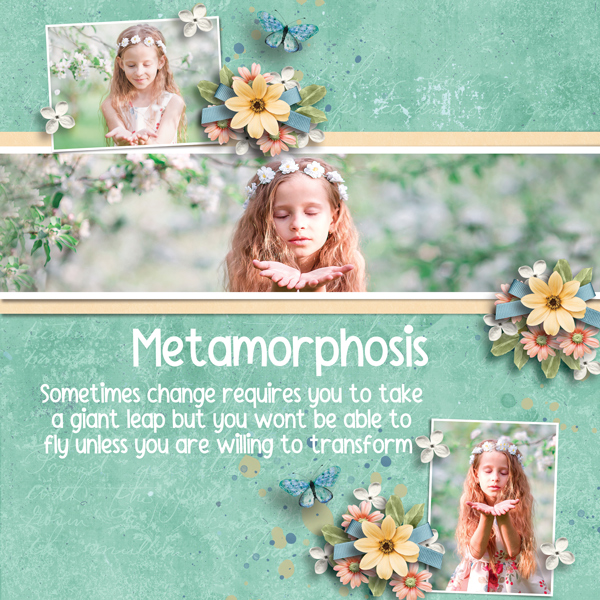 Talk about making lemonade outta lemons! Look at how mafrerichs has transformed that dorm room! The colour palette of the kit coordinates beautifully with the photos and those clusters… total thirst trap for me.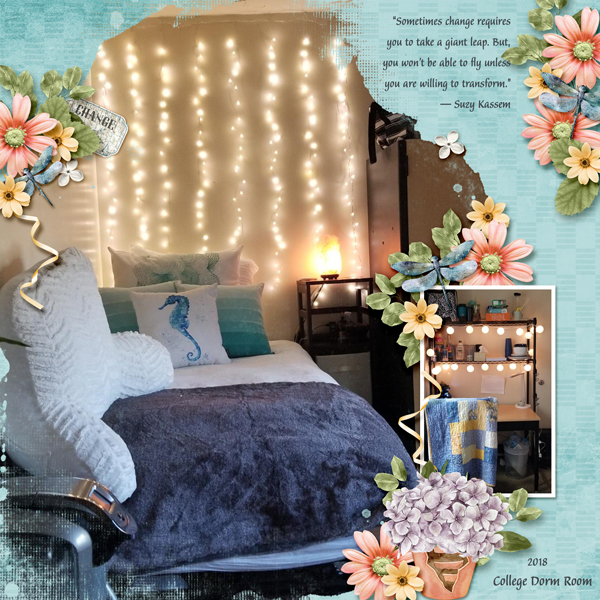 This simple but celebratory layout from twizzle made me smile. Congratulations! Feeling good about oneself is the key to happiness.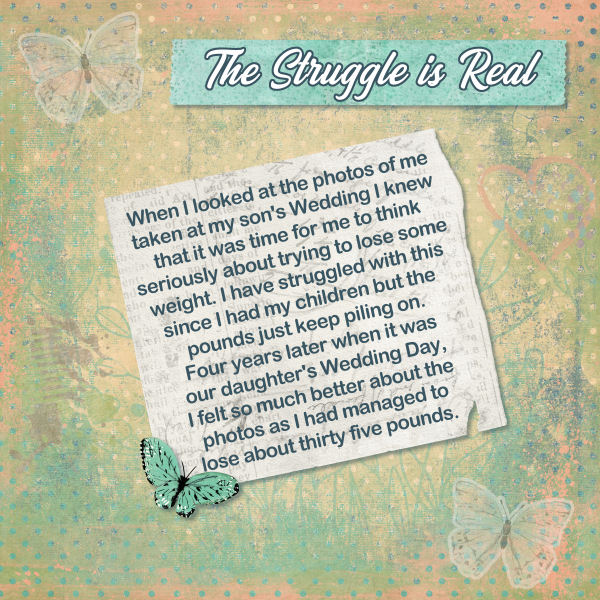 How gorgeous is this?? I love the way kabrak1207 has blended the gold border into the background paper and how that stitched heart is SO 3D. The quote from Wicked really captures the theme of the Challenge without needing a photo.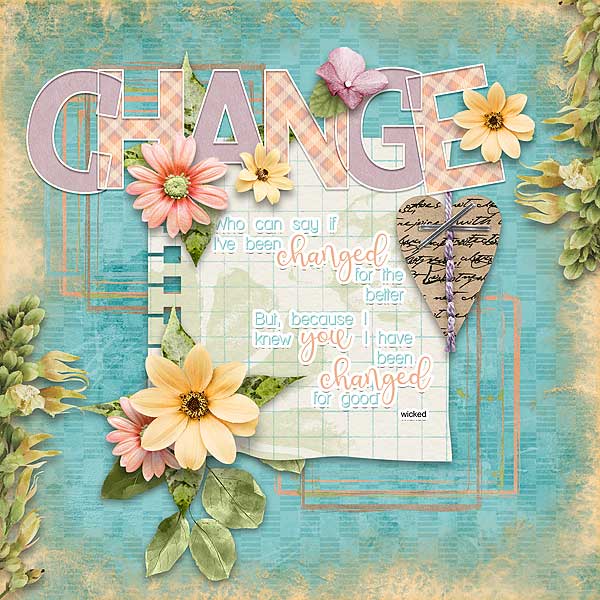 As dorannmwin says, change can be scary. Kudos to her for going back to school! She looks so confident in her photo, and the way she's surrounded it with ephemera and clusters keeps the feel-good going.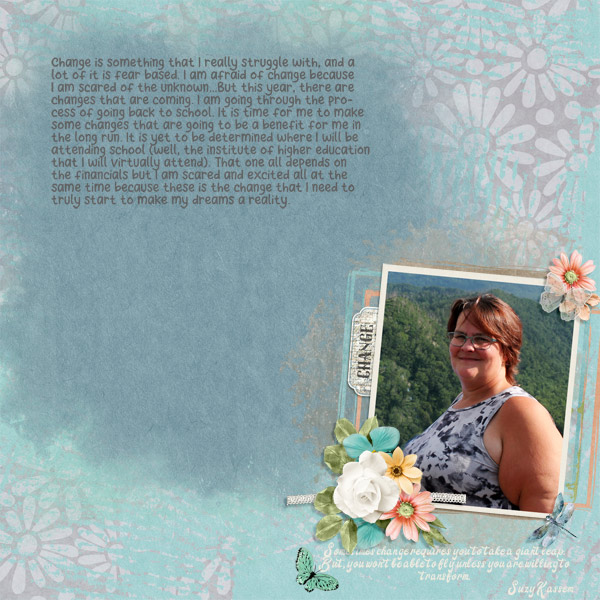 NHSoxGirl has infused some humour into her layout. I knew instantly what she was going to focus on when I saw those photos. In keeping with the  serious-but-still-funny-ish topic she kept her layout clean and linear.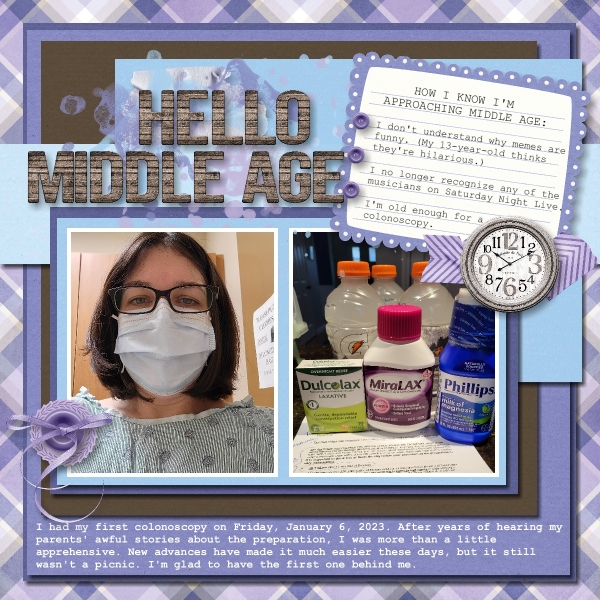 Our own AimeeHarrison has chronicled a significant challenge that changed her whole life. Her layout reflects triumph and hope through the bouncy clustered swag and all the hearts. Strength is a good trait to have!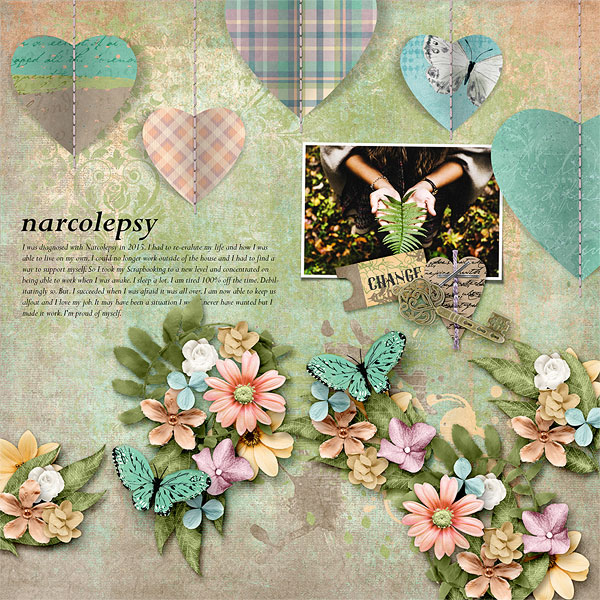 A-M kept her layout simple and clean. Downsizing is definitely a change! We UPsized… I can't even imagine.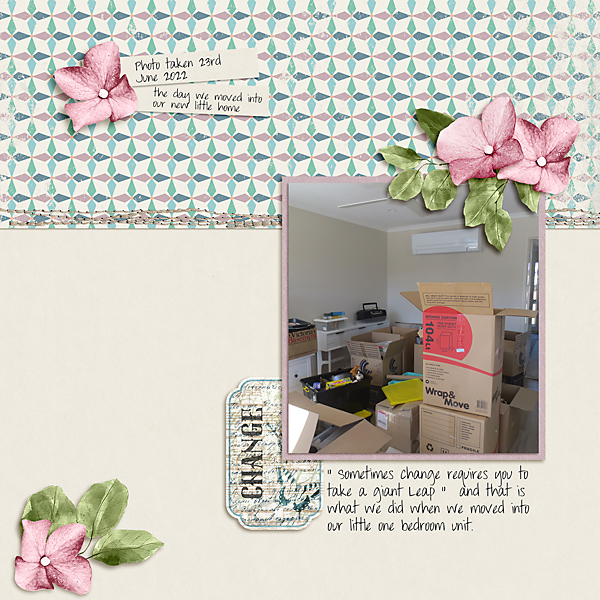 (Content-warning) Katherine Woodin has always been very open and comfortable with her journaling as she records daily life. She's probably the most dedicated Project 365 scrapper I know. She doesn't gloss over the tough stuff, and this layout is an example of that. Her beloved Fred passed on to his next life on Christmas Eve and she strips bare her feelings as she details the events of that day. My deepest condolences, Katherine.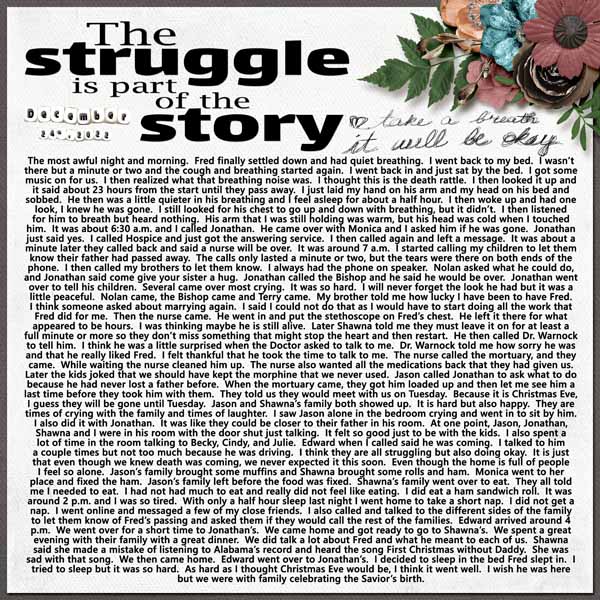 I can't even count all the ways basketladyaudrey has covered "change" in her layout. She chose the most perfect colour palette possible for her photos, which tell the story of becoming a grown-up. Love it!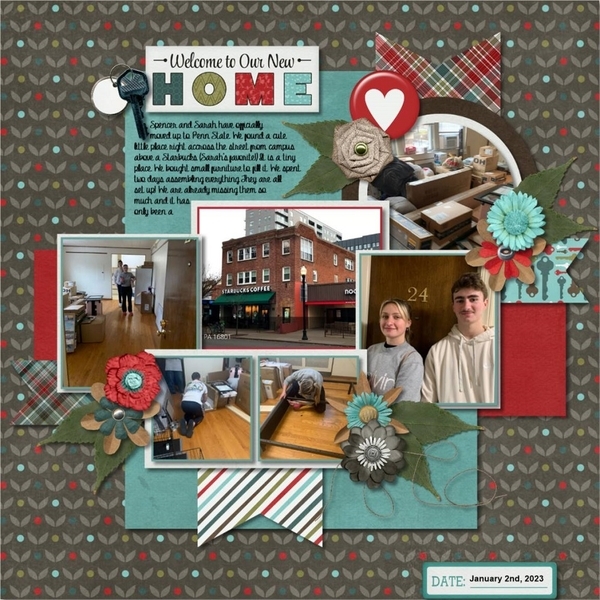 Leaving home is one of the hardest changes we all go through. Blaise used a list as journaling, and her photo tells the rest of the story.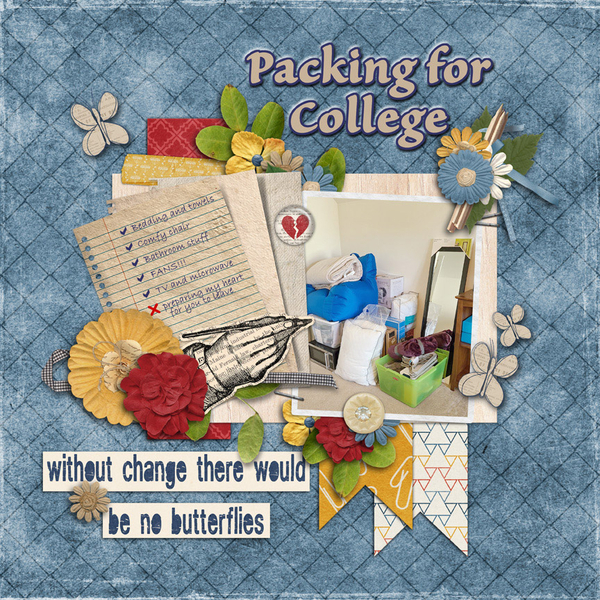 If you were to participate in this Challenge, what would be the change you feature? Seeing all these layouts has given me some ideas – on top of the absolute determination to acquire Cindy's kit. Off I go to sort through my photos…