This is not a joke. I promise. This is not a joke. This is truly a newsletter full of wonderful goodies!
It is the First of the month, and that means the revel of our new Buffet!! Don't forget the new Buffet items will all be 50% off (from the 1-5th of the month)!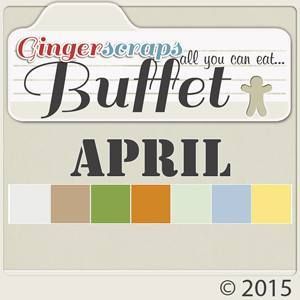 The designers all had their own take on what the colors and theme said to them! I love the variety!
The designers knocked it out of the park. The designs are just amazing and so well done!
The CT did such a great job showing how well all of the kits blend. They all did wonderful work!
This is just a few of the layouts. Keep an eye out in future newsletters to see more. Maybe even one of yours, if you make sure you put it into the Buffet section of the gallery!
This month, we have a new GUEST DESIGNER!!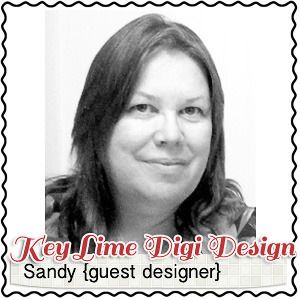 Sandy of Key Lime Digi Design!
We asked her to give us a quick bio about herself and this is what she shared:

It all started with a set of cloud brushes. In my former life (before digi) I was a graphic designer by trade. Back in 2007 I was searching online for Photoshop brushes and stumbled upon a digiscrap site. I can tell you it was like Dorothy stepping out of the black and white world and into technicolor. From that point on, I was hooked. The following years were spent on Creative Teams and I was always thirsty to learn more. Eventually I knew the next step was to design kits. I am always learning more techniques and teaching myself to be more adept at Illustrator and Photoshop. Never stop stretching yourself.
Today my home life is a little different. I gave up working for others and opened my own print/copy shop. I run it all by myself. I am now on my 5th year in business. I have one daughter who is a senior in high school. We are excited and nervous for what comes after. Thankfully, she chose a college in our area. She is the serious one and I am the goofball. She has to reign me in sometimes.
As for Key Lime Digi Design, the name comes from the area I live…in the sunny and always warm Florida Keys. My designs are a cross between realistic, art journal and when the mood hits, paper style and clean design…as I said I never want to stop learning.
I am very excited to meet new digiscrappers and share my designs with you during my stay here at Gingerscraps!
And here are just a few things you'll find in her store: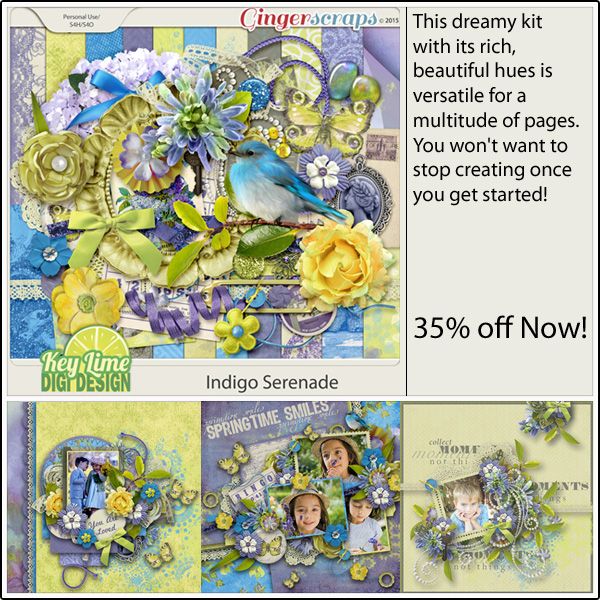 https://store.gingerscraps.net/Key-Lime-Digi-Design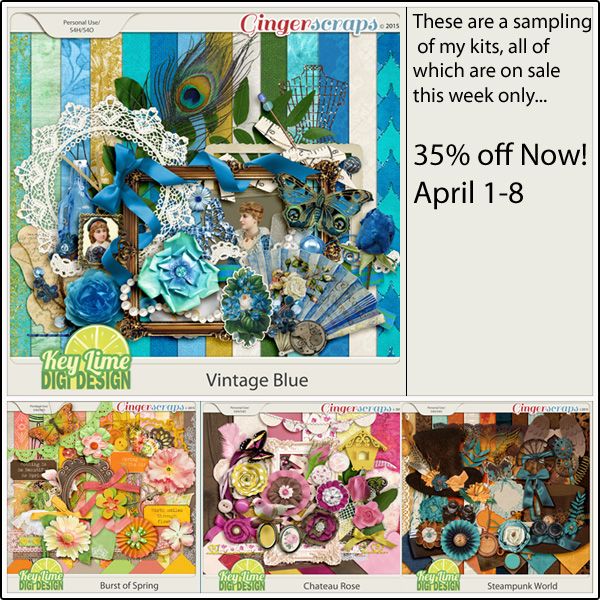 https://store.gingerscraps.net/Key-Lime-Digi-Design
And she has a GREAT sale going on, as well!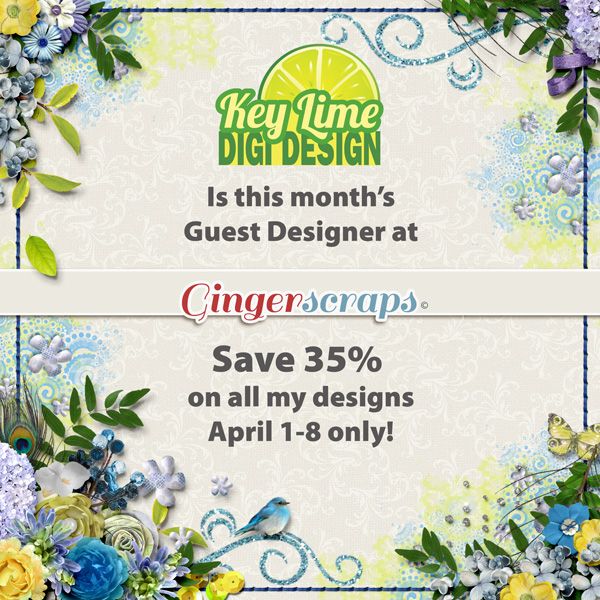 https://store.gingerscraps.net/Key-Lime-Digi-Design
We've also convince Mandy to guest for another month!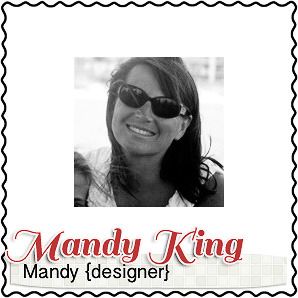 Today, we have a two-designer single-team joining the team, and OH MY GOODNESS, I can't express how excited I am for this. They're our store CT leads, and they're also designers! I'm so excited to welcome Trina and Colleen of Dear Friends Designs to the Gingerscraps team!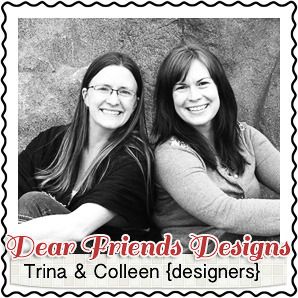 Even though Trina and Colleen are so well known at Gingerscraps, we asked them for a quick bio from each of them, and Trina even gave us the story about their friendship! So fun!
From Colleen:
"My name is Colleen, and I am half of the designing duo that makes up Dear Friends Designs. We officially open our first ever store here at GingerScraps on April 1! We have talked quite a bit over the years of designing together, and we are ridiculously excited to finally be doing it!
How about a little about myself. I am currently a stay at home mom and full time student. I am working on getting a teaching degree. I am married to an incredibly handsome and handy guy, and we have an eight year old daughter and five year old son. Those are the cute kids that I am always scrapping. 😉
I will be heading back to work in the real world in September since both kids will be in school full time. I am really nervous about that. It's been over eight years since I've had to report to a job! Hopefully life won't be too crazy with working full time, going to school full time, being a mom, and designing templates with Trina! I can't say enough how excited I am for this opportunity. I really hope you ladies like working with our templates!"
From Trina:
"My name is Katrina (Trina), and I'm the other half of the designing duo that makes up Dear Friends Designs! It's a bit of shock to see this actually coming to a reality, but I'm beyond excited to start our first official store right here at my digi-home (been on the store CT here since May 2010!) of GingerScraps!
I am also a stay at home mom, to 4 kiddos (who most of you "know" through all of my pages over the years!) My first son will be 10 years old in May (yikes, I will have a child in double digits – how in the world did that happen?!?), my daughter will be 8 years old in June, my second son is about 4.5 years old, and my youngest, and third son, is about 2.5 years old! Life is crazy busy with 4 kids, but I wouldn't change a thing! My husband seems to think I'll need a full time job when my youngest goes to school, but I'm secretly praying he changes his mind between now and then, and who knows – maybe this designing gig will allow me to continue to stay at home a while longer!
Besides scrapbooking, and raising my kids, and maintaining a semi-sane house, some things we enjoy are biking, camping, hunting, traveling and being outside! I'm hoping that this summer we can get back to all of those fun activities, since having back surgery last November, I'm slowly getting back to "normal" again!
Random fact about Colleen and I: We randomly met in a hallway when we were both in High School, it was the first day of post-secondary classes and our friends were looking for the nursing department, and we were both looking for animal science. We became fast friends after that! Always sitting by each other during our class and taking turns getting the highest grade in class! That one class, once in day, has led to us still being friends 16 years later! Notice the 16 "points" on our deer logo to showcase how long we've been friends. Also very fitting that an animal is a part of our logo, since we are both animal lovers at heart, and we met in an animal science class!
Anyways, SO excited to become an official designer, and can not WAIT to see all of the lovely layouts you all can create with our templates!!"
And here are just a few things in their store: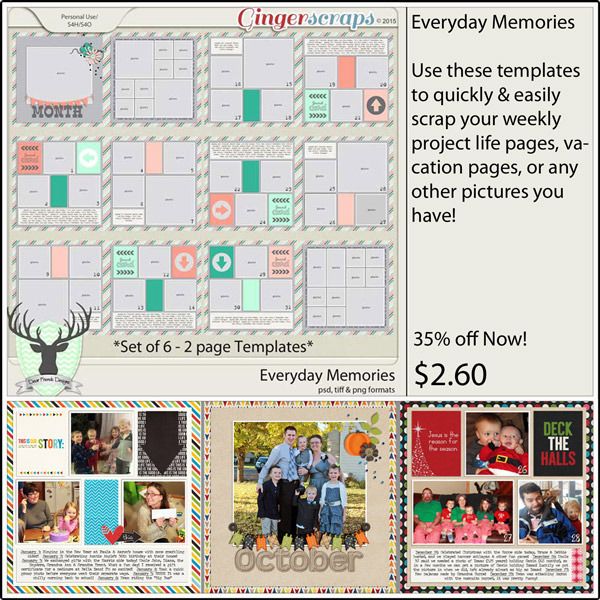 https://store.gingerscraps.net/Everyday-Memories.html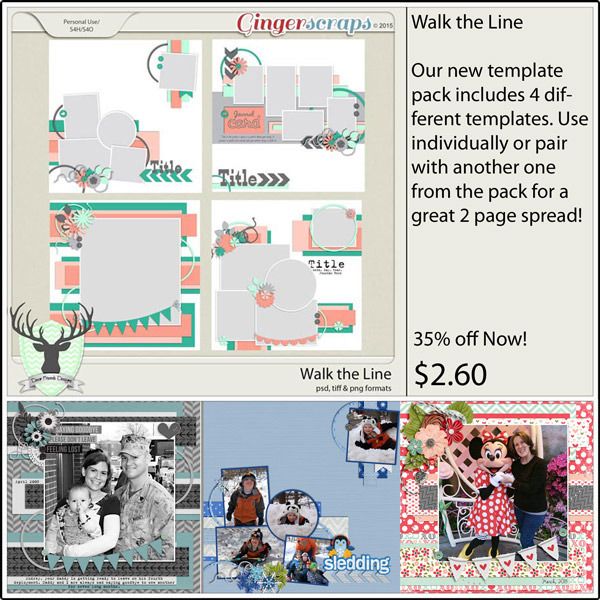 https://store.gingerscraps.net/Walk-the-Line-Templates.html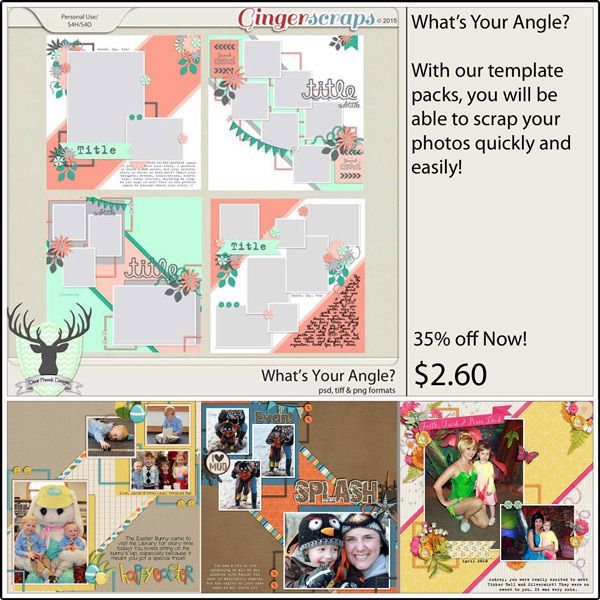 https://store.gingerscraps.net/What-s-Your-Angle-Template-Pack-by-Dear-Friends-Designs.html
I'm so excited, and you should be too! Make sure you welcome the new designers, and our guest!
This month's Monthly Mix is called "Dream Big"! It was collabed between Colie's Corner, JB Studio, and Just So Scrappy.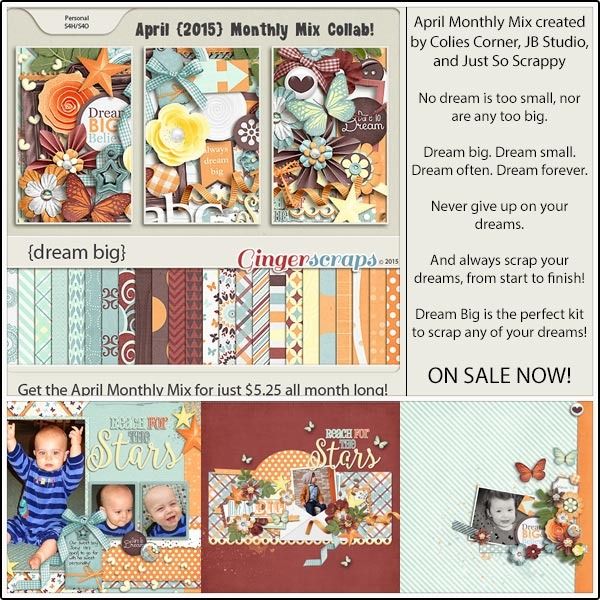 https://store.gingerscraps.net/Monthly-Mix-Dream-Big.html
I'll be short and sweet, so you don't think there's a trick! We'll be the one site without a trick. At least not in this case!
Last month's kit was created by SandyPie Creations. It was a funny and cute kit involving hippos!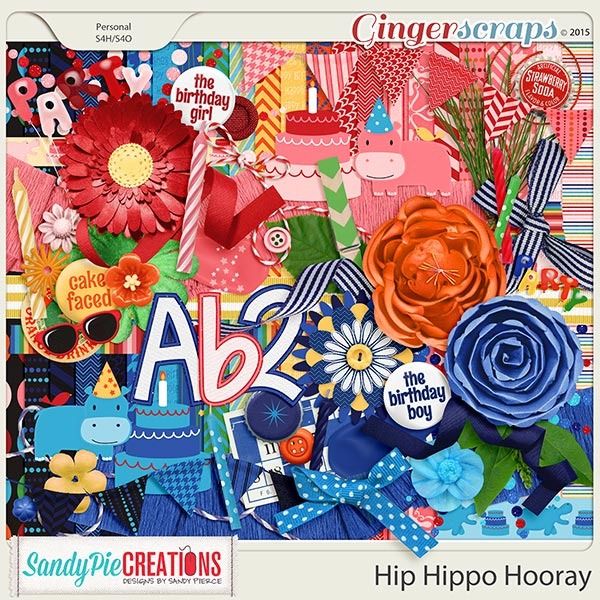 https://store.gingerscraps.net/Hip-Hippo-Hooray-by-SandyPie-Creations.html
This month's kit is created by North Meets South Studios, the collab team of Connie Prince and Trixie Scraps.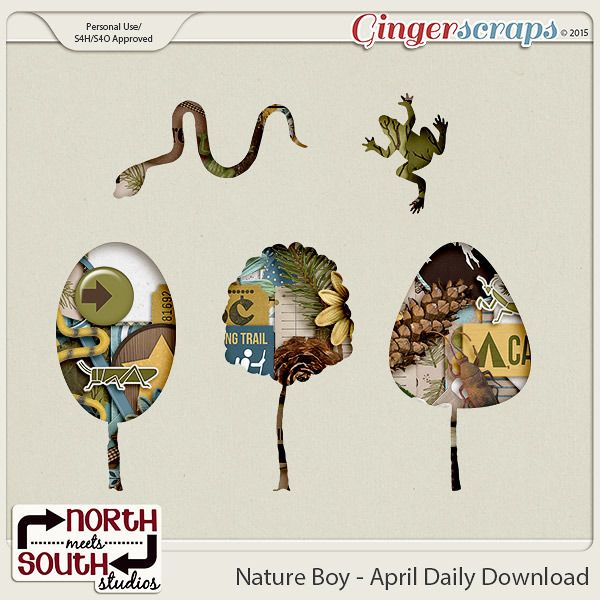 https://gingerscraps.net/gsblog/2015/04/dd-apr-01-2/
Remember, when you spend $10 in the store, you get a great grab bag!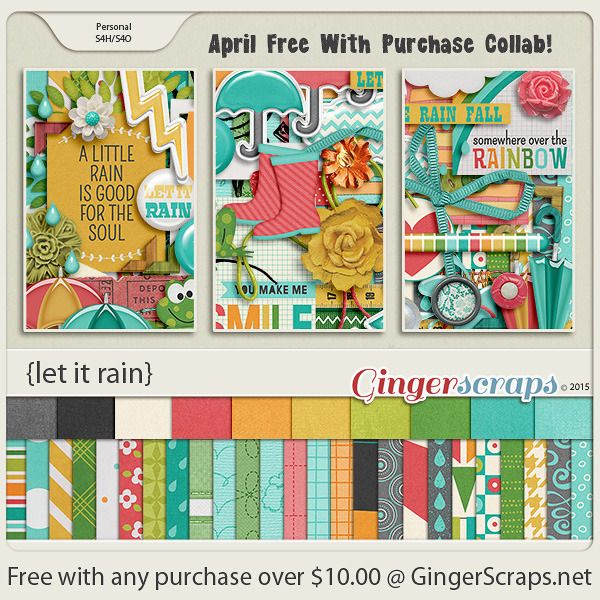 https://store.gingerscraps.net/GingerBread-Ladies-Collab-Let-It-Rain.html
Complete any 10 challenges, and you will receive a brand new designer collab! Each month we will offer a brand new GingerBread Ladies collab as a reward for completing the GS challenges. Visit the GS Forum for all the details.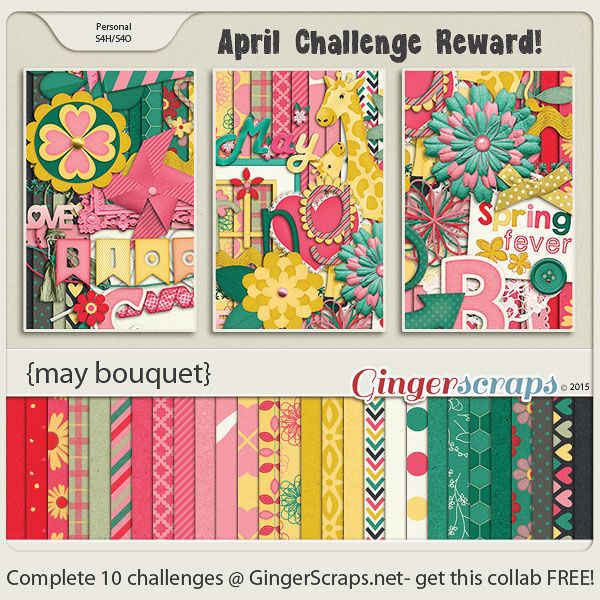 I know I'm going to make sure I do my 10 challenges for THIS, that's for sure 😀