WOWZERS! Good morning and welcome to July! To our Canadian friends, we'd like to say "HAPPY CANADA DAY". To everyone else, HAPPY JULY! Can you believe it's already July? I'm ready for some relief from the heat, and the products in the Buffet, Daily Download, and Free With Purchase really make me want to stay inside and just enjoy the A/C instead of braving the heat!
It is the First of the month, and that means the revel of our new Buffet!! This month, the colors are so soft, so they fit with the beach, spring, summer, boys and girls. They all mix and match so well together, as well! SO MANY different themes! Don't forget the new Buffet items will all be 50% off (from the 1-5th of the month)!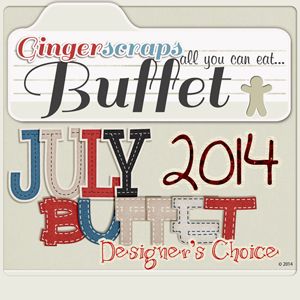 The designers all had their own take on what the colors and theme said to them! I love the variety!
The designers knocked it out of the park. The designs are just amazing and so well done!