Good Morning digi-friends!
We have some YUMMY goodies Fresh out of the oven for you today. But first I want to share with you some news-
The GingerScraps Site Creative Team call is now closed. And wow what an amazing response we got!! It is with great Pleasure that I introduce to you our newest GingerBread Girls-
Astrid (AnikA)
Cami (camijo)
Dita (ditab)
Ella (ellasspace)
Jen (vcjordi)
Kimberly (kimberheree)
Lani (jovi_girl)
Linda (hondachicc)
Lynelle (lynelle)
Mandy (digi.mandy)
Missi (missdamsel)
Sara (SATW)
Tanja (thunderdragon)
Head over to the GingerScraps Forum HERE and help me give them a warm welcome!
And now…. so more exciting news- We are having a Designer Call!
Hurry and apply now! We are looking for new and seasoned designers. Exclusive and non-exclusive. And Guest spots open too!
Now- on to the Yummy Fresh Goodies!!!
Are you looking for something basic with all the necessities? Check out Marshmella Designs newest kit "Josephine". It's is a simple kit with a retro elegance that is perfect for every layout. It includes 9 papers, 44 elements and a full set of alphas.
And here is some inspiration from her creative team:


______________________________________________________
Pretty in Green has a pack of 4 beautiful templates made from her favorite layouts she created during GingerScraps Scrapping Survivor season 2. These Templates use blended photo styling along with great layering and room to journal to create beautiful layouts. These templates are psd files, for size 12×12 inch Layouts.
I'm a Survivor Templates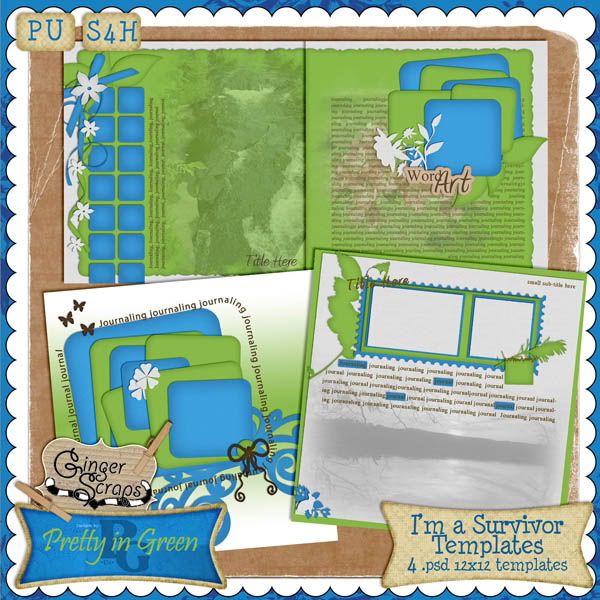 KimmyScraps made this beautiful layout she also used Pretty in Green's B&W and blue all over
Missi made this layout and used German shepherd love


______________________________________________________
Are you all ready to see this months GingerBread Lady Collab? As always this months kit is only $1.00 with any purchase over $10.00. Remember- please allow 24 hours to receive the coupon as all have to be sent manually.
And now- I hope you enjoy a leisurely trip down to the Shabby Seashore.
This eclectic kit is perfect for all of your summer memories from those ocean vacations to just a day on the beach with friends and family. The muted colors are perfect for those poolside photos too!
Take a walk with us down the Shabby Seashore whenever you need to get away or if your lucky enough to live by the shore, then pull up a chair and enjoy!
Shabby Seashore

Shabby Seashore includes:
50 papers
98 Elements
Bonus Photoshop style set of wonderful wave textures in perfectly matching colors!
Here are some by the wonderful GingerBread Girls!